At Joe Fortune Casino, we offer an exciting selection of video poker games for players of all levels. Whether you're a seasoned pro or just starting out, you can enjoy the fast-paced action and potential for big wins in our video poker games. With a variety of games to choose from, including popular titles like Jacks or Better, Deuces Wild, and Joker Poker, you'll never run out of options. Our video poker games also feature great graphics and user-friendly interfaces that make gameplay easy and enjoyable. Plus, with real money prizes up for grabs, you'll have plenty of incentive to keep playing. So why not test your luck and skill with our video poker games today?
Play Video Poker & Claim Your Welcome Bonus

If you have been gambling online for a while now, you've probably already introduced yourself to the world of video poker. If you're new to the scene, you're going to love it. This is one of the best, and most popular, forms of online gambling. And it's easy to see why.
For one, video poker in Australia offers some of the best odds you'll find at any online casino, whether you're online and playing from home; or you have hit Crown Casino in Melbourne or The Star in Sydney! It's also a whole lot of fun, and it's a great way to test your poker skills and improve them.
If you love getting together with your mates for a boy's poker night in or spending your hard-earned cash on a tipple in the Big Smoke, you're going to love video poker! And with a bit of practice, you can take what you learn online and apply it to your regular game as well!
WHAT IS VIDEO POKER?
Video poker is pretty similar to traditional poker, except you play it on an electronic machine. The game is fast, so you don't have to sit around waiting to see if your mates are bluffing while they talk about their last big night out. And you generally have the opportunity to win big – if you have the skills, you can determine the outcome of the game.
Two of the benefits of video poker is that you don't have to beat any opponents, and you can't lose more than your original bet! That means you won't ever be able to bet and lose your car, house, or partner.
Here's how it works:
The electronic machine for video poker works the same way as a regular game of poker, whether you're playing at home or the casino. When you first see the machine, it looks a little bit like a pokie machine, but you'll notice a huge difference when you sit down to play. If you're playing poker online, you'll notice the screen is different to when you're playing your favourite online pokies games.
Most video poker games have a five-card draw – just like regular poker. But you do get control over it. Once you receive your five cards, you can choose whether you want to hold onto those cards, or discard some (or all) of them. Any cards you choose to discard will be replaced, thanks to a random draw from the computer. Once you have your hand final, if it matches any actual poker hands, you'll win that prize.
The cards are randomly dealt from a standard pack of 52 cards. Some games might include a Joker; others don't. Depends on what you play.

STEPS ON HOW TO PLAY VIDEO POKER
STEP ONE: PLACE A BET
When you first sit down to your video poker machine or game, you'll start by placing a bet. You'll deposit between one and five coins, and you'll generally be able to choose your bet – which could be anything from 1 cent, 2 cents, 10 cents, 50 cents, $1, $2, $5, $50 or more. Once you have decided on this, hit the DEAL button.
STEP TWO: CARDS DEALT
You'll be dealt your five cards, as mentioned earlier, and you'll then have to make the best hand possible from those five cards. This is where your poker strategy experience can come into play.
STEP THREE: DECIDE WHAT TO KEEP
Once you have your original five cards, you can decide which ones you want to keep and which you want to swap. If you want to keep the cards, tap them. If you don't want them, leave them be, and hit the DRAW button to get replacements. Once you have decided which cards you no longer want, the computer will once again randomly select cards from the deck and hand those out to you.
STEP FOUR: FINAL HAND
Once you have these cards, this is your final hand (and hopefully a winning hand). At the top of your game, you'll see a table that states what you need to get to win. You can always calculate a video machine's payout by looking at this payout table. Royal Flush, for example, is likely to be at the top of this list. And usually has the highest payout. Straight Flush follows, with 4 Of A Kind, Full House, Flush, Straight, 3 Of A Kind and Jacks Or Better. If you have a hand that beats any of those odds, you'll win real money.
STEP FIVE: THE WIN
How does video poker payout? The stronger the hand you have, the more you'll win. Keep in mind that most video poker games have the same payout system as well, so the game you choose doesn't necessarily mean you win more money. If you happen to have more than one of these winning combinations within your hand, you'll only be paid out for the highest amount. Checking the table on the screen before you start playing with giving you an idea of what video poker game has the best odds. Generally, though, you'll find they all operate pretty similar.
If you win, you might notice the Gamble feature. It works in the same way as the online pokies. Basically it gives you the option to win double, or nothing. If you hit the Gamble button on your game, the machine will do a coin flip or a card flip (red or black). If you choose red, and red comes up, you will receive double your winnings.  If you choose red, and black comes up, you receive nothing. It's optional, so think before you risk it.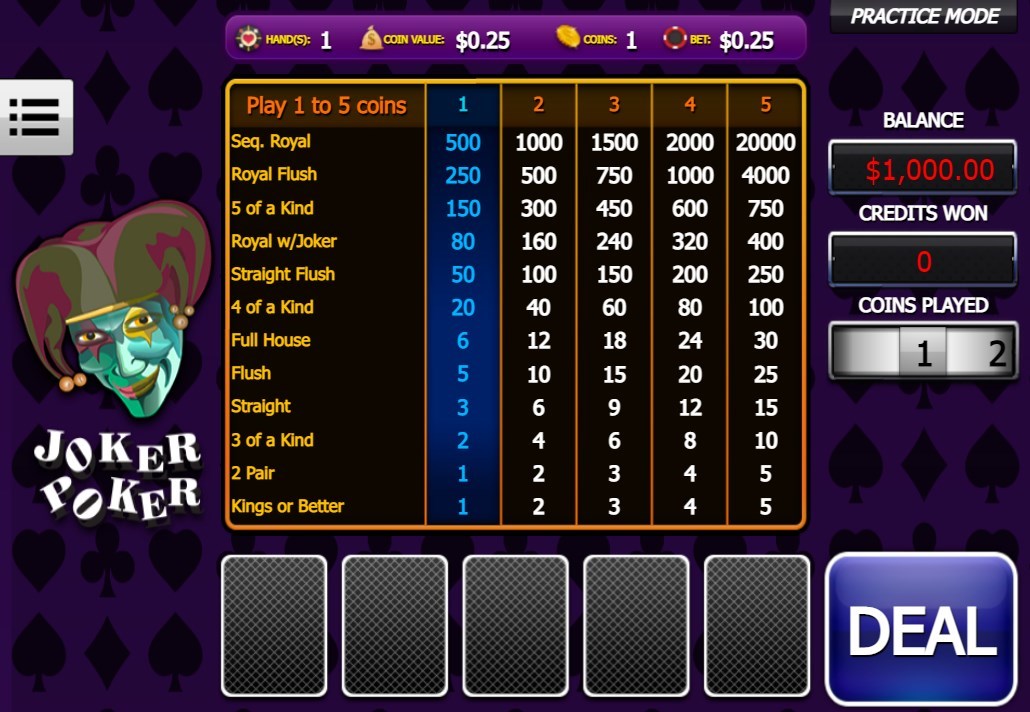 TYPES OF VIDEO POKER GAMES
There are literally over 100 types of video poker games available online, mobile, and at your favourite casino. You might even find some at the local pub! Two of the most popular, which you're likely to find everywhere you go, is Jacks Or Better and Deuces Wild.
How To Play Video Poker Jacks Or Better
The goal of Jacks Or Better is to get paid as much as possible, taking small risks. It's pretty simple. If you have four cards to a straight, or a flush, hold onto those four cards and draw one. If you have three to a Royal Flush, hold them and draw two. If you have a pair, hold those and draw three other cards. If you have three cards for a straight flush, hold onto those.
If you have none of these, but you have a Jacks card or higher; keep that card. And if you don't have any of these, and you don't have any high cards, draw five new cards. You are playing to win – and with Jacks Or Better, it might not be a big win, but it's a win all the same!
How To Play Deuces Wild Video Poker
In this game, all the deuces (cards with the number 2) in the deck are wild cards, and you can use these for any rank or suit. So if you get dealt all four deuces in your first hand, keep hold of them. You won't get any better than that! If you have three deuces, check your other cards to see if you have a five of a kind or a Royal Flush. Two deuces could give you four of a kind, or better. One deuce could help you get a Royal Flush or straight flush. And of course, if you don't have any deuces, follow the usual rules of video poker for the win.
If these two games don't excite you, you can also look at Double Bonus Poker, Bonus Poker, and Joker Poker.
HOW TO WIN AT VIDEO POKER
Okay so the general information has been provided, but here's what you really want to know. How can you win at video poker?
1. Always bet the maximum. You might lose more in some games, but you'll also win more in others.
2. Don't guess. Play strategically and make sure you know what you're doing. Remember, you are playing with real money.
3. Practice on a free online poker game on your computer or mobile before you start playing with real money.
4. Do your research to find the right table that pays what you want it to pay.
5. Don't get caught up. Take your time making the right choices with your hands. The good thing about video poker is there is no one there waiting for you to make your decision.
WHY PLAY VIDEO POKER WITH JOE FORTUNE?
Time to take a break from online blackjack or Draw Poker and have a go at Jacks or Better; or perhaps you're ready for something a little more daring? Time to hit the video poker slots and work your way towards a winning hand! Joe Fortune has more variety than most of your local casinos, not only with video poker, but with a range of other mobile games as well! It's worth trying your luck, whether you want to play online roulette or jackpot slots.
Joe Fortune is a proud crypto casino, accepting cryptocurrencies like the popular Bitcoin as well as Litecoin, Ethereum and more!
One of the things we pride ourselves in here at Joe Fortune is our responsible gaming attitude. Try not to take your playing too seriously. Remember, you're playing with real money, so only bet what you can afford. Don't go overboard. And have fun!