Picking the Perfect Pokie Theme For You: A Guide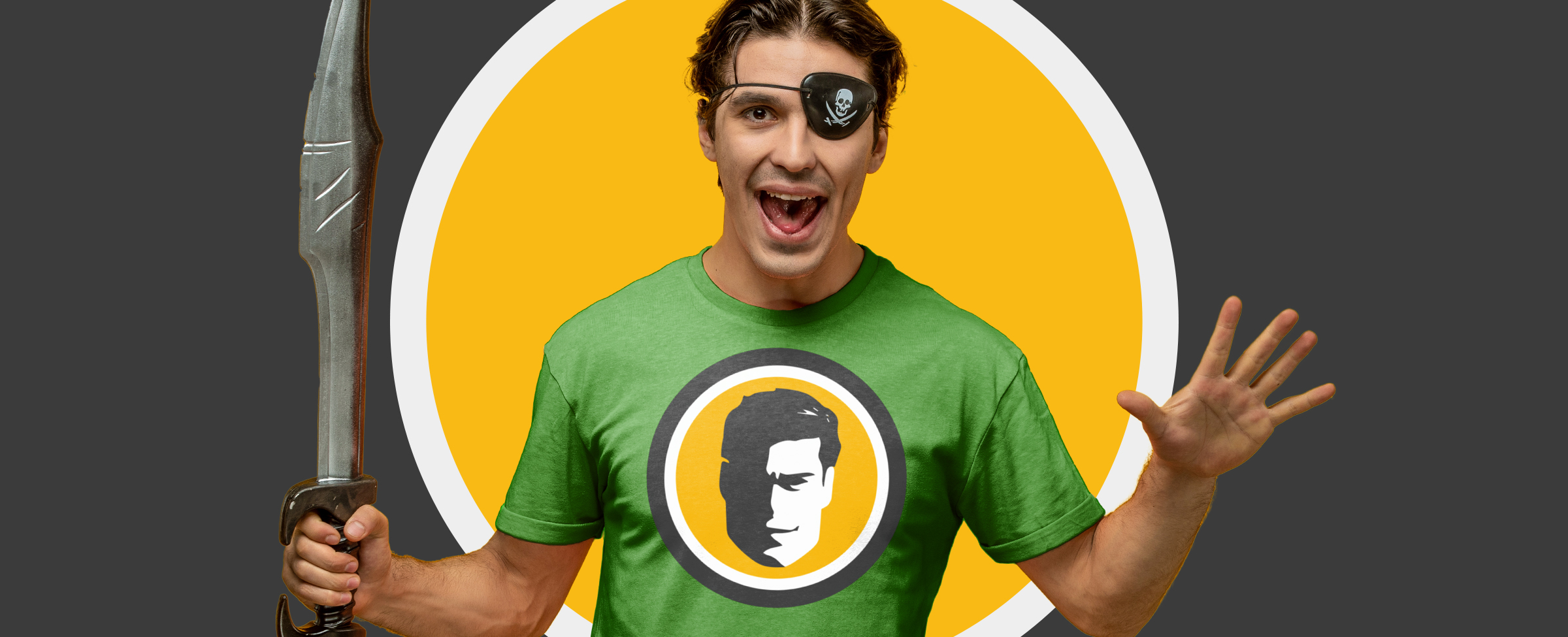 With more Joe Fortune online pokies than you can poke a stick at, choosing the right one might feel like you're trying to find your way through the neon jungle, with attention-grabbing sights and sounds around every corner. But fear not! There's no need to break out the tropical-strength Aeroguard, because your adventure into the Joe Fortune Casino starts right here. No mozzies, just Aussies.
I know this place like the back of my hand, and that is rather lucky for you! With Joe as your trusty tour guide leading the way, you'll be running through the jungle to play your new favourite online pokies in no time.
Like most of the best things, pokies come in all flavours for all palates. Knowing this, I've jumped ahead of you a bit and narrowed down those endless choices to this list of the best online pokie themes, just to help get you started down the right path. So gather 'round, my new friends (and those familiar faces among you), and let me introduce you to a few of the locals.
Vegas Pokies
An online casino without a touch of Vegas would be like the pub with no beer. But there's nothing morbid or dreary about Joe Fortune!
The bright lights, late nights and iconic sights of Las Vegas can be found right here (no plane ticket needed). So if you're ready to put some skin in the game in Vegas, without the potential regret of misshapen tattoos, and without the risk of waking up married to a perfect stranger (where you'll need a jackpot just to afford the divorce attorney), check out some of my Vegas themed pokies and you'll feel like you're cruising the Strip in no time.
In 10 Times Vegas the Vegas Strip comes to life, with multiplying wilds and a progressive jackpot. While 777 Deluxe harnesses the power of lucky sevens and a bonus game with progressive jackpot. This is a true Vegas experience to remember.
Animal Pokies
Crikey! Have a look at these little beauties! You can really go wild with animal themed pokies. Channel your inner crocodile hunter and go in search of the big one. There's something for everyone here, with all features great and small (but mostly great).
If you haven't herd already, Golden Buffalo is one of my favourite animal pokies. With 4,096 paylines and multipliers up to 3,125x, your golden run will be as unstoppable as a stampede over the great plains.
You could also howl at the moon with Mythic Wolf, unleash your inner party animal with Animal Wilds, or for something a little different, but definitely cool, check out Chillin' Penguins. You'll see what I mean.
Irish Themed Pokies
There's nothing better than going out and getting lucky on a Saturday night. You know the feeling: getting all dolled up, whipping out your mobile, and just letting that rush take over as you begin to spin through four leaf clovers in luck-filled Irish pokies. That's how we all get lucky on the weekend, right?
The luck of the Irish is legendary, and with Irish pokies, there's no shortage of four leaf clovers and lucky charms to usher in your next big break. Join the colourful characters in Leprechaun Legends as they frolic beside you through rolling green fields of multiple levels of bonus rounds, each with an eye on that pot of gold at the end of the rainbow. And you? Well, you have both eyes on the prize.
Now you're all frolicked out, and those little legends have retired for the evening. What now? Put on your happy face! We all love a good happy hour (which should really be tweaked to happier hour), so luckily for us, it's always happier hour at Larry's Lucky Tavern. You'll be as happy as… well, happy as Larry, with this one.
You know who else would be happy? Your mates! Let them know about all the amazing pokies at Joe Fortune and you'll earn $50 per casino referral! Find out more:
Fantasy Themed Pokies
We see a lot of real stuff every day but sometimes reality can be harsh, like the sting of paying for petrol or the agony of stepping on a Lego.
When reality gets a little too real, escape into one of my fantasy themed pokies for a much needed reprieve.
In these online pokies, you are the hero. Emerge from the battlefield and trudge towards the castle to collect your bonus treasure in Wynloch Keep, or experience the multitude of ways in Morgana Megways while an enchanting sorceress aids and abets your escape with up to 117,649 paylines. Now that, is truly out of this world.
Adult Themed Pokies
There's no shame in wanting to see a bit of skin every now and then, and games like A Night With Cleo and Forbidden Slot are here for those who are partial to a cheeky peek.
Put the kids to bed and let Cleopatra show you things that would make Mark Antony blush with the gamble feature in A Night With Cleo.
As for Forbidden Slot, the forbidden fruit is all too tempting for these hot and ready ladies. They're all over the reels with big symbols, and all over each other with a match of forbidden tongue hockey.
Wild West Pokies
Time to dust off the chaps. As the name implies, the wild, wild west is one of the wildest online pokie themes there is. And I've got a posse of them ready to ride out looking for the next bounty. So hitch up the wagons, there's gold in them thar hills.
Take Lawless Ladies, for example. These gals ain't messin' around, and they've got the loot to prove it. In bonafide wild west fashion, you'll be dodging the sheriff, kicking in saloon doors, and riding off into the sunset, all in the name of the random progressive jackpot.
Or in Wild West Zone, where you become the rough and tumble outlaw complete with cowboy boots and spurs. With your six shooter at your side, mosey on into town and try your luck with Canyon Heist free spins and Dynamic Ways with reels changing size.
Gem Pokies
What's more exciting than discovering a hidden gem? What, with their shiny facets, worldly exclusivity, and super high price tag that go so nicely with jackpots, these gems are too good to stay hidden for long.
Gem-type pokies are some of the most classic pokies we know, like with the game Diamond Wild and its retro vibe. Sparkle sparkle.
But then there's a game like Gold Rush Gus that takes you inside a mining cave with piles and piles of treasure. The reels are covered in bright and shiny gems of all shapes and sizes, and when you manage to unlock the treasure chest, unearthing the right gem inside just might lead you to the progressive jackpot. With Gem-type pokies, it's every diamond in the rough's time to shine.
Pirate Pokies
Ahoy matey! Let the rum flow free on the seven seas and get swept away on a tide of excitement that will have your heart beating out of your (treasure) chest. Fun and adventure arrr just over the horizon with pirate themed pokies.
Try Arrogant Pirates and you too can do what pirates do best: plunder. There is plenty of pirate booty to be had in this game including multiplying wilds, free spins, and a matching treasure chest bonus round.
They say X marks the spot, but this one gets a big tick from me.
Horror Pokies
If there's something strange in your neighbourhood, who you gonna call? Joe Fortune!
Don't be afraid, we all love a good scare sometimes. There's something about the thrills and chills of a good horror flick that just keeps us coming back for more. So it's no wonder that horror themed pokies are a popular way to play at my online casino.
Reel Holidays flips the script on characters like Santa Claus and the Easter Bunny in an alternate universe where the do-gooders become the evil ones with darkened, shadowy eyes that exude an insatiable hunger for your soul.
If that doesn't get your adrenaline pumping, then maybe the prize potential in Monster Manor will. When you spot 3 Ghost symbols, besides having a fright, you'll also have entry to the bonus round. Pick 3 potions of the same type to collect your real money treat. It's scary good.
Aussie Themed Pokies
What kind of Aussie online casino wouldn't have pokies that celebrate our great southern land? Not this one.
Aussie themed pokies are some of my favourites because they bring to mind some of my favourite things about Australia: Snags on the barbie, Vegemite, lamingtons, the Boxing Day test match… some of which you might find in a pokie, but there's still plenty of other iconic Aussies to get around.
Australia is famous for its unique wildlife, and a game like Roo Riches showcases a few favourites. With Roos, Crocs, Dingoes, and Wedgetailed Eagles on the reels, you'll be transported beyond the black stump and into the Aussie outback.
Or, you could bust out the zinc cream and floppy hat in Cricket Legends and spin it like Warnie.
Those are just some of the main popular pokies themes, but the main theme, and one that you never have to choose, is the theme of having a good time. Whether you choose your game based on theme, features, or jackpot size, with a little help from Joe's, you can choose your own adventure. And as always, I'm here to help you find your way through the jungle of pokies online ready to explore at Joe Fortune Casino. You'll never never know, if you never never Joe.
---
Ready to start playing online pokies? My crypto gaming deposit methods are fast and easy to use!
---
Now at Joe Fortune Casino: Hot Drop Jackpots…
Read about must drop jackpots, with hourly and daily prizes!