Escape into the Best Fantasy-Themed Pokies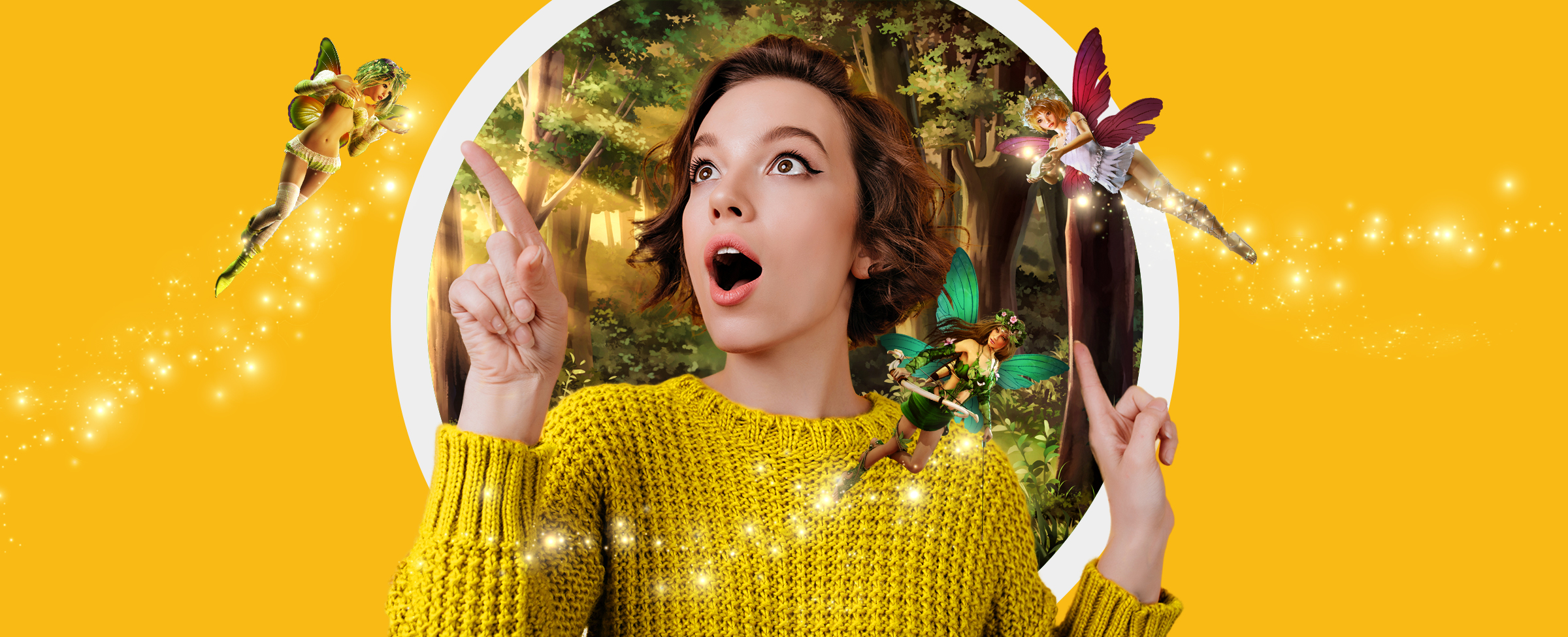 As grounding as the multicoloured soils of the Australian landscape may be, every now and then the wanderlust can still kick through the dusty cracks of the drought-ridden plains and urge us to slip down into their depths only to emerge into another world – one that's just waiting to be explored.
When that moment strikes, and distant, fantastical creatures entice you to cross the bridge into their realm, my finest fantasy pokies will be all fired up to serve as your personal chauffeur so you can make their acquaintance. You'll be storming a castle guarded by a dragon, howling at the moon with wolves, and joining the ranks of an army of gnomes, all while you build your bankroll and ride on the wings of a fabulous, fantasy escape.
The "real" world might have some limitations, but these Joe Fortune fantasy pokies push those boundaries to open up brand new possibilities.
Are you ready to slay the mighty spin button and rescue the mega jackpot? Let's open doors to new dimensions.
Wynloch Keep
When you imagine yourself swooping onto the scene, your cape fluttering in the wind as fire erupts from the ground behind you, you're pretty much imagining yourself as the hero in Wynloch Keep – and that's a story worth hanging about for!
You're a brave and dashing hero, as you always were of course, and your lifelong quest has culminated in this very moment. Your mission? To conquer the castle, and you'll see 15 paylines to get your quest going nice and strong… but don't get too comfortable there! Re-spins can increase the reels from 3×5 to 6×5, and double your paylines to 30 in this pokie online.
You won't even need a damsel to rescue, because as you start picking up treasure coins, you'll be poised to trigger a bonus round. Inside the bonus you'll have the chance to win the highest jackpot, which is a much greater gift than a kiss blown your way by a damsel formerly in distress. Although, if it'll help, I can still blow you a kiss. I'm looking at putting it in the menu as an optional extra.
Morgana Megaways
Morgana Megaways really isn't kidding about those mega ways. It might even be the best game to tackle for quick spins and quick wins given the sheer number of paylines. That's not all this online fantasy pokie is good for, by any means, with the stunning evil sorceress Morgana stockpiling more prizes up her black cloaked sleeve than you can count.
Morgana hears you enter her castle, and she summons you into the back room. She's a powerful sorceress ruled by the forces of evil, so I'd definitely listen if I were you. Each spin has the potential to reach 117,649 paylines, but the golden chalice scatter is what'll really get you mega excited.
Landing three or more of the scatter enters you into the realm of Morgana Free Spins. Inside the magical realm, each symbol you collect awards a different prize for collecting a certain number of them. Morgana herself is the ultimate power in the game, no surprise there, and she awards you up to 500x your bet, +1 free spin, and 117,649 minimum megaways when you collect eight.
Mythic Wolf
Before I get into Mythic Wolf, I'll let you in on a little secret. This fantasy pokie is a big hit for our Joe Fortune big winners each month, and word has it that this wolf is hot on the heels of another big jackpot!
As the cooing canine howls and sings at the moon, you'll be happily shrieking at the reels. Try to keep the noise down a bit, though, because the wolf might hear you and make a run for it. He's a bit skittish already, since tracking him down leads to 5x multipliers in the base game whenever he lands as a Wild.
One might even say you should be quiet as a mouse which makes a lot of sense since three glowing feathers trigger the Super Round of free spins. In the Super Round, the Wild wolf symbol multiplies wins by 10x instead of five. It also gives you the chance to trigger the Bonus Round where you can win coins when three dice appear.
Here, wolfy wolfy.
Reign of Gnomes
If you thought gnomes were just those creepy statues that guard the garden in that strange neighbour's house down the street, then you're about to be pleasantly surprised. Reign of Gnomes might have borrowed a gnome or two from their yard, but it was for a really good cause. The army of gnomes in this game are here to guard the castle, and they've asked you to grow a beard and shrink down to size to help them do it.
They'll reward you greatly for your efforts, starting with a generous 243 ways to win. There's a dragon roaming around, and she might plop one of her egg scatters on the 5×3 board. If you catch it, you get to play the real game within the castle. Dun dun dun.
Dragon Spins is triggered by three or more scatters, and with each free spin you can also play the Golden Wheel Bonus. The wheel gives you a chance to score additional wins with each spin, plus the chance to enter the Ice Diamonds round where you could win up to five award levels.
Dragon's Siege
When it comes to jackpot strategies, many players play a game like Dragon's Siege because it hits most of the marks. It has a progressive jackpot already (check), it also has plenty of features that serve as regular fixed jackpots within the game (check check), and it has a super cool theme that lets you play with swords (Triple check!)!!
Aside from the classic fantasy of defeating a dragon and storming the castle for a random progressive jackpot, Dragon's Siege is particularly unique because you get to choose the character who'll be doing all the hero work. As your representative, needless to say. We don't want to send merit in the wrong direction.
A bridge and a gate symbol trigger the bonus round, and a selection of characters appear, each one representing a different number of free spins. During your free spins, you can enter deeper still into the castle with more bridge and gate symbols, which trigger a multiplier that keeps growing along with your collection, up to 10x.
Fairy Wins
Not all fantasy online pokies have to be so dark with slaying dragons and harnessing evil and such. Fairy Wins is a lovely adventure through a mystical forest with three stunning fairies. They glow with happiness to see you arrive, and each spin in their forest makes the randomly awarded progressive jackpot sum creep up a bit higher, and closer and closer to you.
A wild potion is roaming through the forest as well, and if it lands on your reels it serves as a Wild to substitute any other regular symbol for a possible win. One of the best wins that awaits is yours when the Fairy symbol appears alongside the Wins symbol. Then you'll select your favourite fairy which'll score you up to 25 free spins. Once the free spins get fluttering as fast as the fairy's wings, and more Fairy and Wins symbols appear, watch those multipliers fly!
Mystic Elements
Imagine, while playing online pokies in your living room, that you close your eyes and suddenly float off the couch and into the sky, presumably through a window, though I'll let you fill in that minor detail. Now, when you open them – your eyes, that is – you're nested gently on a cloud among the northern lights, somewhere close to Iceland. That's pretty much what Mystic Elements feels like: the trip of all trips.
Iceland is pretty expensive, so I hear, so you'll be happy when you discover that the game has a generous pod of prizes to help pay the way.
There's a free spins feature where you can win up to 150x when you retrigger. If you see the light, so to speak, don't close your eyes! Five light symbols are what you need to get the massive progressive jackpot, ending your trip to the northern lights with a glorious bang.
If you'd rather just dip your feet into the mystic, rather than the entire mystical pool, you can play this free pokie online in practice mode, as well as any other, and you'll still get the ooo, aaa! experience of all the elements converging into a transformative experience.
Gem Saviour
When you think of a trusty sidekick on an outdoor adventure for treasure, you might think of a dragon, a dog, or even a piratey parrot pal. But what about an adorable white kitty that can fly? That's a much better tagalong! Bestill Joe's beating heart.
In Gem Saviour, you and the pretty little kitty journey to save the Gem Village. The gems in this magical land have extra power packed within their sparkling exteriors, and they can help you overcome obstacles in the game.
You, as the hero of course, travel through the village with every spin furthering your hunt for rewards. It's not all sunshine and white kitties, though, with many challenges to face along the way: attacking relics, fighting monsters, collecting money bags and nabbing treasure maps are among the spectrum of adventures that await you, and they're all helped along by your growing collection of gems.
Since you're a hero at Joe's, as you've proven through your quest through these fantasy games, you have access to extra special rewards reserved only for the bravest online pokie slayers.
Once you've checked your Joe Fortune account to see which rewards you can start using now, pick the fantasy you want to indulge in, close your eyes, and drift away.