Moon Sisters Pokie Game Review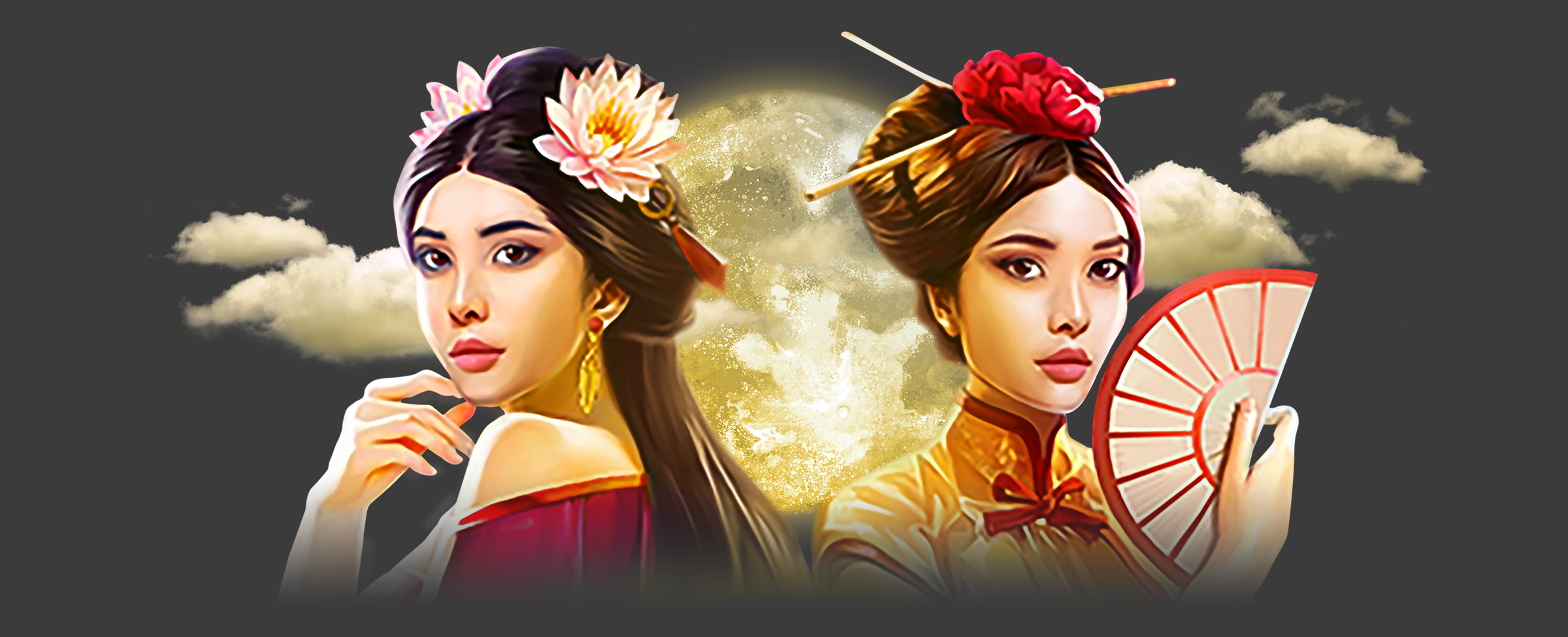 On the 15th day of the 8th month of the lunar calendar (in my best ominous-sounding movie voice), the moon – which, in this place, symbolizes peace and prosperity – emerges full in the sky, and that signifies that it's time to have a family reunion at the Moon Festival. That's no joke you guys, that's what the Chinese tradition says! – and I don't argue with the world's leaders of prosperous traditions.
Since I am a considerate type of guy with a rather big, rambunctious family of my own, I won't insist that you play host to your mostly-deaf great aunt and your in-laws and the cousin who'll insist that carbohydrates are poison for an exhausting reunion with all the trimmings. Instead, skip the gravy altogether and accept the hospitality of these two sisters, who are in the midst of their own family tradition inside the Moon Sisters pokie at Joe Fortune.
Who doesn't like a moon in all its incarnations? A great destination if you have a rocket on standby, you can dance under its light, occasionally there's a blue one, it's a newlywed's tradition that you do with your honey, and now it's a tradition from which to make money!
Yep – this is one special  game for new players and seasoned players alike. There may not be a progressive jackpot at stake, but there are two fixed jackpots within a cash-happy hold-and-win game. I've a gut feeling that you'll get along just fine with the two starring ladies in this Moon Sisters online pokie review.
Friends: allow me to introduce you to the lovely Moon Sisters.
How to Play Moon Sisters
One sister is dressed in pinks and reds, fanning her fair skin with a Chinese shan. The other cradles her chin with a delicate hand, pink lotus flowers tucked into her silky, raven hair.
The two of them share a secret that only sisters could keep so well, but, in this game, they suddenly wish to include a third companion to whom they can whisper the unknown.
Since you've turned up in your finest threads, and you're listening so attentively, I figure it might as well be you. You're up for a moonlit adventure, aren't you? Of course you are. All the most exciting things happen after dark.
This is a glimpse of what the sisters will offer you in the Joe Fortune Moon Sisters pokie:
3 rows
5 reels
25 paylines
Betting range: $0.25 – $60
Hold and Win game
Fixed mini and major jackpots
Max win: 1000x your stake
RTP: 95%
Top Features
As you bathe in the moonlight with two sisters by your side, these are the features you can expect to see in the night sky.
Koi Fish Wild
As you may well know from other Asian-themed pokies, the colourful koi fish is a symbol of wealth and success. In the Joe Fortune Moon Sisters pokie, this lucky fish is your Wild, and it can substitute all other symbols in the game except for the moon bonus symbol, which, as you're about to see, needs no koi assistance to shine.
Moon Bonus Symbol
The moon is much closer than you think, creating a halo of light within the ink-black sky, and it serves as your bonus symbol in the base game. When you land on six or more of them, the sisters beckon you forward into the main event: the Hold and Win Bonus Game.
Hold and Win Bonus Game
As you enter the bonus game, prepare to be blinded by moonlight. Your 5×3 grid becomes a holding place for falling bonus moon symbols, which you'll see is the only symbol in action, and much better than falling stars, to be sure. Who needs to wish upon one of those when you have entire moons defying gravity?
Each moon has a prize value from 1-8x, 10x, 14x, 16x, 18x, 20x, or 25 times your total bet. You are awarded that prize each time one of them lands, along with three more respins. The game keeps going like this until there are no more respins left, or until something much, much grander takes place on the reels, which is when all 15 spaces are filled, and the prizes values are added up and dropped into your balance.
The Ultimate Prize Explained: Fixed Mini and Major Jackpots
Aside from simply ending the bonus round, you could also land a Mini Bonus Symbol in the Hold and Win game which awards a mini jackpot of 30x your bet, or the Major Bonus Symbol which awards a major jackpot of 150x your total bet.
Joe's Pro Tip
The hold and win feature is what this game is all about, but admittedly it can be a touch tricky for new players. To get comfortable with the feature, it's a good idea to try it out for free in practice mode first, then switch to "Real Play" when you're ready to keep your winnings.
Joe's Final Thoughts: Play or Pass?
The Joe Fortune Moon Sisters pokie is a delightful game with just the right balance of magic and wealth. The theme is downright hypnotic and the winning potential inside the hold and win game is practically unmatched, especially with these two lovely sisters to guide you on your way.
I say there's no question – follow the moon and play!
Joe recommends Games Similar to Moon Sisters
It's not only these two lovely ladies who know how to use magic in their game, including an alluring hold and win. When you've said "so long" to the sisters, try these games on for size.
Fairy Wins
The four fairies in this enchanted forest are looking for a playmate. When you agree to join them, they'll lead you to free spins and Fairy Wins complete with a progressive jackpot that's twinkling through the glowing green leaves.
Super Marble Hold and Win
Truth be told, we have quite a few hold and win games around here, but Super Marble Hold and Win is up there with the best. The game centres around toy marbles, and it has a fixed minor and major jackpot in the hold and win game, just like you saw in the Moon Sisters online pokie review.
8 Lucky Charms
There's a bit of luck left on the casino floor, and 8 Lucky Charms would like to share some in its quaint Japanese village with Wild tigers and dragons, transforming Wilds, expanding Wilds, and ample free spins.
Play Moon Sisters Pokie at Joe Fortune Now
If luck is on your side, just a few spins on the Moon Sisters pokie at Joe Fortune will send you over the moon, with your bank balance hot on your heels right behind you. The sisters are waiting for you to arrive, so grab your mobile or your laptop, open up the game, and dive inside their magical world.
DEPOSIT BITCOIN AND PLAY TODAY
 Hot Drop Jackpots now at Joe Fortune, with hourly and daily jackpots to be won!