Play Joe Fortune Asian-Themed Pokies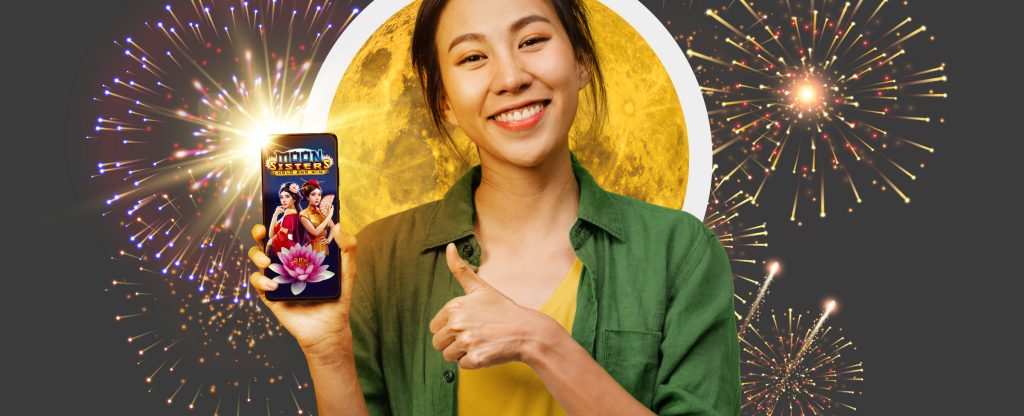 When it comes to Asian cultures, we not only bow down with gratitude at the cuisine, the architecture and the zen cultural practices. We also find ourselves rather interested in the countless tales of wealth and prosperity. Oh yeah, and cool dragons. 
In between mouthfuls of decadent ramen noodles, I've also been stuffing my pokie shelves with enough Joe Fortune Asian Themed pokies to get in touch with this continent on a whole new level. 
You'll be meeting famous legends like CaiShen and the Buddha, attracting some luck from the Maneki Neko, and maybe even dipping your fingers into some red envelopes full of lucky money. 
Let's head across the water and see what our friends to the East are up to. 
Buddha Fortune Hold and Win
Sat beneath a Bodhi tree in India, a young prince named Siddhartha reached nirvana and became the Buddha. Yep, you know the guy. That big round belly and jovial smile that continues to fill us up with the fuzzies to this day.
Buddha has come around for a visit in Buddha Fortune Hold and Win, and he's chosen this very game to bless its players with blissful jackpots. To get in touch with your inner bank balance, you'll need to land six or more ying and yang bonus symbols. This launches the Hold & Win round, and here you will find true nirvana as the values of the symbols add up, and either of three jackpots light up the heavens.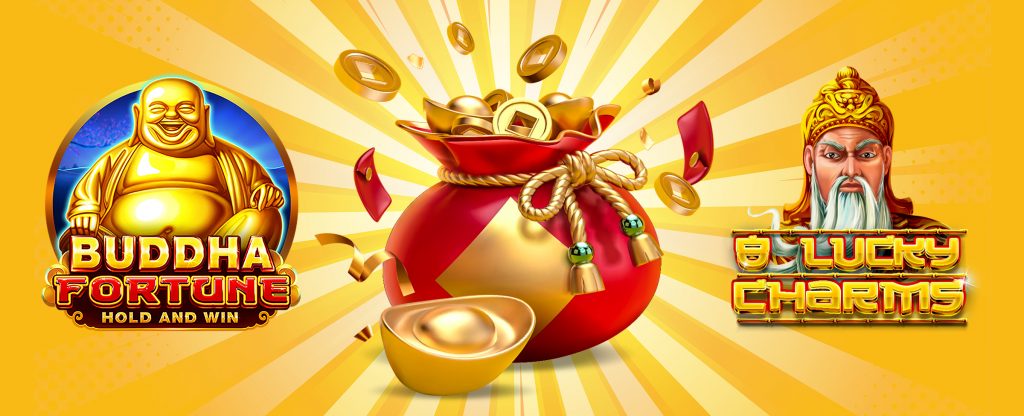 8 Lucky Charms
Continuing our journey through Asian pokies, I've got just the place to ease your jet lag with some easy R&R. 8 Lucky Charms takes place on a tranquil landscape in a remote village. 
Legend has it, a lovely empress lives here, and she comes from a wealthy family. There's a tiger guarding the tree just in front of their home, and he's always looking to play. If you warm him up by rubbing his belly and giving him three or four treats, he'll transform into a dragon and award you multipliers of 3x or 5x, respectively.     
Year of the Ox
According to the Chinese zodiac, as of February 1st, we will officially exit the year of the Ox and enter the year of the Tiger. Some may find it rather fitting that the Ox of 2021 symbolizes diligence, strength, and persistence. Skills we've all leant on recently, amiright??
In this Chinese New year pokie, you get to channel the strength of the Ox for plenty of burly prizes. You could get up to 20 free spins via the scatter, which is the Chinese character for 'Ox'; double Wild symbols for double wins, and increasing multipliers. The Ox knows it best – perseverance really pays off!   
Golden Tiger
If you're into games that celebrate wildlife, then you're really in for a treat with this beast. The tiger is one of the most significant animals in Chinese tradition. It symbolises power and strength. When he's covered in gold like he is in this Golden Tiger game, he symbolizes wealth, too. What a great combination – power and wealth. I wish I had me some.
What we know for sure, is that this pokie will have you taking your place as king of the mountain, right along with the tiger himself. There are three rows and three reels, and your aim is to collect as many tiger symbols as possible. Once all nine spaces add up with tiger heads, you activate the Bonus Wheel which can award you up to 10,000 coins.   
CaiSheins Fortune XL
Seeing as though Joe's is a world class casino, with jackpots in all sorts of games, it's no surprise that I'm pretty buddy-buddy with the god of fortune himself, CaiShen. Since this rockin' god of wealth is responsible for all your wealth, too, it should come as no surprise that the Cai-man (to his friends) is totally overwhelmed with prayers. He's thinking of putting someone on.
The only way to have your prayers heard is from the sacred heart of Joe Fortune Australia Casino. Check! You've got that one down. Now you have to land three or more scatters in CaiShen's Fortune XL, which triggers the Free Spins feature. Here, you can choose from five series' of free spins or Wild multipliers. If you channel CaiShen on hi-beam, you might even get a hunch about which one will pay out the most.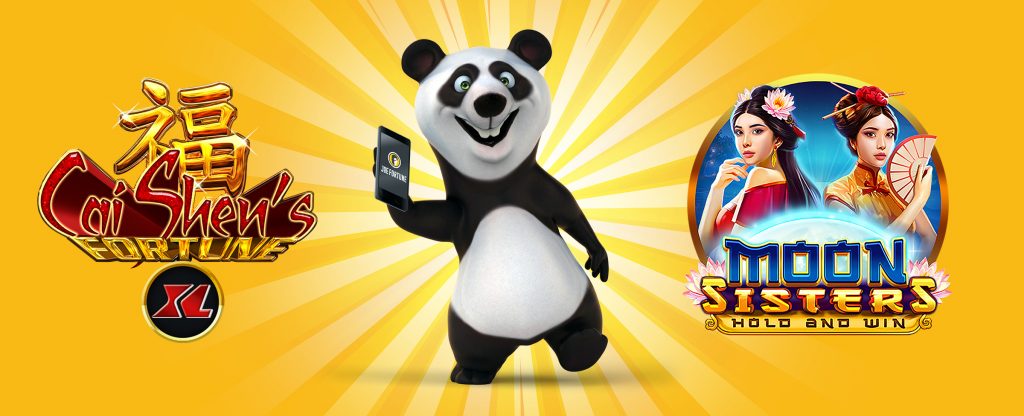 Moon Sisters
These two Moon Sisters are a lovely pair of birds, for sure. They have flowing locks of raven-coloured hair and skin that glows like the moon. The sister with the kimono has her eye on you, and she's waving you closer with her fan to gift you with the highest win… when you land her five times. Land, I said. 
If you want to score another way in this Joe Fortune new pokie, you'll need to capture six moon symbols. Six, I said. This will trigger the Hold and Win bonus round, where bonus symbols can stick on the reels and accumulate value. If you manage to fill all 15 slots (slots, I said) with bonus symbols, you get the biggest prize of all at 1000x your bet, plus a very admiring wink from the two sisters. Wink, I said.
Golden Children
My mother used to refer to me as the "Golden Child" in my school days, and in telling you this, I I've had a sudden revelation that perhaps she was better at sarcasm than I gave her credit for. Not to downplay this personal shock, but I would point my mum towards the true golden powers that the two Golden Children in this pokie possess. I bet she'd miss her silly old lout of a son quicksmart.
But let's see where the gold here lies. The legend tells of two fortunate children born of the Goddess of Mercy (not you, Ma), and they trail along with her to spread wealth and happiness. There are 5 reels and 4 rows in this Asian pokie, which offer up 100 paylines on a golden plate. You also get Wild Scrolls free spins along with stacked symbols, and of course all the love and affection you deserve from these two happy kiddos. 
Fortune Mouse
This adorable mouse has a contagious smile and smooth, shiny hair that rivals my own manly mane. If you think it's unusual for a mouse to have such a luscious wave of hair, then you'll be plenty surprised by what else this fortunate friend has to offer. 
Fortune Mouse is a classic online pokie filled with fun and light-hearted symbols that ooze cuteness; think oranges, peanuts, bags of coins, and bundles of paper money. The real fortune, of course, comes with the mouse and his undeniably excellent hair. He can substitute for all other symbols to help you win, and simultaneously multiply those winnings all the way up to 1000x when all the slots on the 3×3 are filled with his itsy-bitsy face. 
Mahjong Ways
Do we have any Mahjong fans in the house? For those who may not know, Mahjong is a traditional Chinese game that's similar to chess. When you play it as a Joe Fortune online pokie, this game will transport you to a park in China where Mahjong enthusiasts gather around a table and play for pocket money and bragging rights. 
There are five rows and four reels to keep Mahjong Ways moving, and a free spins round with an increasing multiplier. If you play for long enough, you might even channel the skills of the veterans of the game, and get a chance to brag about some wins yourself. 
Are you feeling cultured yet? Whether you're joining a table of gamers for Mahjong in China, finding your inner self with Buddha in India, or summoning the mercy of CaiShen for a bigger bank balance, you can be sure that Joe Fortune Casino has got your covered for Asian-themed pokie. Combine all this good fortune with the Joe Fortune bonus promotions, and you're about to have the richest cultural experience the world has ever known.