8 Pokies to Stir up Luck on Lunar New Year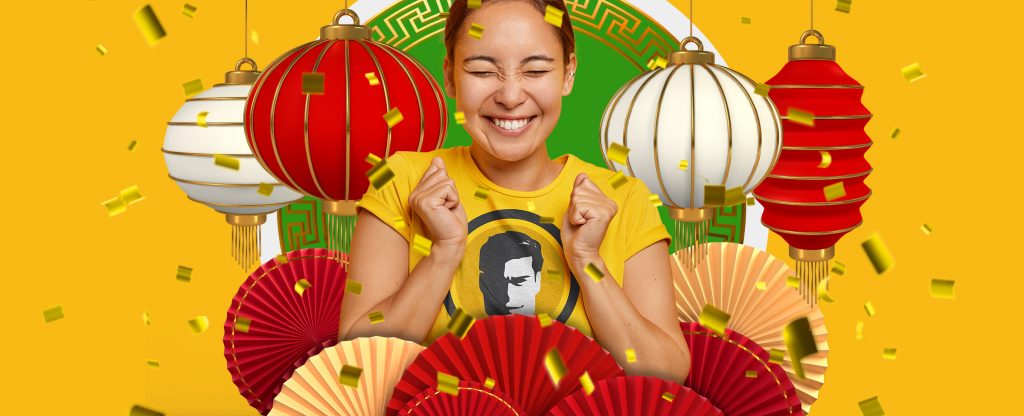 A good chunk of the world has already popped off their fireworks, poured their champagne, and joyously shouted "Happy New Year!" as the clock struck midnight into January 1st. For our friends who celebrate in Australia, China, Vietnam, and more, the traditional New Year hasn't even started yet! 
The Lunar New year will begin on February 1st. For two glorious weeks in China, decorations will go up, special feasts will be had, and red envelopes packed with lucky money will be given to lucky recipients. The whole lucky money bit in particular sounds like something right out of the Joe Fortune Casino playbook. I'll have to order in some red envelopes.
For now, in honour of the Chinese New Year, I'd like to contribute my own type of lucky money, which is really just money. You won't find the notes tucked inside a red envelope – yet – but you certainly will find that these 8 Joe Fortune Chinese pokies are packed to the brim with lucky prizes. 
If you're really lucky, you'll latch on to some of that happiness and prosperity that accompanies the Lunar New Year. 
Grab the last of the streamer pops from the discount bin and get ready for New Year, round two – we're not done celebrating 2022 just yet. 
1. Gongxi Facai
He's round, he's jolly, and he's got gold coins literally spilling from his fingertips. He's CaiShen, the Chinese god of wealth, and he's here to say gōng xǐ fā cái – may you have a prosperous New Year! 
Every Lunar New Year, right on cue, the generous god in Gongxi Facai, the 5×3 video pokie, gathers up mounds of gold in one mighty swoop of his arms. He holds the coins in a bowl above the reels, ready to let them spill into a blanket of gold. It's how I imagine playing pokies with Bitcoin to look: torrents of gold coins raining down from the heavens. 
Soothing traditional music plays in the background as you spin through koi fish, red envelopes, pendants, and CaiShen's own beamingly happy face. He claps delightedly whenever you land winning symbols over any of the 243 ways to win. 
When you make it to his special Free Spins round via three or more scatters, CaiSen gives you a choice between five combinations of free spins and random Wild multipliers to accumulate for the round. What a guy.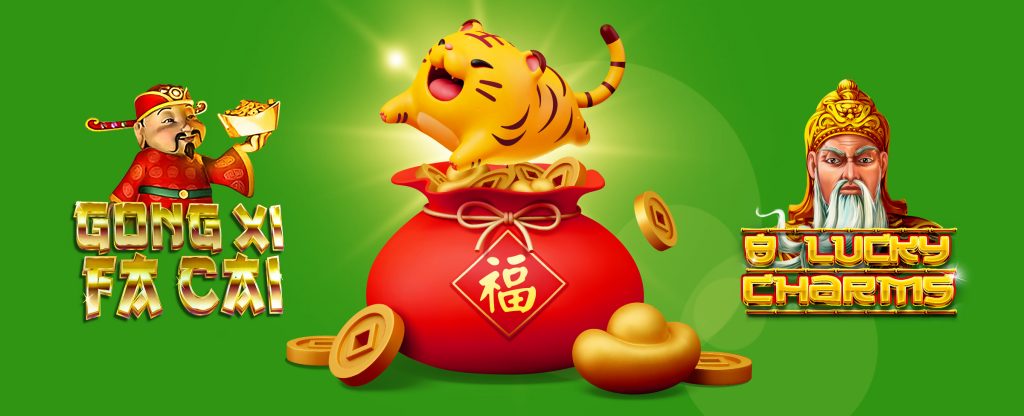 2. CaiShen's Fortune XL
Hey, we know this lad! CaiShen is back for another round, and you really must have done something right in the previous game. He's happier and more generous than ever before with 243 ways to win this time around, plus those extra-large rewards he has stuffed in his back pockets. They might even be as good as Joe's Rewards… and that's definitely saying a lot. Too much, in fact, because they can't possibly be as good.
As you open the red envelope and rifle through your Lunar New Year lucky money this year, CaiShen won't be able to resist joining you for the celebration. He may release three scatters into your home and trigger his own CaiShen's Fortune Free Spins. Expect then to be presented with a choice of free spins and Wild multipliers, which can all be retriggered. 
I'm telling you, CaiShen is truly a man of giving. After my own heart. 
3. 8 Lucky Charms
There's no end to my list of favourite online pokies to play, but none compare to 8 Lucky Charms when it comes to luck and prosperity as central characters. 
This rather special pokie feels a bit like you drifted off to sleep and floated away on a billowy cushion of clouds. Pale pinks, greens, and yellow hues blend through this peaceful village to present a picture of reflective tranquillity. Fifty winning lines float invitingly through the traditional red reels. This is truly the best way to celebrate the Lunar New Year, and the tiger agrees!
The Tiger is your Wild symbol, but he's got a few tricks up his striped sleeve. When you land more than one tiger Wild in a winning way, he transforms into a dragon and multiplies your wins by up to 5x. The maneki-neko is also flittering about the reels, and she can award you up to 20 free spins. They're all so generous around here.
If three bonus scatters appear, you can reveal hidden prizes behind the lucky charms to win up to 50x your stake.  Speaking of tigers…
4. Year of the Dog
Come February 1st, we will enter the year of the Tiger. He'll come bounding through the calendar with claws sharper than sheers and a ferocious roar brewing from his throat. And just behind him, in a quiet and adorable debut, follows the cute little canine.
It may not be the year of the Dog just yet, but this furry little tike isn't one to sit out a good celebration. 
Chinese legend teaches that when a dog approaches your home, wealth and prosperity is soon to follow. So keep your doors open and maybe even leave a steak on your front lawn. The lucky dog in this Joe Fortune new pokie likes to wander. 
Fu ornaments sway around this 5×3 pokie board, and the prized pomeranian-like pup pops up on the reels as a scatter. If three of them perk up their tails at once, you get to enter the free spins round where you choose from four options, including free spins, Wild multipliers, and a "mystery" if you're feeling daring.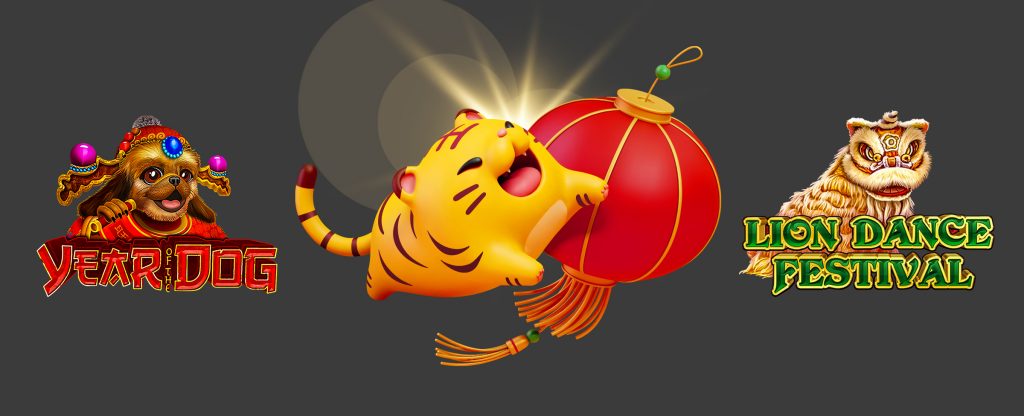 5. Lion Dance Festival
Given the distance, we shouldn't hold much hope of being served those delectable New Year dumplings, but thanks to this online pokie you will get yourself a front row seat to the iconic Lion Dance Festival that rings in the Chinese New Year.
A festive drum beat picks up the pace of the reels, and two different scatters – a lion's head and fireworks – appear on different reels and dart around the symbols. If you land three of scatter one (the lion's head) on reels 1, 2, and 3, you get to choose from three free spins and multiplier options in the Dancing Lions Free Spins round. 
Scatter two (the fireworks) also gets a moment to shine, and by landing three of the symbols on reels 3, 4, and 5 during the Dancing Lions, you get to select your favourite fireworks to reveal more prizes. Make this your next pokie to play for the occasion, and claim the very best of culture, entertainment, and cash rewards all at once. 
6. 15 Dragon Pearls: Hold & Win
This dragon has a lot to show off, and he's wooshing onto the reels with tail swinging and fiery breath blazing, perhaps from all that fried fish he devoured during the lead up to the Lunar New Year. 
It's best not to tease him about it though, because this fire-breathing beast has got a lot to offer on 25 reels in 15 Dragon Pearls: Hold & Win. During the base game, you'll want to ignore the death breath and instead keep your eye out for some shiny orange pearls.
When you land six or more orange pearls in this Chinese pokie, you trigger the game's main feature: a Hold & Win bonus game. Here, blue, green, and orange pearls stream past the reels, and some will stick in place. Each pearl has a different value, which are ultimately added up to form your prize. If you cover all 15 slots with bonus symbols, you win the grand jackpot of 5,000x your bet. Plus the dragon will respectfully spare you his fiery fish breath… until you return for another pearler of a round. 
7. 3888 Ways of the Dragon
That was quick! The dragon is already back, and he really does seem to like you!
In fact, this time he's turned up the volume a bit, and he's added quite a few winning ways to the reels. Quite a few thousand, actually. This unique pokie online is a dazzling 3x6x6x6x6 grid that offers 3888 ways to win. Is there any happier new year than that?!
A frog, a turtle, a red lantern, and gold coins join you in your spin, and a colourful dragon scatter awaits to strike. When it lands three times you get eight free spins, and 18 free spins if it lands four times. Numbers. I love numbers.
The Dragon himself is Wild, and if you think the two weeks of celebration that accompany the Chinese New Year are the Schoolies of the East, just wait until you get a load of this. A Dragon Spin can be awarded at random on any spin, and the dragon swoops across the screen and awards anywhere from 3 to 8 Wilds at the swoosh of his tail. 
8. Fa Fa Fa
Fa Fa finally… our last Lunar New Year pokie has arrived, and I couldn't think of a more perfect Joe Fortune online pokie to round out such a formidable celebration. 
After all the hoop-la of the Chinese New Year; lion dances, dragon pearls, chasing charms, and getting lost in 3888 ways – we've got a little beaut of a game that keeps it simple and lets you take a breather even while you play 
Fa Fa Fa has only one symbol, and that would be… drum roll please… the Chinese symbol for Fa. Fa is red, Fa is blue, and Fa is green. Fa spins easily through three reels, and an old arcade soundtrack brightens up the board. This is not a riddle, folks. It's just that sweetly simple.
You've got one simple payline, and you'll need to land three matching Fa symbols across that line. You can even win if you land a mix, just as long as they line up. 
Isn't that refreshing? After all those parties, all that food, and all that socialising, you'll ease into the New Year by spinning through Fa Fa Fa for some Fa-bulous recovery time. 
As soon as February 1st rolls around, you'll have plenty to keep you busy with these Asian-themed pokies. How lucky we are to celebrate the New Year twice. It's going to be a prosperous 2022… I can feel it deep down in my bank account. Pick a pokie per day, and call up your buddy CaiShen to smother you with wealth at midnight. It sure beats dragon breath kisses.