Dragon's Siege Pokie Game Review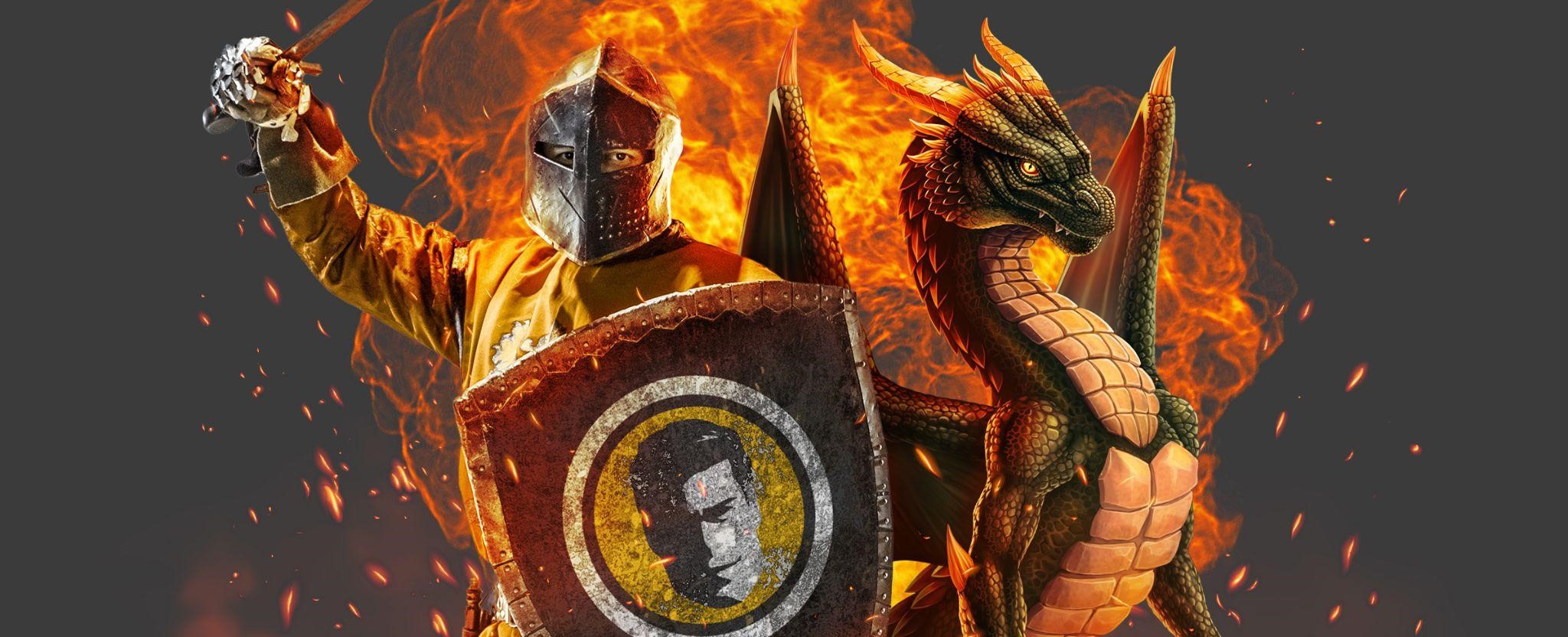 In the old days, heroes would stand in the line of fire, leaping to save the damsel in distress a moment before the sword of their nemesis would slash down upon their shield, as hordes of astonished onlookers swooned and cheered around them.
It's this aspiration to revive those standards of courageousness that ultimately led me to add the Joe Fortune Dragon's Siege pokie to my roster of games; to reintroduce some of that muster and might we lost in exchange for participation certificates.
In this game, you can live out your fantasies as the hero of the piece, but you'll get more than a thankful damsel as your reward. As you'll see in this Dragon's Siege pokie review, there's a hefty pile of treasure awaiting your entrance instead – and a frightful dragon to slay before you can reach it (I mean, the game is called Dragon's Siege… spoilers gon' spoil).
So, are you ready to sharpen your sword and wade into the fire for riches and glory? Yes? Then charge ahead, good knight – or, you know, read on!
How to Play Dragon's Siege
Okay, here's the 101: Your quest is to defeat the terrible dragon that guards the castle, skitter on by to find his loot, pilfer as much of it as you can, and then enjoy a well-earned pool party with your warrior buddies in the moat once you're done. (We've all the seen the bajillion movies this riffs off, right?)
Well, it's unlikely you've seen a castle with pokie treasures quite like this one before. In this Joe Fortune online pokie, lying in wait for its hero to swoop in is:
5 reels
3 rows
20 fixed paylines
Random progressive jackpot
Free spins
Increasing multipliers
Max win of 40,000 per spin
Betting range: $0.20 – $200.00
PLAY DRAGON'S SIEGE WITH BITCOIN
Now the very, very angry dragon stands in the way of this treasure that rightfully belongs to you (you can't miss him, he's the gigantic lizard blowing more steam than a Billy on a campsite stove). If you're his roommate, run.
If you're his challenger, stay put. You've got a job to do!
And don't you look the part! – a dashingly handsome warrior with flowing black hair and a steely look in your eyes that tells the world: he's seen some stuff… but he will not be deterred.
Your trusty horse is awaiting, as well as the castle that you're approaching, standing tall and distinct against a purple-clouded sky. Yes, that does sound a lot like a Meat Loaf album cover. Which is no coincidence because you're about to face a bat out of hell.
Top Features

Before you slay the dragon and bust open the doors of the castle in this pokie online, there are a few trials to complete to first prove your worth.
Scatter
As you approach the dragon, meet the gaze of his bright yellow, flaming eye, no matter how chilling it may be. This dragon's eye is your scatter, and its wins are multiplied by your total stake.
Wild
Here's where another key character comes into play: the princess (there's no other reason to fight a dragon, is there?). This maidenly and rather terrified, fair-haired damsel is desperate for her hero to arrive, and she's doing all she can to help you get there in this pokie.
Each time she lands on reels 1, 3, and 5, she can substitute any other symbol except for the scatter, bridge, and gate symbols. Nevermind the prenup – you won't have to split any treasure with her. She's a princess, after all.
Bridge
The bridge will prove to be a very important feature in your pokie quest, as you can't reach the castle without it. It can't be too easy, though, and the bridge will only appear on reel 1. When it does, it doubles your bet whenever it's involved in a win.
Free Spins
Now, once you cross the bridge on reel 1, you'll need to swing open the gate on reel 5, as well. At that point, the game prompts you to choose a sidekick (not nearly as handsome as you, of course). The character you choose will determine the number of free spins you're granted, which is up to 25.
Now that you're in the free spins round, the bridge and gate symbols will serve as Wilds, but each one also increases the prize multiplier, starting with 1x and reaching up to 10x.
Progressive Jackpot Explained
While you're fulfilling your hero duties – slaying dragons, seizing castles, rescuing fair ladies in need – the usual – don't let your guard drop, even for a second. The random progressive jackpot in this game can trigger after any spin, which will be more than enough cheddar to fund your happily ever after.
Don't stop being a hero! Tell mates about Joe Fortune refer a friend program, and we bestow a sweet bonus reward!
Joe's Pro Tip
This online pokie is truly an immersive experience, and you're almost guaranteed to get lost in the story. As such, it's more important than ever to set limits for your bankroll, as well as how long you'd like to play at Joe Fortune Casino. We're looking for heroic legends, remember!
Also, keep in mind that the random progressive jackpot will work with any size bet, so don't shy away if your bankroll is small that day!
Joe's Final Thoughts: Play or Pass?
Definitely PLAY!
You might be a fan of early-tech video games with quests to complete in a fantasy world, or you'd like to see your own heroic fantasies finally come to life – or, you just really have a thing for squashing lizards, then the Joe Fortune Dragon's Siege pokie is your game to make a deposit and win.
Joe Recommends Games Similar to Dragon's Siege
If the Dragon's Siege online pokie review wasn't enough to slake your thirst for fantasy adventure, don't go back to the Game of Thrones re-runs just yet, because I've got plenty more fantasy themed pokies to explore. Here are three that come to mind:
Wynloch Keep
In Wynloch Keep, you're in the mysterious land of Aegirine with expanding reels and paylines, a ton of lethal weapons, and four different jackpots paying up to 2,500x your stake.
Robyn
Robyn is a forest-dweller with a bow and arrow, and she's on the hunt in the woods for replacing symbols, free spins, and of course, her prince charming.
Dragon's Blast
Our dragon buddy is back in Dragon's Blast, but this time he's filled with a red-hot rage, expanding dragon, giant symbols, and free spins that are even more explosive than before.
Play Dragon's Siege Pokie at Joe Fortune Now
So, intrepid traveller, you'd better hurry, because that treasure isn't going to claim itself! The Dragon's Siege pokie at Joe Fortune is one of the most imaginative, intriguing pokie games I've ever offered at my casino. The hero is already there inside you, my friend – you just need a little stroke of jackpot love to lure it out. Defeat the dragon, break down the gates, and grab your loot with both hands.
Play Hot Drop Jackpots at Joe Fortune, with hourly and daily jackpots to be won!