Dragon Slot Pokie Game Review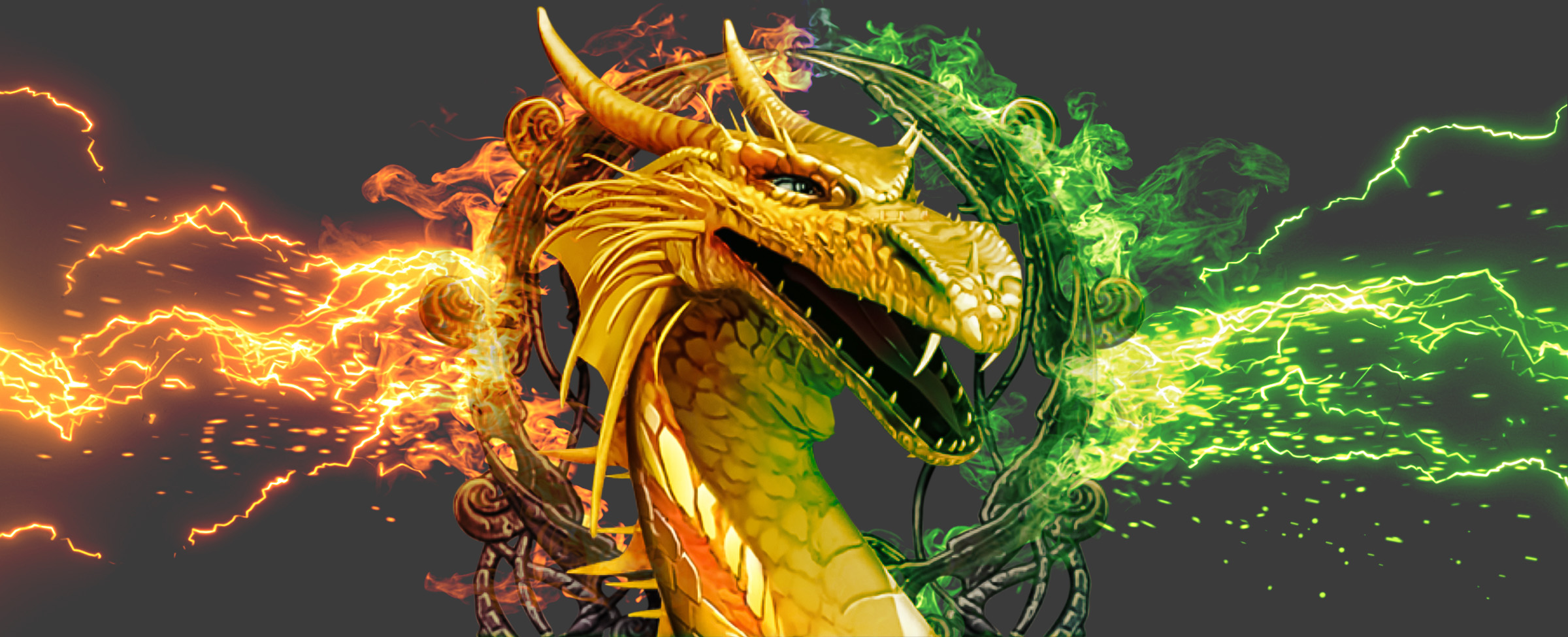 They say that art, like music, is subjective. But from Van Gogh to Van Halen, there's no denying that some artists are just… on another level entirely.
The same goes for pokies, or more specifically, the people who design them. One example of someone pushing the boundary into mainstream art is Ciruelo, creator of the Dragon Slot, and I'll explain why inside this Dragon Slot review.
Gustavo Cabral, otherwise known as Ciruelo, is an Argentine fantasy artist who specialises in dragon art. His distinctive style, with its sharp detail and an otherworldly gleam, has been featured in some of George Lucas' works, and in Wizards of the Coast, Tor books, Eragon, and now the Dragon Slot at Joe Fortune Casino!
When you step inside the misty gates of Dragon Slot, the stunning visuals instantly transport you into the artist's wondrous and eerie imagination. Plus, you get to fight dragons. Which is pretty cool.
The Dragon Slot pokie is a whole new level of experience that will swoop you up on its wing and take you into a fantasy world like no other.
How to Play Dragon Slot
When you enter the Dragon Slot pokie, do not be deterred by the flames engulfing the landscape, or even by the six sinister dragon symbols rearing their heads back to bite you. Crikey… is it hot in here, or is it just me?
The Dragon Slot pokie has such a strong mood going for it, I wouldn't be surprised to see Frodo scurrying up the mountainside looking for somewhere to chuck his unwanted jewellery.
Ciruelo shows off his artistic expertise in every last detail in this game, from the metallic motif surrounding the reels to the symbols and the bonus rounds. To say this game is truly something to behold would be an understatement.
But we're not just here to look at the scenery. We're here to play the Dragon Slot pokie at Joe Fortune. Here's what you'll find when you venture in:
5 reels
3 rows
20 fixed paylines
RTP: 96.57%
Betting range: 0.20-100.00
Max win: 3,000x your stake
Expanding Wild
Free Spins
Bonus Game
Top Features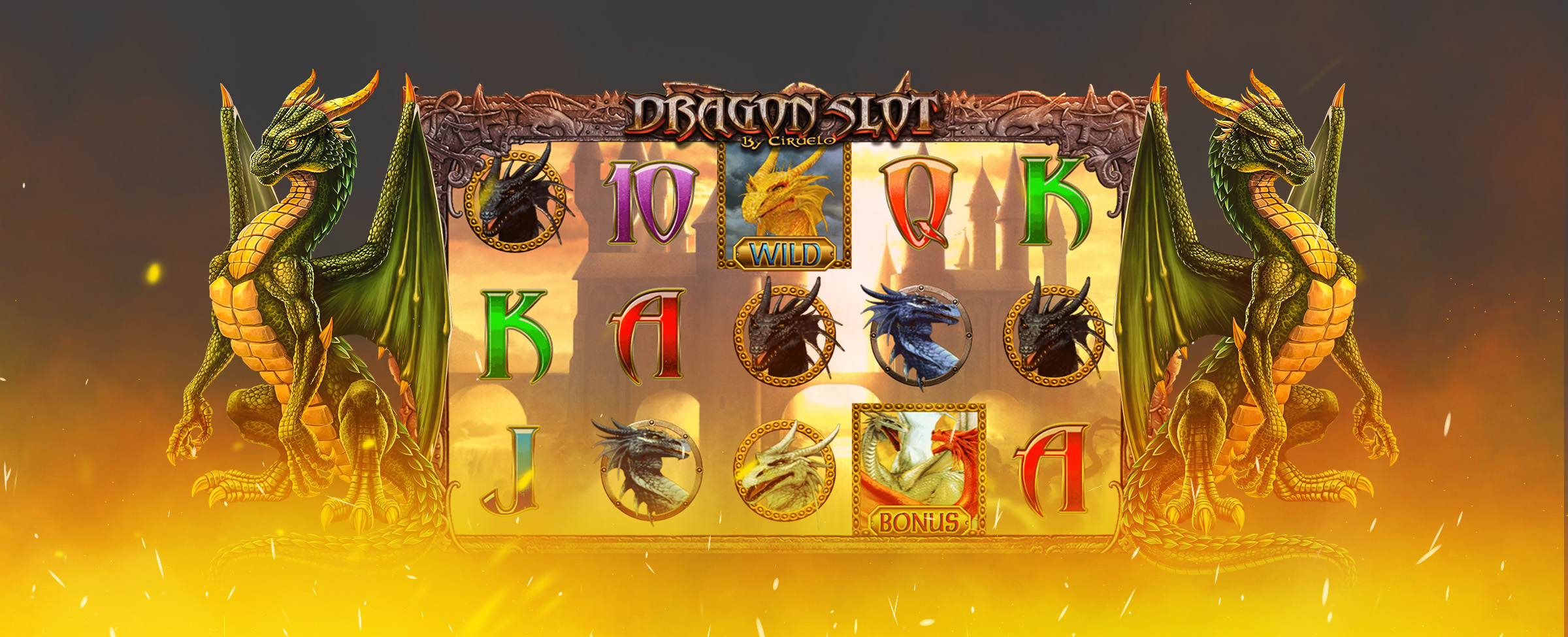 Dragons have been known to stir up luck, at least according to the ancient Chinese. The Dragon Slot pokie takes this concept and runs even further with it, as you're about to see in its features.
Expanding Wild
The first thing you'll notice in this captivating inferno is the yellow Lord Dragon, who has a decidedly smug look on his face. I suppose he's allowed to, since this is his lair and all. This dragon is your Wild, and he expands to cover the entire reel whenever it lands.
Dragon's Fight Bonus
It might be hot, but that just makes the fun and games in this pokie even more exciting – and intimidating. You'd better get used to braving the fire-drenched hills, because you'll soon find yourself also having to fight the fire-breathing dragon on his own turf. All in a day's work, eh?
To get your shot at the dragon, you'll need to land three Bonus symbols on reels 2, 3, and 4, but watch out because this white dragon looks like he just got his tail stepped on, and he's ready to throw down against whoever did it.
The culprit, as it happens, is a red dragon, and you're going to team up with the white dragon to take him down. You got this. I'll just, uh, stand back over here for moral support.
Free Spins Bonus
As it turns out, you're not the only human wandering the fiery mountains. An armoured knight appears in the form of the free spins symbol, but you guys aren't exactly friends. When you get three free spins symbols on reels 1, 3, and 5, you have to select a dragon and its corresponding volatility to fight against the knight inside the free spins bonus.
If your dragon wins, you play a bonus round with the accumulated free spins and multipliers (sorry, Mr. Knight). If you lose, you play the bonus round with 10 free spins and a 1x multiplier.
Joe's Pro Tip
If you're looking for the best way to play the Dragon Slot pokie at Joe Fortune, you've got to play it through Bitcoin gambling. When you do, your deposits are ready within minutes, but more importantly, your withdrawals are ready within minutes, too. That way you can take your cash and run out of the fire pit before your dragon foe tracks you down.
Joe's Final Thoughts: Play or Pass?
This game's atmosphere alone makes it a must-play, although it does omit the famous and fabulous Hot Drop Jackpots that our players go nuts for. But it is, on its own merits, one of the most stunning fantasy-themed pokies – and pokies in general – to play. And with a dragon breathing fire down your neck and threatening you to a fight, let's just say this game gives you more than enough to keep you occupied.
So not only do I suggest you PLAY, but I suggest grabbing a friend to play with too. That way you can each get up to $75 from my referral bonus when they make a successful deposit.
Games Joe Recommends That Are Similar to Dragon Slot
Think we're done with dragons already? Psshht. Not even close.
Dragon Blast
If you can take some more heat, there's a Dragon Blast that just exploded on a video slot down the road. This pokie is heavily guarded by its own fire-breather, and he'll blast you with free spins and giant symbols as I've laid out in my Dragon Blast pokie review.
Dragon's Siege
If it's the hero aspect you like about dragon tales, then Dragon's Siege has a worthy mission for you. Your task is to land a Gate and a Bridge symbol to enter the castle, select your sidekick, take down the dragon, and collect your treasure. Oh yeah, and the undying admiration of a damsel in distress.
Reign of Gnomes
Sometimes it's not about a dragon, but a castle. And sometimes it's not about big, burly warriors, but small, knightly gnomes. At least that's the way of life inside Reign of Gnomes where the tiny royalty award you free spins and a Golden Wheel bonus.
Play Dragon Slot at Joe Fortune Now
Are you trembling at the knees yet? This Dragon Slot review got pretty intense at times, but rest assured with the stunning art, interactive bonus games, and excellent prize potential, this is one of the best new pokies to play online. You heard it from Joe Fortune – get fired up, I'll see you inside the dragon's den.