Dragon Blast Pokie Game Review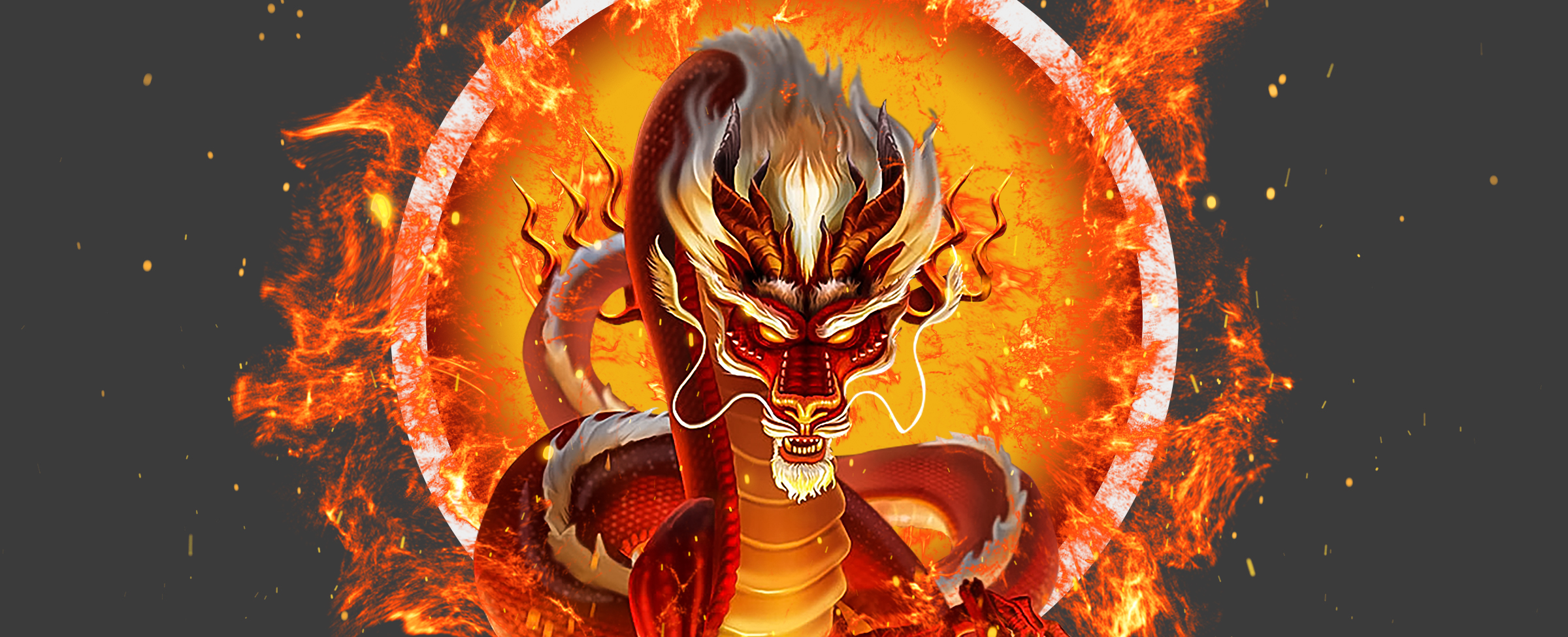 Fan of the heat? How about a bit of adventure? If so, you're in luck, because the Joe Fortune Dragon Blast pokie is filled with scorching prizes just waiting for you to collect them. The only problem is they're waiting inside a cave guarded by – you guessed it – a ferocious, fire-breathing dragon!
Now, at Joe Fortune, I don't just reserve quests like these for hobbits or knights of some mythical round table (terrible blokes to share a beer with, trust me). To get past the dragon in The Dragon Blast Pokie, all you need is some epic, Far Eastern music, a few charms of good luck, and the cahoonas to face a greedy dragon that's got something to prove.
Piece of Lamington cake, right?
There's a load of red-hot potential behind these reels, and a tonne of features developers wouldn't dare show anywhere else. If the allure of the dragon's gold has piqued your curiosity, then get ready to enter the Dragon Blast online pokie review, brought to you by the humble owner of Joe Fortune Casino (it's me, Joe).
How to Play Dragon Blast
For one thing, the Joe Fortune Dragon Blast pokie is like hunting dragons for sport (think of them as the cane toads of the sky – we're better off without them). It's not like virtual sports, either – that's something else entirely. This is more like that life-or-death type of sport – yunno, gladiators and the like; they make the UFC look like fencing with feather dusters. What's more, if you manage to win at the life part, then you get to slay the dragon and run away with its hoards of gold. Put that in your pipe and smoke it, Connor McGregor.
Now, this dragon that you'll find guarding the reels: he skipped right over monocles and hobnail boots and corduroy to divebomb smack dab onto the runway at New York Fashion week. Valentino eat your heart out (before the dragon does), because old flame breath is indeed rather stylish for a reptilian, replete with a wavy pompadour of fire blowing over his head. I'm not too well-versed in dragon fashion myself, but it seems like such a hairdo would be a PR disaster for anyone intent on keeping up the dangerous beast image.
Regardless, he does a mighty fine job of guarding his lair and discouraging intruders from getting too close. Except for your brave self, of course, since you happen to be armed with the necessary accoutrements for dragon slaying. That level of boy scout preparedness and organisation is hard to find these days.
But down to business. In this online pokie, you come bearing gifts of amulets, feng shui coins, and red ribbons – all signs of good fortune. Once you get closer with your offerings, this is what you'll find:
5 reels
3 rows
50 paylines
Max win per spin: 1,500x your stake. ?
Betting Range: $1.25 to $500 ?
RTP: 96% ?
Free spins
Multipliers
Expanding reels
Mega lizardy theme
Before you even get into the game, you should know that the best way to slay the dragon is with the power of crypto at the best Bitcoin Casino (that would be – ahem – right here), and I don't say this lightly. With crypto, you get major bonuses in Bitcoin to start your game well in the green. Plus, dragons also have an affinity for gold, so he may be more inclined to cooperate when you flash him some. Try dangling it like you would your keys to an itty-bitty kitty cat – here, dragon dragon! But instead of giving milk, you're going to make him toast.
Top Features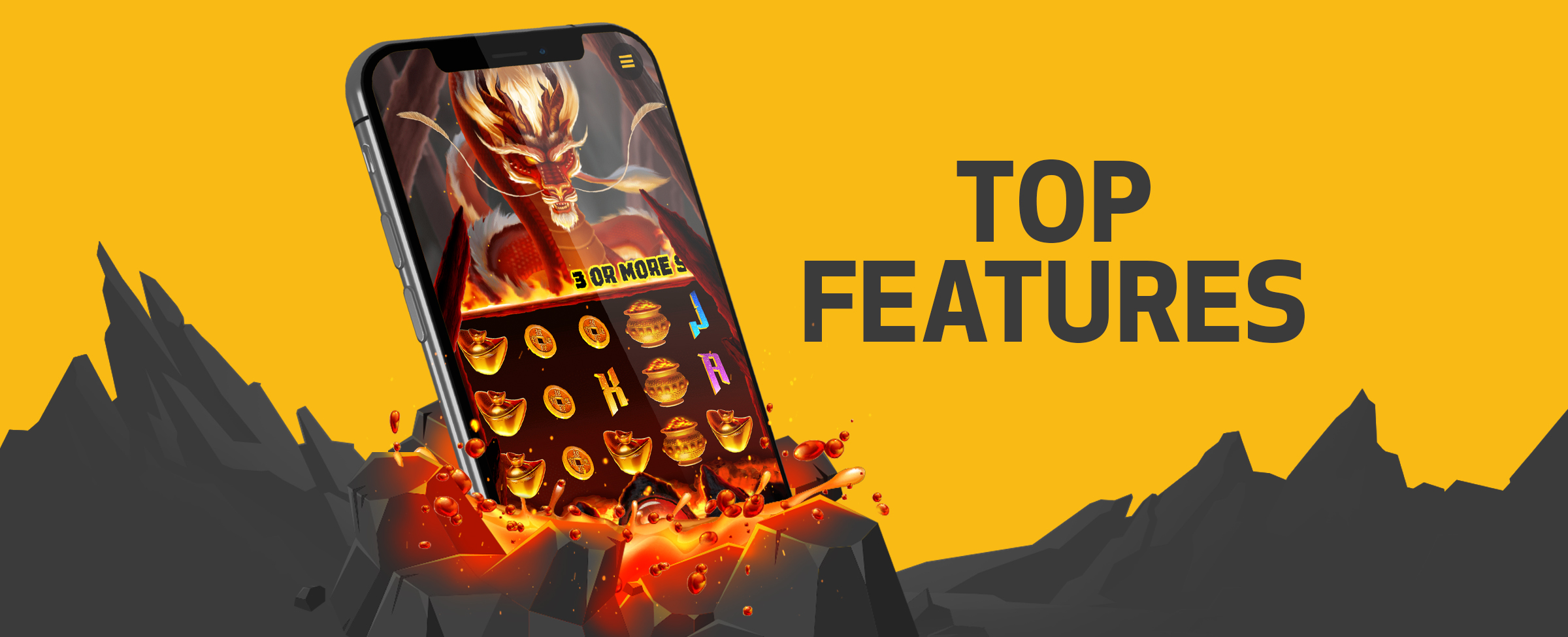 Assuming you like your pokie payouts white-hot and your dragon-slaying fierce, you'll want to take full advantage of the many features that fire this game up with some hot chilli wins.
Pearl Scatter
The scatter is a pearl of orange fire. You need to land 3, 4, or 5 scatters to activate the best feature in the game involving expanding reels and free spins and re-spins.
Dragon Blast Free Spins
Move over, dragon! Joe's crew is here via the scatters, and we're taking over your lair for expanded reel sets and free-spinning gold – and when I say 'we', I definitely just mean you.
The more pearl scatters you get in the base game, the more reel sets you get as well as free spins:
3 scatters = 1 more reel set and 5 free spins
4 scatters = 2 more reel sets and 5 free spins
5 scatters = 2 more reel sets and 10 free spins (that's the one!)
A re-spin feature is also available, whereby the more scatters that land, the more re-spins you get. Speaking of re-spins, you get a gargantuan symbol that retriggers your free spins whenever it lands in the middle of the reels.
Giant Symbols
I know I tell a good gag when the mood strikes (lookout for my Netflix special), but when I say this game is larger than life, I am not kidding. When you're inside Dragon Blast Free Spins, reels 2, 3 and 4 merge to form one gigantic symbol, and when it lands in the middle of the reels, you get even more free spins.
Joe's Pro Tip
My biggest tip is one I'll hold on to it 'til I'm six feet under, so listen up: always – I repeat, always – try to grab a bonus like the Refer a Friend bonus to start your gaming session off with some free spins.
Once that's paid out handsomely, then you can take my next tip inside the game, which is to wear tinted sunglasses. Kidding! With sunglasses applied, you should now bet on the highest bet rate your bankroll will allow. With so many great features lighting the reels in this game, and such a great RTP, the highest betting amounts will take the most advantage of the opportunity.
REFER A FRIEND TODAY
Joe's Final Thoughts: Play or Pass?
I must say, I do love a hot game as much as I love a hot day at the beach, and the Joe Fortune Dragon Blast pokie keeps my roster of games as blistering as the sun.
If you've got even a minute to spare and you're feeling daring, step on up to the dragon's lair and battle him to the death for his giant symbols and respins.
In other words, PLAY!
Joe Recommends Games Similar to Dragon Blast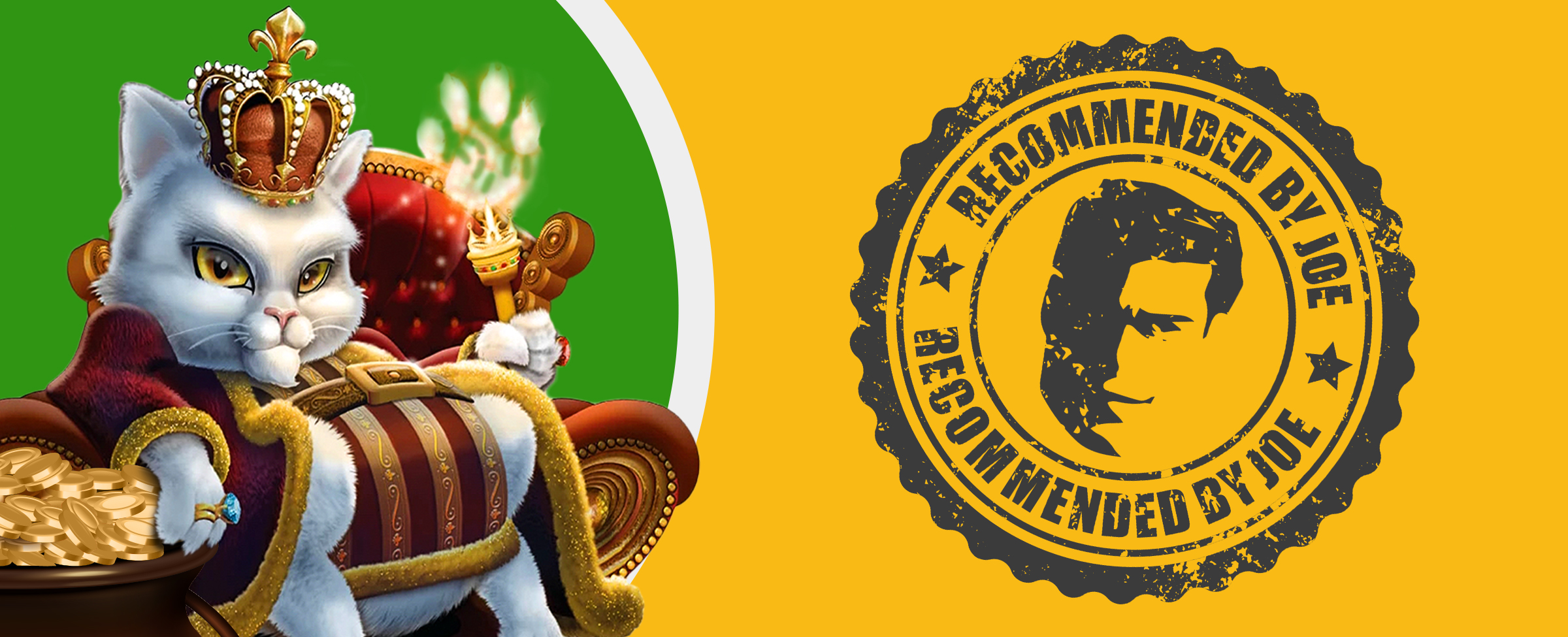 Fantasy-themed pokies are a big hit around here, and I've got quite a few more to introduce to those who like an escape into imaginative worlds.
15 Dragon Pearls
The beast on fire is back, but this time he's got a special Hold and Win game that offers the chance to add up pearls and re-spins, or the biggest prize of all when you land 15 Dragon Pearls.
Dragon Scroll
Dragons aren't always surrounded by fire, and in Dragon Scroll the long-tailed beast resides in the sky. You can float up there to meet him, and he may reward you with stacked Wilds and free spins.
Cat Kingdom
Cat Kingdom may not feature a fire-breathing dragon, but it does feature a domineering cat that guards a video slot and descends upon the reels to help you get more wins, just like our dragon buddy. And don't forget to dangle your crypto from above to win this kitty over!
Play Dragon Blast at Joe Fortune Now
The dragon is waiting, and the fires are burning. Deposit with crypto and prepare the amulet. You're going dragon hunting in the Joe Fortune Dragon Blast pokie for treasure just like you saw in the Dragon Blast pokie review. Don't hesitate, soldier – go for it.
Trust me, you'll have a blast.
Hot Drop Jackpots are now at Joe Fortune, with hourly and daily jackpots to be won!