Virtual Sports Guide – How it Works and How to Win

Thanks to the seismic social adjustments we've all had to make, the world of sports has undergone quite the drastic change. Yeah, that's an understatement.
Now, instead of rallying up the troops and causing a ruckus at the stadium, you've got to find other ways to get your rocks off. With sports, that is.
It's all about virtual sports betting. Virtual sports betting, or sometimes called digital sports betting, is a type of online sports betting that lets you have the cash-money thrills of a real-life sporting event: straight from your home. And whenever you fancy it. Before brekky; on the train; during some sort of bug in the system that makes population density a potential menace.
However you prefer it served, I have a feeling you're going to love virtual sports betting. If you've got five minutes, grab a coffee and let me show you how it works.
How Virtual Sports Betting Works
With virtual sports betting, the events are always on. You can place bets every 3 minutes 24/7. I don't necessarily recommend that, though.
That's because virtual sports are run by software that never rests. Doesn't even get tired like those alive participants. The matches look just like a regular event, but they have fixed odds, and they're not based on any real-world factors. The events themselves as well as their outcomes are determined by a random number generator (RNG).
The other thing about digital sports betting is that you don't have to study up on players, history, weather conditions, or any other external factor. It's that whole RNG thing. Makes online sports betting a helluva lot easier for you.
Click/tap on "Virtual Sports" from the horizontal menu
Select your sport of choice on the left column. The timer will tell you when the event starts. All bettors can see the same event and see the same outcomes.
Choose the type of bet you want underneath the game screen, and create a Bet Slip. There will be multiple options for each event.
Enter your bet amount in the bet slip on the bottom right and click/tap the green "place bet".
Watch the event, and conclude with happy dance.
So how 'bout those events? These are the events you can indulge in online sports betting with at Joe's. That's my place, you know? A man's online casino is his castle.
Virtual Basketball League
If you're going to deposit and play virtual sports now, basketball is a solid place to start. When you click on "Basketball League", you'll be able to check out the upcoming games, stats, and results.
On the left, you'll see the list of events and who's playing in what game. Further along the row are the odds for each team. After you choose your event and study the odds, you can decide which bet to make.
You can bet on:
Winner: Just what it sounds like. Who's going to win?
Half-time Winner: Which team will be ahead by half-time?
Over/under: You bet on whether or not you believe the final score will be over or under the prediction listed.
Winning Margin: You bet on how many points divide the winning and losing teams by the end of the game.
Half-time Winning Margin: Same as above, but by half time, not the end.
Virtual Soccer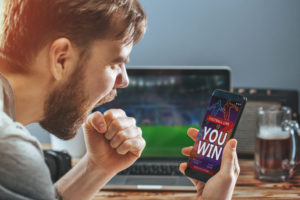 Digital sports betting with soccer is slightly more involved. It works the same as the Basketball League, but you have more options.
After you select "Soccer" from the left column, choose the kick off time (every 3 minutes). Each time slot will have a different match set up. You have a lot of bets to choose from:
Winner: Yep. Who's gonna crush it?
Correct Score: Bet on the exact final number of goals in a game
Double Chance: Bet on two possible outcomes within one match
Total goals: The number of goals scored in a match by both teams, added together
Asian handicap: Betting out the outcome of a game when one team has a virtual "headstart" with negative points
Over/Under: Whether the final number of goals will be more or less than the given number
1X2 Over/Under: Same as regular over/under, but this time there are three possible outcomes (1=home, X=tie, 2=away)
Home Over/Under: The Home team will score more or fewer than X number of goals
Away Over/Under: The Away team will score more or fewer than X number of goals
Virtual Soccer League
This is like Virtual Soccer online sports betting, but now you can bet on games for the entire league instead of just one match with two teams. After you click on "Soccer League" from the left menu, you can then choose a week (instead of a time slot).
Once you select a week, choose your match. Then, your type of bet. The bets are exactly the same as with Virtual Soccer, listed above. The only difference is you that can make them with multiple teams in the league.
Virtual Horses
Now, in real life horse racing (also true for other animal racing), the odds are determined by all the wagers in a market. When it comes to digital sports betting with Virtual Horses, the odds are determined by Me, the bookmaker. Then my trusty pal RNG steps in and we give you a fair game. We'll go riding on the horses, yeah!
These are the primary bets to focus on:
Winner, 1-2 Place, Show, or Last 5 (all are listed under "Main bets"): Choose a horse. Bet on which position they'll finish for the race. A "show" means positions 1, 2, or 3. Placing a "show", "1-2 place", or "Last 5" means your horse can finish in any one of those positions for you to win your bet.
Exacta: Bet on which two horses will finish in first and second place, in that order.
Trifecta: Bet on the three horses which will finish first, second, and third, in that order.
Odd/Even: Bet on whether the first two winning horses are either odd numbers or even numbers.
Now you're way up in the sky, little darlin''.
Virtual Greyhounds
This is another type of online sports betting similar to virtual horses. But this time a track full of lean greyhounds bolt to the finish. This kind of greyhound racing is approved by rabbits everywhere.
Once you're in Virtual Sports tab, do this:
Click on Greyhounds ("V" with 8 dogs or "R" with 6 dogs)
Choose a time slot (Every 3 minutes)
Choose your bet and make a Bet Slip
Enter your wager, and watch 'em race.
The bets are the same as horses, and the same for all types of virtual sports betting with races:
Main bets:

Winner
1-2 Place
Show
Last 5

Exacta
Trifecta
Odd/Even
Virtual Supercars
Vroom Vroom! Watch as 8 Nascar-esque cars zoom to the finish line at full throttle. The commentator hypes you up as the event rushes to the finale. Like the other types of racing, you can bet on the winner, as well as who places in each position.
Follow the same guidelines I explained above for betting on races: Main bets, Exacta, Trifecta, and Odd/Even. One concept, multiple applications.
Also make sure you look at the odds carefully before placing a bet. Under the main bets, the odds for the Winner are the highest, because the likelihood is smaller. Making wagers on a "Show" has lower odds because there's a higher probability you can win. That's all true for any type of virtual sports betting.
Virtual Camels
Truly a unique sports betting experience. The desert meets the racetrack as you watch 6 camels gallop towards the finish line. These also have the same types of bets as Supercars, Greyhounds, and Horses.
Look closely at the odds. Notice how certain combinations in a Trifecta will pay out huge, since your likelihood is smaller. For example, if you bet on Camel numbers 4, 1, 7, to finish in that order, your odds are x3090. With a $5 wager, you could strut off with more than 15k! ($15,450, exactly).
Colour-Colour
This is a different type of digital sports betting. A different type of sport entirely, in fact.
You get to try your hand at blue balls. But not the kind you're thinking of, so no need for that smirk. Blue balls is more like the Lotto. There are other coloured balls, too: red, yellow, and grey. (I don't even want to think about what the other colors would indicate in another context).
The game works like this: six balls roll onto the screen. Whichever colour shows up most frequently is considered the winning colour. And you can make an insane amount of bets based on the colours and numbers alike.
Number of colors: Bet on how many of each colored ball will roll out next
Winning color: The color that pops up the most on the next draw
Matched numbers: Choose up to 10 numbers. Select how many you think will be "matched" on the draw. You can choose up to 5 matches.
Anaconda: Pick a line of numbers between 6 and 20 numbers long. If the sequence drawn matches your selection, ooohh nelly can you win HUGE. 500000:1 is the payout for matching 6 numbers in a row. Un. Fricken. Real.
Bet Zero: Bet on the numbers that won't show up.
Digital Sports betting is super fun, obviously. I think that's pretty clear by now. Just remember that while the teams and events feel super realistic, they're really not. We'd get done for labour violations if they were, what with them going 24/7. So remember to make your bets based on the odds and probabilities, not on real life. Just a few words of wisdom here from your buddy Joe. I got you, now. Let's do this.