Gold Rush Gus Pokie Game Review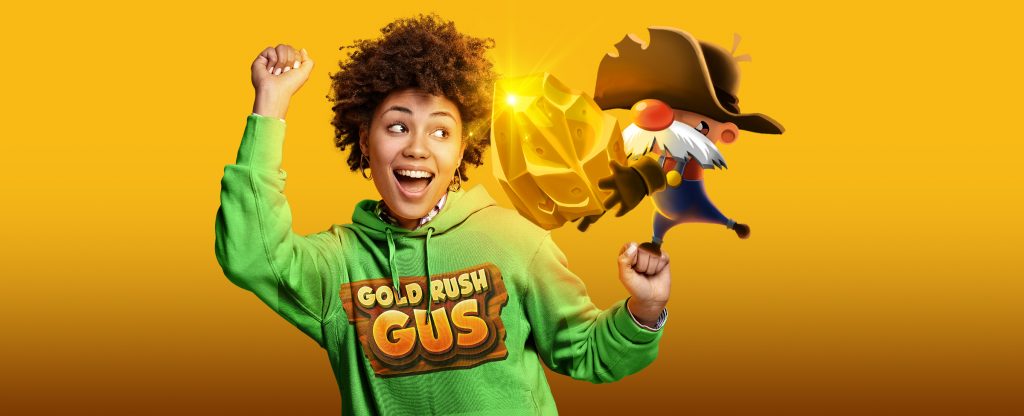 I've no doubt that such a likeable, upstanding citizen as yourself gathers friends like a 20-year old on a Contiki singles cruise. You collect them in pubs, at work, during events… I bet you even make friends with salad. But here's a new one for you: did you realize you could make friends with pokies, too? 
In fact, your future pal Gus is on standby as we speak, waiting to partner up with another plucky adventurer within the Joe Fortune Gold Rush Gus pokies game. Aside from myself, you're unlikely to meet a more loyal pal who's always ready to kick it. Let's give this the full steak knife treatment: But wait – there's more! Onya, Danoz.
This professional gold digger not only has the vibes, but he's also got all the tools, jewels, and side games to make every second inside his pokie worth your dime. With Gus, you can forget about basic features and old-school graphics – this is no place for the ordinary. Gus is all about going big or going home, and I'm guessing you're a go big fan, too. 
So put on your finest torn jeans, players, and leave the smart casuals behind. We're goin' digging. 
---

MALCOLM B. FROM SOUTH AUSTRALIA WON $56K PLAYING GOLD RUSH GUS IN NOVEMBER 2021 AT JOE FORTUNE!
---

How to Play Gold Rush Gus 
How do you confuse a Gold Rush Gus player? Offer them two shovels and tell them to take their pick. Oh, I'm killing it today. Out of the ballpark.
But in all seriousness, this 3D pokie is pretty damned spectacular. Instead of spinning reels in the traditional sense, you swing a pickaxe to bust open the rocky earth and reveal gems and jewels inside the dirt. Here's a few of the gems you'll find in Gold Rush Gus:
5 reels, 3 rows

10 paylines 

Bet range from $0.02 – $100

Losing re-spins

Skill-based Bonus Game

2 mini jackpots

1

major

progressive jackpot
Top Features
Gold Rush Gus pokie at Joe Fortune is a fully immersive adventure, and it's all about the spectacular features and jackpots. Oh, and your new buddy, Gus.
Lava Re-Spins
An all-round good guy like Gus hates to see you disappointed, almost as much as I do. With Lava Re-spins, those losing symbols on 2-5 reels are randomly dried in lava, promptly cracking open with new ones.
Free Spins
Even better than re-spins, of course, are free spins. And in Gus' world, there are plenty. When 3 free spins symbols appear on reels 1, 3 and 5, you can get up to 15 free spins with 4x multipliers! 
Treasure Chest
This is it – the holy grail of the game. The Indiana Jones in you takes over at this point. When you get your dirt-covered paws on the treasure chest, you have earned yourself a nail-biting chance at one of the jackpots. Two key symbols on reels 1 and 3 prompt a frisky little mole to present you with a chest. A treasure chest, that is.
The prize depends on what's inside:
Progressive Jackpot:

a blue-white diamond

Green Mini Jackpot:

5 green gems

Red Mini Jackpot:

5 red gems

Bonus Game:

the map

Instant Win:

a golden nugget
Bonus Game
Gold Rush Gus is not your basic pokie. When you trigger the bonus game, you get to speed through a track on a cart and use your skills to pick up as many coins and boosters as you can. It's sort of like Mario Kart, but you get real cash for winning. How about that, Mario?! Huh? When were you ever as generous as Gus here? Exactly.
Progressive Jackpots Explained
Since you and Gus have been busy digging up the earth and all, he's left plenty of payday opportunities for you – just to say thanks. And perhaps to buy your affection. 
The Main Progressive
How a progressive jackpot works is by adding a contribution each time a player makes a bet anywhere in the world. It's the same for this game. You can win it by finding the blue-white diamond in the treasure chest. 
The Two Mini Progressives
The minis are a bit different. You contribute to your own mini jackpot fund with each spin you make in the game. It's like a Gus-Go-Fund-Me. You can win either one by collecting either 5 green gems or 5 red gems. 
Joe's Pro Tip
Gold Rush Gus is all about the jackpots, no doubt. If you want to win the progressive, then you have to bet on max. For the mini jackpots, it doesn't matter what you bet, but of course they'll grow bigger the higher your bet amount. It's the old "go hard" theme.
Joe's Final Thoughts: Play or Pass?
As the impartial arbiter of good taste that I clearly am, you could typically expect my game reviews to run through some shortcomings, even if it's just to maintain my reliable critic status – but Gold Rush Gus has left no room for even the pettiest of complaints. I swear that Gus isn't behind those words, nor are any of his affiliates, but this treasure is a total box-ticker: the betting range is ideal for any bankroll, the animations are totally memorable, and the winning potential is unlike any other. Right now I'm all about this superior pokie, and I'm lousy about keeping things all to myself. Spread the love, that's my motto. Champion your causes. Play, play play!
Joe Recommends Gold Rush Gus and the City of Riches
Gus has another pokie adventure waiting for you, too: Gold Rush Gus and the City of Riches! This time around, Gus is exploring the jungle for hidden real money treasure. Just like in the original, there's instant wins, free spins and re-spins – and there's also one huge progressive jackpot waiting to be unearthed! If Gus is your guy, then you'll definitely want to accompany him on all his dig sessions! Learn more about this online pokie in our Gold Rush Gus and the City of Riches pokie review now.
Play Gold Rush Gus Pokie at Joe Fortune Now
There you have it. Gold Rush Gus is, by my measure, the overall Joe Fortune best pokie when it comes to lively animation, unforgettable characters, and bloody marvellous wins. But! Before you run off to do some digging, remember that you can enjoy all these beaut features of Gold Rush Gus in practice mode for free. Grab your gear and come on down. Your newest friend is putting both the rush and the gold into Gold Rush Gus.