8 Lucky Charms Pokie Game Review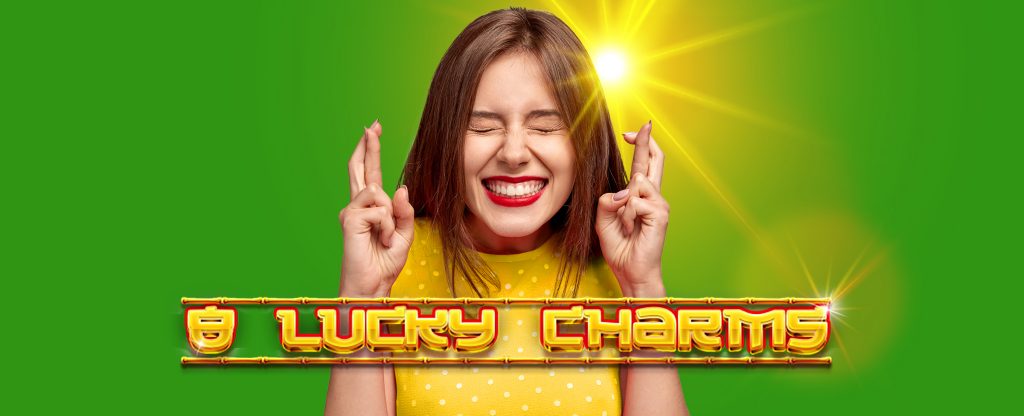 This Joe Fortune 8 Lucky Charms pokie is more than a little charming. In fact, even for a simple fella like me, I'd go as far to say it's completely enchanting. The game is set in a tranquil yet breathtaking Japanese village. The word pristine will come to mind, and everywhere you look will appear as manicured as a bonsai tree on AstroTurf!
Let those calming reds and golds put a little warmth in the cockles of your heart, and listen as exotic birds chirp in the meadows, against the background of melodic Japanese music. A wise old man, a geisha, turtle with gold, and gold coins float through the reels like a dream sequence. I don't think I've ever been so at one with the world. No wonder folks pay for this sort of stuff. The joke's on them, though, because 8 Lucky Charms is more likely to pay you.
How to Play 8 Lucky Charms
The theme focuses on a local legend: whoever can gather all 8 charms will live a life of luck and fortune. Before discovering if that could be you, let's see what you'll find in this Joe Fortune slot game: 
5 reels

3 rows

50 fixed paylines

Betting range $0.50 – $100

93.2% RTP

Wild multipliers

Expanding Wild

You Choose Free Spins

Bonus Round
There are 50 paylines in this game, which is 42 more than 8, meaning this game delivers straight off the bat. Naturally, 50 paylines give you plenty of chances to win. All of your wins are recorded from left to right, starting with the leftmost reel. If you get more than one win on a line, you'll be awarded for only the highest one. Which, given the choice, is better than the lowest one. You may disagree.
Top Features
If you haven't drifted too far into dreamland just yet, let's look at the charming features of 8 Lucky Charms pokie at Joe Fortune and their consistent money-making potential.
Wild Multipliers
Story time! According to Japanese folklore, the tiger and the dragon control the wind and the rain. Together they bring dual blessings of rain and peace. There are two Wilds in this game to commemorate the powerful duo, and the first is the tiger. 
He may have a glare behind his eyes reminiscent of my dear old mum whenever dad, rest his cotton socks, vacuumed the crumbs from the kitchen table once he was done with the carpets; oh so fierce, but not so fearsome. So don't hide in your kimono just yet! When you land three tiger Wilds on a winning line, it multiplies your wins by 3x. When you land four wilds, it multiplies by 5x. Not so crummy, right? 
Expanding Wild
The expanding Wild is the other half of the legend. This Wild is a colossal Japanese dragon, and he holds unique power within the free spins round. If the dragon lands on reel 3 it expands to cover that entire reel, replacing any other inferior symbol, leaving the free spins and bonus symbols to spread their luck in your direction. 
Free Spins
The maneki-neko lucky cat is a traditional Japanese figurine that represents wealth and prosperity. No wonder I'm fond of cats! This one has a fitting role as the symbol of free spins, and also serves as your scatter. When you land three free spins symbols, you can choose to get either:
5 free spins with 4x multipliers

10 free spins with 2x multipliers, or

20 free spins
Now let's whisker you away to the Bonus Round. Here, kitty kitty!
Bonus Round
The yin-yang symbol, as cheaply tattooed on many a freckled, white bicep (rethink your ink, my friends), represents the two complementary forces of good and evil. You won't have to worry about the evil part on these reels, because it never got the invite. Instead, you get only the powers of goodness when you land three bonus yin-yang symbols, which send you off to the bonus round. Time to pump that fist into the air.
Inside the bonus round, you grab the charms by their proverbial horns (not too rough, of course, as you wouldn't want to damage the prosperity within), and you select your symbols to reveal the lucky charms that the very game centres around. If you find three charms of the same colour, you get the value of those charms as your prize, which can reach up to 50x your bet. Enough to pay for a good tattoo removalist…
Joe's Pro Tip
This game is low-to mid-volatility, which means you could expect it to pay smaller wins fairly frequently. In low-to-mid volatility games, it's not a bad idea to increase your bet size for a time, even to the max, in order to get the most out of those regular wins. 
Joe's Final Thoughts: Play or Pass?
I kid you not, this game will feel like you're napping under a cherry blossom tree with wealth blowing past your face in a crisp, rejuvenating breeze. Everything about this game just screams – or more accurately, whispers peacefully – today is your lucky day. If you find yourself looking to relax with a meditative-like task, and one that happens to toss you a few dollar signs, then the message is clear: lean back and prepare to be charmed.  
Joe Recommends Games Similar to 8 Lucky Charms:
If you're partial to the traditional Eastern themes of luck and prosperity, then these games will win you over faster than you can swallow a sushi roll. Hold the wasabi.
With just 3 rows, 3 reels and 5 paylines, this fairly adorable pokie has a fortunate mouse who takes you for a spin to fill the grid within, with the goal of winning up to 1000x your stake. 
Fu Fortune Megaways
Red envelopes, Chinese drums, golden fish, turtle dragons, and vibrant sunbirds spin over 6 reels and 3-6 rows, with a staggering 46,656 ways to win (and no, my fingers did not slip on an extra digit) and a thumping list of features on top. 
The God of Wealth, Caishen, guides your journey through 243 paylines, pouring down free spins and multipliers to keep up his divine reputation. 
PLAY 8 LUCKY CHARMS POKIE AT JOE FORTUNE NOW
This pokie is waiting to grace your reels with fortune and the most relaxing kind of fun. Just charming.
For even more of my personal recommendations, I suggest you head on over here and begin your shortlist with these tried and tested Joe fave slots.