10 Times Vegas Pokie Game Review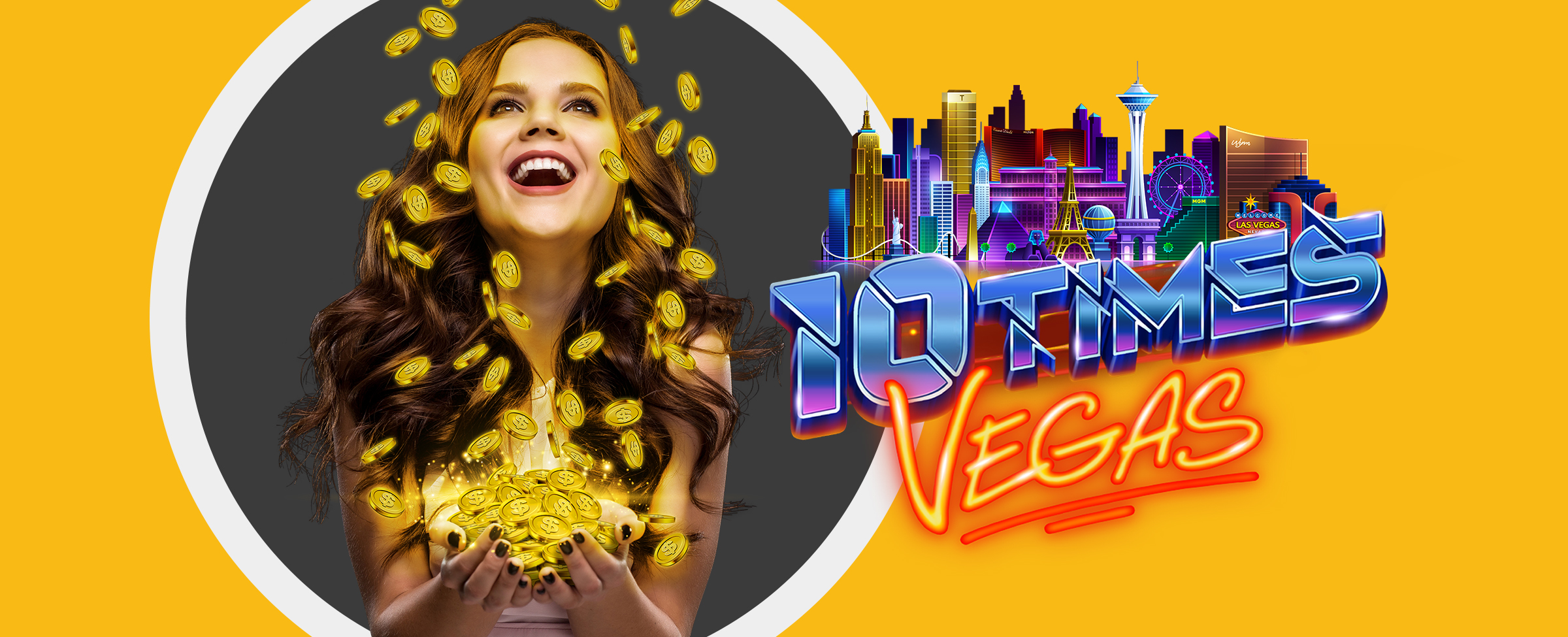 If you didn't find time this year to pack up your bags and your crew for a trip to Vegas, then stay right where you are, because you're in luck. (Also, the borders were closed, so you're not just lucky – you're also rather sensible.)
Ladies and gentlemen, let's remotely view a Vegas casino. Ten times.  It's the Joe Fortune 10 Times Vegas pokies game!
Full disclosure: this online pokie may not take you to Elvis's Chapel of Love, or to a Bellagio suite with a tiger in the bathroom and several hours unaccounted for. What is possible is arguably better… because those legal fees alone would knock your socks off.
Instead, you get what might seem traditional with its 3x3x3 format of fruits, horseshoes, BARs and 7s, but instead boasts a very modern and Vegas-sized progressive jackpot! It even cocks it up a notch with an LED-infused psychedelic landscape with a blazing trail passing through a three-dimensional mountain range, which one can only assume is channeling the backdrop of the glowing Sin City. Talk about the complete Vegas experience, all from your desktop or mobile.
---

ISAAC B. FROM NEW SOUTH WALES WON $80K PLAYING 10 TIMES VEGAS IN FEBRUARY 2022 AT JOE FORTUNE!
---
How to Play 10 Times Vegas
So, here we are at the corner milk bar between the past and the future, a leg in the old and a foot in the new. And this is where you'll find 10 Times Vegas and the following specs:
3 rows
3 reels
3 paylines, paying left to right
RTP: 96.47% (geez, that's pretty darn good!)
Minimum bet: $0.09
Maximum bet: $120
10 symbols, each with their own paytable
Wild multipliers
Progressive jackpot
Yep: she's a beauty. What do you say? Are you ready to take a trip back in time, then forward again, then back and forward a few more times? Excellent. Grab the remote control. First round of this Joe Fortune online pokie starts now.
TOP FEATURES
The main idea of 10 Times Vegas pokie at Joe Fortune is that each of the 10 symbols has its own paytable, even the Jackpot symbol, although that's not included in the base game. Your symbols in the base game, from highest to lowest value, are:
Wild 10x
Wild 5x
Wild 2x
7s
BAR
Horseshoe
Dollar coin
Heart
Grape
Cherry
With three horizontal paylines in play, you get paid whenever three matching symbols line up on a payline, just like a classic slot. But as I promised, the extra features make sure you can win just a little extra. That's the future part talking, and we should probably listen.
Wild Multipliers
The stars of the Vegas show, and where the real money comes, are the Wilds. When Wilds land on the reels, they can transform into another symbol to help you get a win. When multiple Wilds appear on the payline, they get multiplied together into one very generous multiplier.
The Special Powers of Reels 2 and 3
More importantly, if a Wild happens to land on reel 3, it instantly triggers reel 2 into a free spin, and a chance for another win.
Progressive Jackpot Explained
Do you see that gigantic number on the top of the game screen, the one that keeps sneaking up higher and higher? That's the progressive jackpot, and it's no mind trick: the number keeps rising. Each time you spin, a tiny bit of your wager is added to the pot, along with the wagers from all other players at this online casino. Someone has to win it.
You'll get an opportunity to win the biggin' when you're awarded a Jackpot Spin for landing the right series of Wild combinations. During the Jackpot Spin, you get to use the Jackpot symbol, which also has its own paytable.
This is the jackpot symbol paytable:
1 symbol = 10x your bet
2 symbols = 20x your bet
3 symbols = the Jackpot, as in, THE Jackpot.
Joe's Pro Tip
As with any Vegas pokie flaunting a progressive, the more you bet, the higher your chances are of winning it. This game is no different, and my advice won't be, either. Having said that, many players don't spin for the jackpot itself, and you can make more than enough fun money just by landing the Wild multipliers, which happens much more frequently.
---
Did you know you can get a $50 referral bonus when you refer friends to Joe Fortune?
---
Joe's Final Thoughts: Play or Pass?
Whether you find yourself loving the classic vibes with fewer reels, rows, and paylines, or you're a big fan of futuristic graphics and jackpots soaring to high heavens, 10 Times Vegas has something extra to offer every type of player, except for those who don't like extras.
It's official, this game is a PLAY.
Joe Recommends Games Similar to 10 Times Vegas
Has the 10 Times Vegas pokie caught your attention? Then I've done my job well! Check out these other online pokies that might also stir up some interest.
 5 Times Vegas
It just wouldn't be right to talk up 10 Times Vegas without also mentioning its suburban cousin, 5 Times Vegas. This pokie is built on the same exact principles, in the exact same city, but uses different symbols and has no progressive jackpot. So try this one out if the purist in you holds the bankroll.
777 Deluxe
This one's also lugging a huge progressive and futuristic graphics, but now you get more reels, more paylines, and multiple jackpots to spin for in the bonus round. Turn it up to eleven!
A Night With Cleo
Yep, I'm throwing a curveball your way. A Night With Cleo may not be a classic pokie or a pokie in Vegas, but it is a wildly popular game with classic features and a rapidly growing progressive jackpot… among other rapidly growing surprises, but I'll let you look under that hood yourself.
PLAY 10 TIMES VEGAS POKIE AT JOE FORTUNE NOW
There's no need to rush to the airport to jump on a plane – flights are pricey, after all – because I've bought Vegas to you. 10 Times Vegas is ready for another player, and my Joe Fortune Big Winners' board is ready for another name, and I'm hoping the next one is yours!
---
Play Joe Fortune's Hot Drop Jackpots 
Learn about hourly, daily and super must drop jackpots now.