True Or False? Test Your Pokies Trivia with Joe!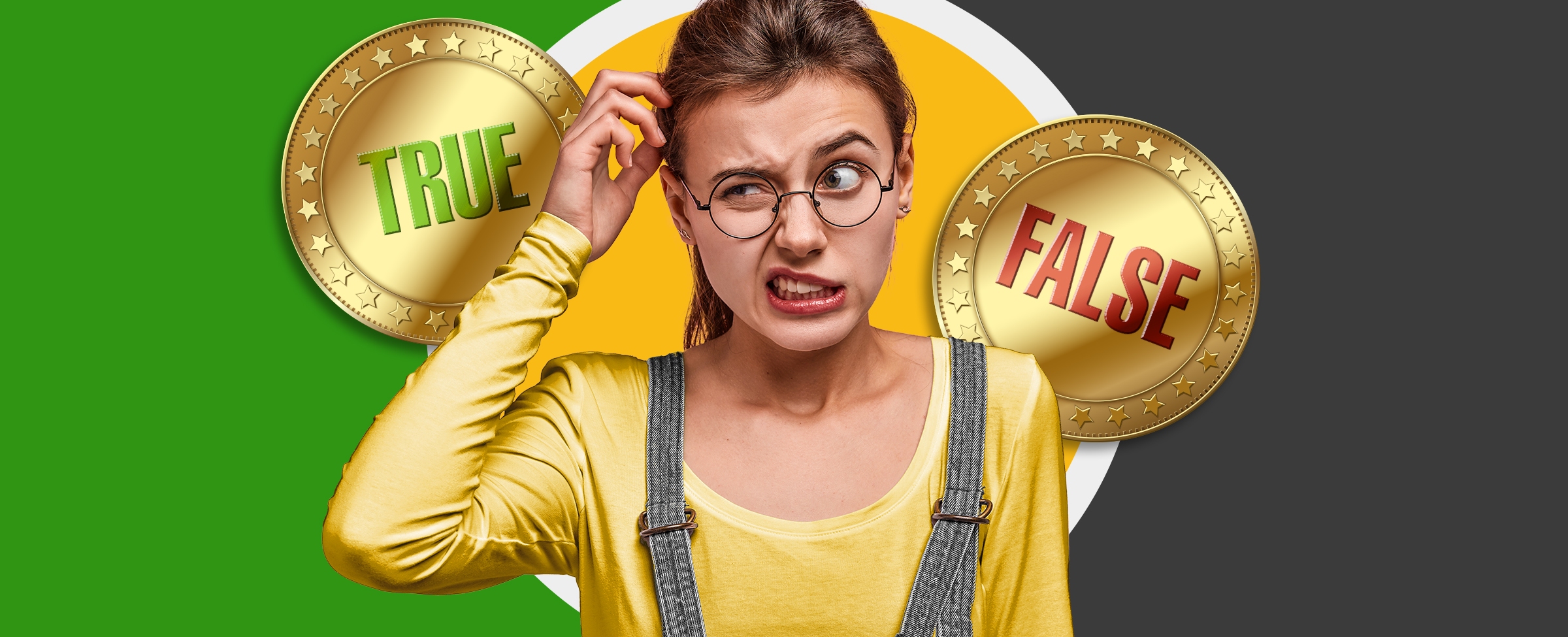 Since you're at an online casino, the Joe Fortune online casino no less, I figure it's a safe assumption that you like to have fun. You may have noticed that I, too, enjoy the occasional romp around a good time, especially when it comes to games. In fact, since you're already there playing them, and since we're both partial to a bit of fun, I figured I'd waltz in today with a little sumpin' extra.
It's time to plug your brain into Thursday pub night trivia-mode for Joe's Inaugural True or False Pokie Challenge™. Ten questions for you to test your pokie expertise, and they're all based on Joe Fortune popular online pokies. Okay, fine, they're actually statements, not questions. The point is you read the statement and answer true or false. Keep your own score then see how you do at the end.
Deep breath, now, pencils sharpened, and eyes on your own paper. Let's see what level of online pokies expert you are.
1. Reels & Wheels XL has two bonus wheels
True!
I am delighted to report that my popular pokie Reels & Wheels XL boasts not just one but TWO bonus wheels. The first bonus wheel lets you spin for multipliers, but it also has a jackpot wedge that launches the second wheel. The second wheel is a jackpot wheel which guarantees one of the progressive jackpots. You could even play the original Reels and Wheels game for two more wheels, then it's like you have four. Pure. Magic.
---
Join Joe Fortune Casino and get a $5,000 BTC Welcome Package when you sign up!
---
2. We have two pokies that feature Cleopatra
False!
Many people think there are only two games with Cleopatra's devastatingly lovely face on the reels: A Night With Cleo and Cleopatra's Gold. While it's true those are the only pokies online at Joe's that are entirely dedicated to the statuesque Pharaoh, Caesar's Victory and Caesar's Empire feature the seductress as well, in the form of a regular symbol, making that four online pokies that feature Cleopatra.
3. We have a game about UFOs
It's true!
I do have one game with UFOs, extra-terrestrials, aliens – whatever you want to call them! I call them Cash Encounters, a 4×5, 30-payline pokie, complete with a Cash Abduction Meter with multipliers, UFO symbols leading to Free Spins, and much more! I certainly would like more pokie UFOs – the probeless ones, of course – and you can be sure that when I do add them, it's going to be out of this world. Hey, don't groan! I can deduct points, you know!
If you want another close second right now, however, you could always play Thundercrash where you'll captain a ship that's flying through space for multipliers. That way, you're in an Identified Flying Object, and you, my friend, are the UFO.
4. Golden Buffalo has 4,096 paylines
True! Got you again!
Believe it or not, the very popular Golden Buffalo is just four patterns short of having 5,000 paylines. Just imagine all the wins you can get in this game. Practically every symbol space is connected to a hundred paylines. That's precisely why this game is one of the best Australian online pokies.
5. CaiShen is the Chinese god of water
That's a Pinocchio. False.
Actually [straightens spectacles], CaiShen is the Chinese god of fortune, and let's just say the guy is loaded. In fact, the god himself has deposited quite a large chunk of said wealth into four popular pokies games at Joe's. Book of Cai Shen, Gongxi Facai, Caishen Wins, and Caishen's Fortune XL are all games in which he lavishes his devotees with worldly cash.
6. Leprechauns know how to dance
This one's true, so, so very true.
You may think that leprechauns only know how to strum a fiddle and frolic through fields, but with just a little extra push through the heels, these little green men know how to get down with a jig just like the best of them. If you don't believe me, just check out the leprechaun in Barry the Disco Leprechaun. Q. Why is Barry sad? A. Because he's always getting down on the dance floor. Damn, I haven't lost it! You could swing by Larry's Lucky Tavern as well, since Larry is known to knock back a few cold ones and do a little shimmy himself.
---
When you're signed up at Joe Fortune, you can Refer Mates and get a bonus!
---
7. Cats are secretly maniacal creatures trying to take over the world
Yep, true – and don't you know it!
This one is absolutely true, but only in the world of online pokies. Elsewhere they're maniacal creatures successfully taking over the couch. But I wouldn't have it any other way.
We all see how they crouch behind furniture plotting your demise. Or how they get crazy-eyed before they see your ankles as some kind of prey. Those frenzied felines are next-level calculating.
At least in the game Cat Kingdom, they're not trying to hide it. This royal feline uses his sceptre to keep you in line, but he also rewards you with prizes for all those times you cleaned his litterbox, so you can't be too mad at him. Nawwww. Kitty kitty.
8. We only release Christmas pokies in December
Naughty, not nice! This is false.
December might be the time when we're most inspired to call upon Santa and his hard working elves, but it's certainly not the only time they'll listen. In Crazy Christmas, you get a direct line to Santa and his "good" list at any time of year. Plus you can enjoy the Christmas spirit without dodging frantic gift buyers at BigW. Quite frankly, you're the only one getting the gifts in this game anyway, so there's nothing to lose.
9. Progressive jackpots are only available for pokies
False.
I admit progressive jackpots are most commonly found in Joe Fortune online pokies, but that's only because out of all the games available, pokies take up most of the real estate. That said, if you just skip over to the table games or the specialty games section, you'll see quite a few progressive jackpots there as well. Most online poker-based games have them, and some Bingo games have progressives, too.
10. You can turn bonuses into free spins
True dat!
One of the central, if not the central theme of my casino is that you can use my own money to get farther in your own games. You can collect a bonus from the $5,000 Welcome Package, Refer a Friend for $50 bucks, or any other special promotion that happens to be running. Once you claim the funds you're eligible for, you can use them to play nearly any pokie online you'd like, and your own bankroll won't budge a bit. See? Spins that are free, because they're on me.
The Results
Are you ready to see how you did? Turn in your test, go back to your seat, and sit up straight. Let's sort the wheat from the chaff and tally those results…
7-10 Correct
Congratulations, player, you're the cream of the crop in the pokie online world! If you answered most of the questions correctly, there's a good chance you've played many of the games I mentioned. I hope they've been very kind to you and your wallet. Thanks for being such a good sport, and keep up the great work!
4-6 Correct
Not bad, not bad. If I'd have to take a guess, I'd say you have one or two go-to games that you like to play, and you'd be an expert at answering questions about those. What this score means, however, is that now you've got a hit of inspiration to get out there and expand your repertoire with some brand new games. Go forth and conquer!
3 or Less Correct
Okay, never mind the bollocks; we scored a bit low for this one. But guess what? That only means you have the entire online pokie floor to discover. Your whole life's in front of you, kiddo. Really, you're in the best position of all, because each game will be brand new and exciting, and there's nothing stopping you from hitting an A+ in the next quiz.
When it comes to Australian online pokies, let's be honest; it really doesn't matter what you know. The only thing you really need to know is that you can make a deposit and start playing Joe Fortune popular online pokies in minutes. When you win a prize, it's yours to keep. There's no test on those rules – just pure, plain and simple fun. True.
---
PLAY NOW: HOT DROP JACKPOTS!
Read about the exciting daily, hourly and super jackpots to be won.