Reach Historical Payouts with Ancient History Themed Pokies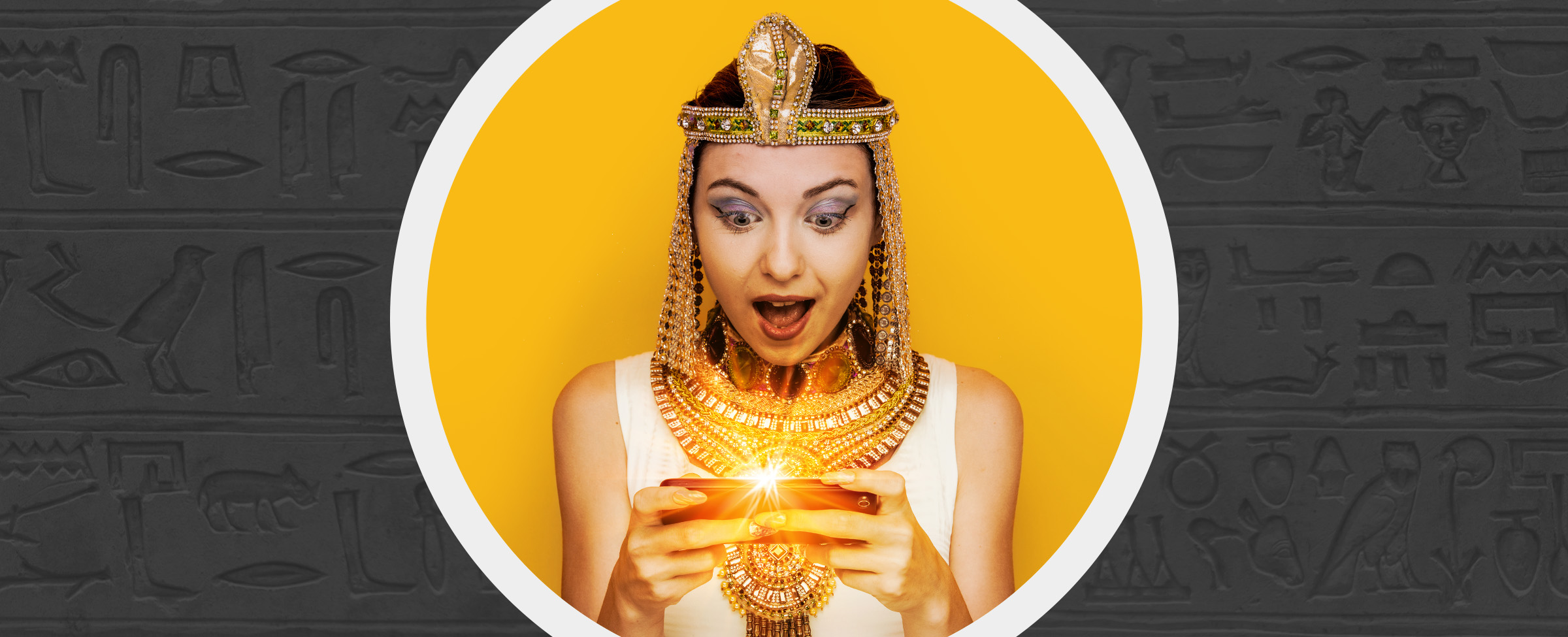 Whether you grew up with a love of history and have fond memories of sitting in front of the telly watching the History Channel listening to granddad tell stories of 'yore, or it's something you've grown to appreciate recently, you'd better sit back and buckle up! I am now your personal tour guide on an era-spanning journey through the Joe Fortune ancient pokies.
My ancient history pokies have something for every history buff out there, as well as for every jackpot and bonus lover – that covers most of us, right? As we travel, you can even expect to make Joe Fortune history with some of the wins inside these pokies, maybe enough to find yourself commemorated on our Joe Fortune big winners page.
Commencing countdown, engines on! We're about to travel back in time to experience some of the best ancient themed pokies. Let's go!
Gold Rush Gus and the City of Riches
We begin in 2600 B.C., and the Mayans are busy bustling about and developing astronomy and whatnot. You know – hieroglyphics, temples, and a calendar system that would later freak out a bunch of worry warts in 2012.
Point is, those super industrious Mayans sure knew what they were doing, and the troves of treasure – gold and jewels and gems and relics – they stashed proved it. The problem, however, is that no one ever knew just what happened to their troves of buried gold and jewels. You could only assume they stuck it in places. That is… until now.
Our friend Gus seems to have a sixth sense for these things, and I'm starting to think that white, bushy moustache of his twitches whenever pokies gold is near. You'll know what I mean if you've ever played the original Gold Rush Gus game. I'm telling you, like a truffle hog running its nose along the ground in search of a bloody $400 mushroom, this guy knows the scent of treasure.
In Gold Rush Gus and the City of Riches, Gus shows you a thing or two about unlocking the elusive riches that the Mayans pulled a Houdini with so long ago, unearthing an interactive bonus game, progressive jackpot, instant win feature, and free spins.
A Night With Cleo
Next up, we say hello to the Egyptians living from 51-30 BCE. Not understanding English, they offer only blank stares. These lucky beggars got to witness the original femme fatale in the full-figured form of their famously intoxicating queen, Cleopatra. And a 'deadly' woman she certainly was. With an aquiline nose, full cheeks, a dainty chin, and piercing eyes that exuded her intelligence and charm, Cleopatra had every potential lover under her spell from the moment they set eyes on her.
This remains true for those who visit her in this ancient Egypt pokie.
The stunning Cleopatra, or 'Cleo', as we so affectionately call her, is immortalised on our very screens as the wealthy seductress in the A Night With Cleo pokie.
Inside her five-reel Egyptian palace, you get to see precisely what drew Marc Antony and Caesar to this intoxicating beauty. You get a taste of all of Cleo's riches, including both the progressive jackpot and the "winning figure" that makes her such a hot commodity. A Night with Cleo is so good you'll want to tell your friends! (And collect a referral bonus while you're at it!)
Aztec's Treasure
Fast forward and we find ourselves somewhere between the years of 1300 and 1521 AD. Around us, the mighty Aztecs of central and southern Mexico are also accumulating a wealth of treasure. Although, these guys really knew how to flaunt it. Why ferret all that beauty away when you can flaunt it like a status symbol? Decorating entire cities with a glorious gleam of gold: try to steal that, Indiana Jones!
Perhaps a mistake in hindsight, as it was one of the primary reasons the Spaniards began closing in on their land in 1519. The Aztecs weren't about to give up their gold and jewels to some army of 500 bullies, though. Instead, they gathered up all the treasure, fled to another land, and hid it so well, no one could ever hope to find it.
In a game like Aztec's Treasure, you are the hero the Aztecs didn't know they needed. You're on a noble quest to track down their well-hidden jewels, gold, idols, and relics, all in exchange for a sacred random progressive jackpot and free spins.
Solfire
Hold up, because we're not done with the Aztecs quite yet. This time, we're experiencing their culture from another angle, namely their connection with the gods.
The Aztecs had more than 200 gods overseeing their daily lives (try getting away with filching the office stapler with that many eyes on you, yeesh). Solfire takes you back to a cave where you can summon the party of gods, and hopefully get their help to turn some spins into cash. Which, for the record, you could do with all the online pokies on this list.
In the game, your adept leader taps into her sorceress powers, flinging orbs of blue light at an ancient spinning wheel to zap open spaces over nine lines branching out from a centre symbol.
All the zapping commotion seems to wake up the gods, who were always so fond of the Aztecs, and you are awarded with wild multipliers and prizes that could reach up to 9000x your bet.
Playing ancient themed pokies like Solfire doesn't have to mean using ancient deposit methods! More and more players are depositing with a crypto casino for all its benefits and modern features!
Book of Sheba
Queen Sheba is known to test those who consider themselves wise, which is exactly what she did when she visited King Solomon in the year 1559 – and now we're here to say 'g'day', too!
The rich and opulent queen wasn't buyin' this supposed "wisdom" of King Solomon, and she gave him a series of riddles to test him out. No one knows exactly what the riddles consisted of, but I'm guessing "what has four wheels and flies?" wasn't one of them (a garbage truck, if you're still scratching your noggin).
In the Book of Sheba pokie, Sheba is more concerned with showing you how to win real money on pokies, so you don't have to worry about hiding your cleverness, of which I'm sure there's plenty.
Instead, ask the Queen to guide you towards her magical golden book. It's found within free spins, and it can turn wild, as well as turn an entire reel into gold.
Oh, and in case you were wondering, the legend claims Solomon correctly answered all of her riddles, and they all lived happily ever after.
First and only recorded evidence of a man being able to do that.
Gods of Giza Enchanted
Ra, Shu, Osiris, Isis, Set, Nephthys, and Horus. No, these are not ancient ailments that granted young Egyptians a day off of school. These are the esteemed gods of Giza, among many more, that took care of the sun, the air, farming, magic, and all other needs of us mere mortals. They also happen to be some of the characters that make up one of the best ancient gods pokies, which is Gods of Giza Enchanted.
Take Ra, for instance. He's the god of the sun, and used to fight monsters in the river of darkness. Or Osiris, who created the first cities in Egypt, and then became the first mummy for his troubles.
Of course, there's a lot more nuance to these stories, but that's for you to discover inside the Joe Fortune online pokies game while you pray and surrender to the high paying scatters and free spins with 90 degree rotating reels.
Silk Road Riches
Long before we had the convenience of diesel fuel and aerodynamic wings, the people of the east and the west relied on the Silk Road to deliver the goods they needed.
Whenever gran needed wool for her knitting, she'd get it from a Silk Road delivery. Whoever needed a bit of gold to top off their cutlery collection, that shipment came from the Silk Road.
As for you, whenever you're looking to top up your bank balance, Silk Road Riches is the place to try your luck, assuming you've already maximised your wins with casino promotions, of course.
The Silk Road is constantly bustling with trade, and so is the game. As you trudge through the sand and dirt of the Dynamic Ways feature (way better than the government outreach programme that it sounds like, trust me), the reels change size and position on every spin. Each winning spin will trigger the Cascading Feature, and a Chest Feature can award an Instant Prize or the Miracle of Medicine. Whatever you need from the silk road of riches, it's never far from your grasp.
Each and every one of these online pokies are ready for you to explore in the pursuit of historical wins.
If you're feeling just a little bored in front of that telly and the History Channel, or the ramblings of your old poppy, take a break and join us for some ancient history pokies at Joe Fortune. I promise by the time you're done here, that boredom will be nothing more than ancient history!
---
If you love the exploring you did with these pokies, then you'll love the new feature: Hot Drop Jackpots.