Lucky Number 7: Pokie Edition at Joe Fortune

Lucky Number 7: Pokie Edition
Ask someone to pick a number between one and ten – it wouldn't surprise me one bit if they chose seven. About a ten per cent chance, by my reckoning.
Why?
Fair question. Being a prime number two digits after five, three digits under ten, and falling perfectly off-centre on the second half of two mirrored hands sounds as though I can use unremarkable facts to give it undue significance, but I'm really just fumbling while I recall just exactly how the lucky number 7 ever got its lucky status in the first place. Perhaps there is some mathematical magic that returns a greater probability, or maybe someone, somewhere, was just a real fan of Snow White and her band of dwarves.
Regardless, this digit has risen in the ranks of lucky numbers across the world, gaining more and more followers throughout time.
So who am I to argue?
In fact, across my Joe Fortune online pokies, I have decided to embrace the lucky (if not somewhat bewildering) number 7. I celebrate the millennia of history behind it with lucky 7 pokies that have more opportunities (let's say, seven) for players to find their fortune and wring out their luck.
Now, are you ready to experience the true fortune of a lucky 7 casino, too?
Yes?
Excellent, right this way…
777 Deluxe
Now, hoping my math is correct, if one number seven is lucky on its own, then you can just imagine what three number sevens might mean, right? Well, in 777 Deluxe, you might just get a chance to find out.
You don't see much of our lucky number 7 in the base game, what with all the fruit flying over transparent reels, but when you land three mystery symbols, you're taken to a whole new game – that's when these deluxe sevens come out to play.
On a new game screen with just one payline, a lineup of different coloured sevens wait their turn at the bottom. That's some serious seven energy right there!
You get a prize for landing three matching sevens of any colour, but the biggest prize of all is when you match three golden sevens. That is when you really get to see what a lucky 7 casino can offer with a gargantuan progressive jackpot.
Brought to you by the lucky number 7s in 777 Deluxe.
Surprising 7s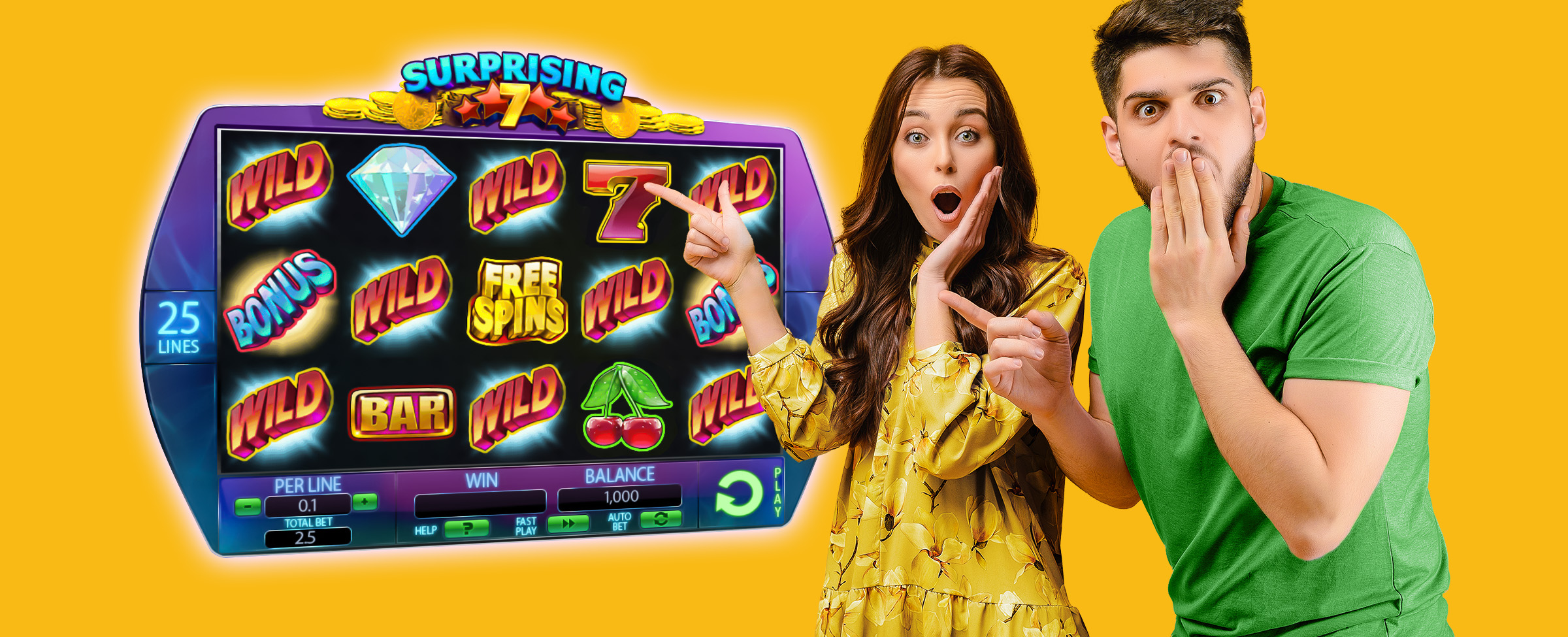 Let's back it up a bit… like, back-back to 1975.
Surprising 7s takes place in an era where disco music reigned supreme on the charts and bell-bottom jeans were, somehow, still a thing. I'm not entirely sure why the sevens in this game are such a surprise, or why bell-bottoms ever became a fashion statement in the first place (okay, fine, I might've had a coupla pairs in the early days). And if I think about it, the seven mystery might be due to how shocked you are at remembering your old-school disco dance moves while timeless theme music rages on.
Then… SURPRISE! Three free spins symbols appear, and your disco dance party is interrupted by a new game of 7 free spins and 7x multipliers. Maybe three to four Wilds show up and award a win of 7x your line!
Even better is when you land three Bonus symbols and you get to play a brand new bonus game for multipliers on a retro slot machine.
The Ruby
I consider myself a bit of a luck master, truth be told, and sometimes, when you're looking to get the goods on a classic lucky number 7, I find the lucky 7 pokie doesn't have to revolve entirely around the number itself. In fact, I can tell you from my extensive field experience that if the lucky 7 is anywhere within the game, good fortune can still rub off on you.
That's exactly the case in classic games like The Ruby. Our lucky number 7 is featured in the game from start to finish, along with all the other classics you know and love. You see the work of the 7 in all sorts of ways, like when reels 1, 3, or 5 randomly become Wild, or a bonus round triggers after Bonus symbols appear three times and give you the chance to win one of three jackpots, including the biggest Ruby Jackpot of all.
With big wins like that, you could take your jackpot and go on a shopping spree… both in my Shopping Spree pokie review and in real life!
Ten Times Wins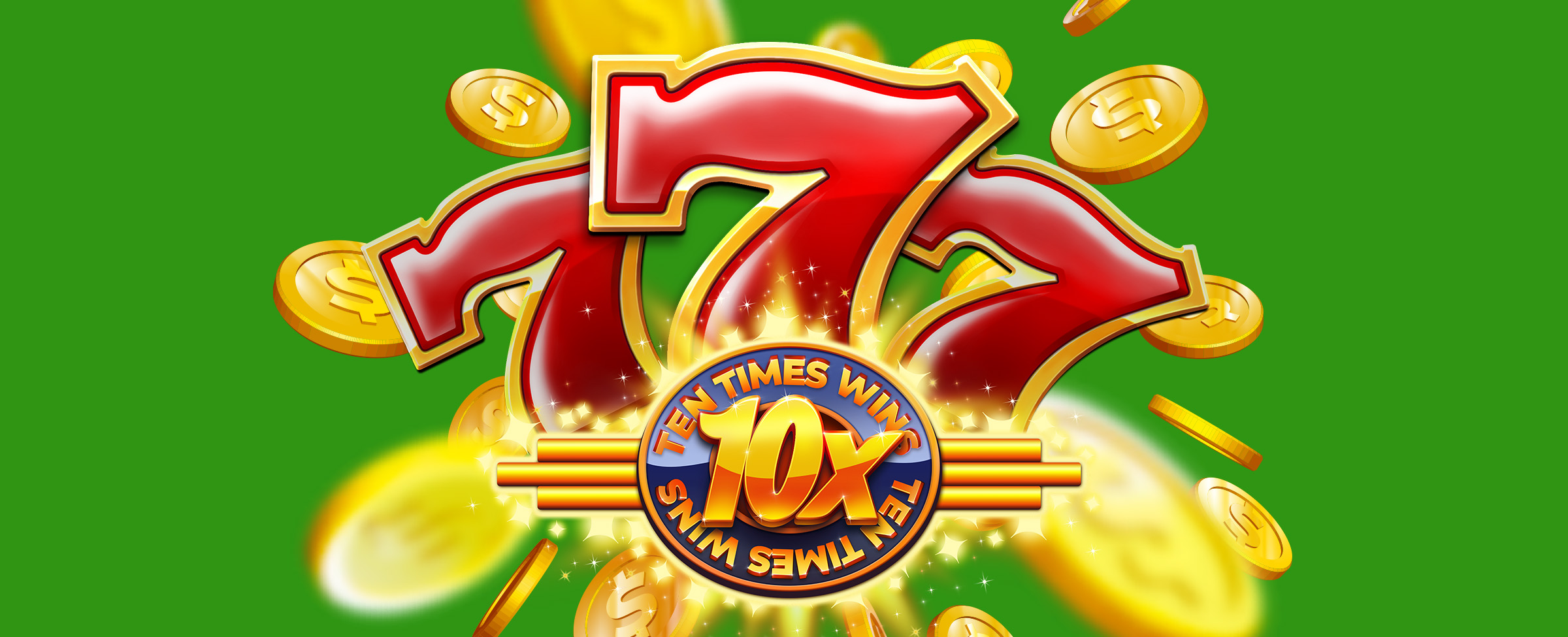 You may think a game about tens has no room for a focus on sevens, but I'm sure Ten Times Wins would like to have an opportunity to change your mind.
Like most good classic games, the seven is prominently featured in this pokie, right alongside the cherries and BARs. Each symbol gets its own paytable, and the sevens are nearly the highest paying in the game.
The highest, of course, is the 10x wild, as it can help you form more wins and act as a 10x multiplier when it does. The entire experience is refreshingly simple, but the max win of 40,000x your bet is far, far from underwhelming.
If you happen to like 10x the wins and 10x the speed, then you could always play this game through crypto gaming. That way you get your winnings 10x – scratch that – more like 1,000x faster than any other method.
Vegas High Roller
Vegas pokies are one of my favourite genres around here. As you likely know, Sin City and the lucky number 7 have quite a long history together, so much so it's even said that when you, as a patron, close your eyes and concentrate extra hard on your lucky number 7, you get to choose your own adventure at the casino and take your game to the high roller's table. And that's exactly where you'll find the Vegas High Roller pokie.
Surrounded by the dazzling lights of the Strip and swanky music only heard at a lucky 7 casino, some high-roller free spins are making their way through the floor. If you get chummy with them,  you can then enter the special back room and play with the cash chip symbols. Just make sure you keep that lucky number 7 rolling through your mind, because your chips are cashed out with the cashier at random, and you might need an extra boost of that ol' seven luck to get you across the line.
Gold Rush Gus and the City of Riches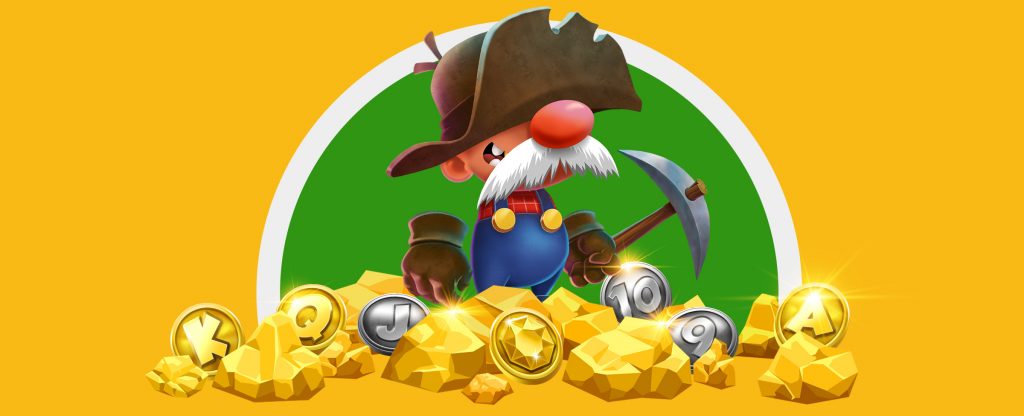 Sometimes our lucky number 7 doesn't want so much attention, so it hides away in secret lands and hopes fewer people can track it down. Luckily for us, I know a guy who happens to be very close with the number, and he knows exactly where the lucky 7 likes to spend its downtime.
Hint: it's inside the game Gold Rush Gus and the City of Riches, and Gus is now your good buddy who is going to show you the road to riches.
Taking place inside a jungle overflowing with ancient relics, you'll need to help Gus find the treasure chest he's been hunting via two key symbols. If the Coin Gamble Game is inside, then voila – lucky number 7 is waiting for you inside the bonus game with seven special coins and a gambling game for multipliers.
Since Gus is such a friendly guy and all, I'm sure he wouldn't mind if you invited another on the adventure. If you refer a friend to get started playing at Joe's with you, I'll toss you an extra $50 to use with Gus. You could even invite seven friends, just to keep with the theme, and then you'd get a hefty $350 to play. And that's how a lucky 7 casino works.
7 Lucky Dwarfs
You've heard the story. Seven little men with floor-length beards tag behind a dainty princess while an evil witch who talks to a mirror tries to feed her a dodgy apple. I might be missing some key details there, but in my world of the lucky 7 casino, these 7 Lucky Dwarfs do just fine when they keep to themselves. They've got luck on their side, after all!
The Mirror Mirror feature reflects symbols on opposite reels, the free spins round has symbols that pay as scatters, and you get the option to select your favourite of the seven dwarfs to win multipliers – including multipliers of 7, of course!
If you want to see what other fortunes the seven dwarfs hold, just follow them up the stone trail to the dwarf's mine, and increase your prize with every remaining stone.
So, is 7 a lucky number? Well, there's really only one way to find out! Dive inside my Joe Fortune online pokies to chase the lucky number 7 and see what it's all about. When you're done, swing by my office and tell me how it went. We'll say, around 7 o'clock?
See you then!
Hot Drop Jackpots are now at Joe Fortune, with hourly and daily jackpots to be won!