Thundercrash Arcade Game Review
Raise your hand if you remember scrounging around for 20 cent coins to drop into the arcade game, heart set on marking your pixelated initials on the scoreboard. But put away the Kleenex: those days are not lost forever to the dustbin of gaming history. 
The past is the new black, and a perfect demonstration of that fact can be found within the Thundercrash arcade game at Joe Fortune! You'll relive the gaming glory days, but striving for more than your immortalised name on the screen; 100,000 coins are your new pursuit, which is more than Pac-Man ever paid to eat you.
So let's take a blast to the fashionable past, where your coins go a long way and your high score lives on forever. Welcome aboard your arcade ship. 
How to Play Thundercrash
Whether you fancy yourself a Captain Kirk or Picard, this arcade game is set aboard a fancy ship that's in the market for a new captain, and you're looking mighty skilled in those high top sneakers and pocket full of coins. So step on up and show this game what you've got. 
This is what you'll find in the newest arcade game of the 21st century:
A maximum prize up to $100,000

Rapidly increasing multipliers

Controlled cash out feature

Customized avatar

Similar to a

Joe Fortune online pokie

but with more strategy

That warm and fuzzy feeling you get when you watch cartoons from your childhood. It's nostalgia at its best, but with very grown-up prizes. 
Your journey through space (and its previously undiscovered multipliers) begins by placing a bet and setting a maximum multiplier, before settling into your captain's chair.
Then, hold onto your hats as your ship starts flying through space, with multipliers rapidly increasing at lightning speed along the way until… bam! Your ship crashes at random. Thankfully you survive to fly another day, and you begin afresh. The longer you fly, the more multipliers you pick up, but like the mysteries of space itself, you'll never know when your ship will crash. 
So, to make it clear as a starry night, the aim of the specialty game is this: you want to fly for as long as possible, accumulating as many multipliers as you can, and cashing out your winnings before you randomly crash. 
There are some key rules about your ship, too. 
Once your ship is hurtling through space, the minimum point at which your ship can crash is at the x1.00 multiplier. Since the game is totally random, it does happen like that sometimes. Having said that, you can also start cashing out at x1.01 if you feel a crash is doomed to be immediate.
Top Features and Functions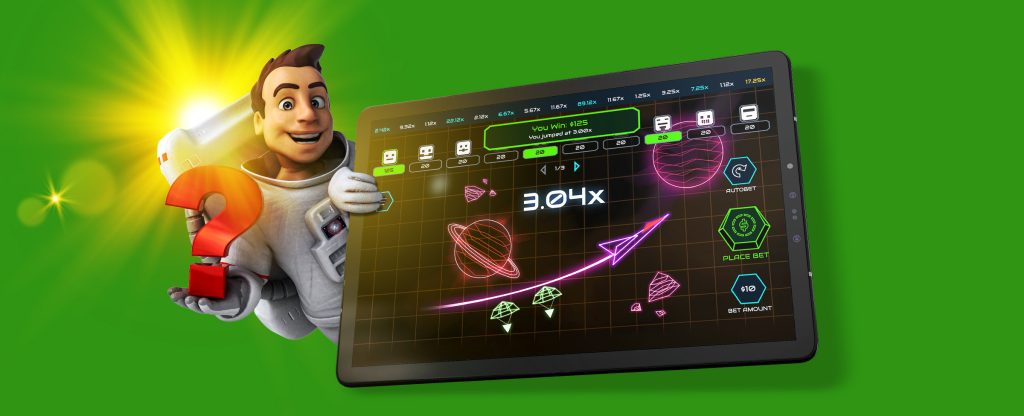 Aside from the nostalgic graphics and thrilling anticipation of the random crash, you'll need to familiarise yourself with the game's key features and functions. 
Choose your Avatar
Just like you did in Mortal Kombat and Street Fighter, in this Joe Fortune Thundercrash arcade game you get to choose which digital head drives your ship. Or just pick "Random" if you don't fancy a customized experience. The game will prompt you as soon as it starts. 
That's another cool thing – seeing all the avatars at the top of the screen of the players also playing the game! They are placing their own bets too (think community and not competition), so you can feel good as you cheer them on.
Rapid Bet Placement
Maybe it's not so much a feature as a requirement, but when getting started playing Joe Fortune Thundercrash, you only have six seconds to lock your bet in and hit the gas. This game will keep you on your toes, that's for sure.

Don't worry, if you're too slow to get it placed the first go 'round, your bet will be placed in the next one. The minimum bet is just $0.50.
Auto-Cash Out
This feature is accessed through the Bet Amount and Auto Cash Out buttons. You have to set a cash out limit at the start of each game, which will stop the ship and deliver your current winnings once you reach the maximum multiplier. This prevents the ship from flying away from your hands, which would surely trigger an episode of Plane Crash Investigations.
Building Multipliers
This is the entire point of the game, and where all the fun comes in. Once you've placed your bet and your ship is hurtling through space, you start accumulating multipliers starting with x1.01. Your job as pilot is to stop the ship and cash out your winnings before it randomly crashes into some cosmic space object, and becomes just another pile of floating dust in the endless abyss. (Hey, I said this game would be thrilling, not easy!) The laws of physics are confusing for most, and you never know what's floating out there in the black expanse of space.
Cash Out
Most importantly, the Cash Out button, which is the biggest octagon, is how you manually pull the E-brake on your ship, collect your winnings at the multiplier it stopped at, and save your crew. We have no problem with heroes around here. The space afterparty will be thrown in your honour when you alight with up to 100,000 coins. Last time I checked, Space Invaders didn't have prizes like that.   
$100,000 Maximum Prize
Like I've said, multipliers can soar fast alongside your flight, with the maximum payout being $100,000. Depending on your arcade game strategy, you might want to play for consistent smaller wins or hold on tight for the big one. Let me elaborate on that…
Joe's Pro Tip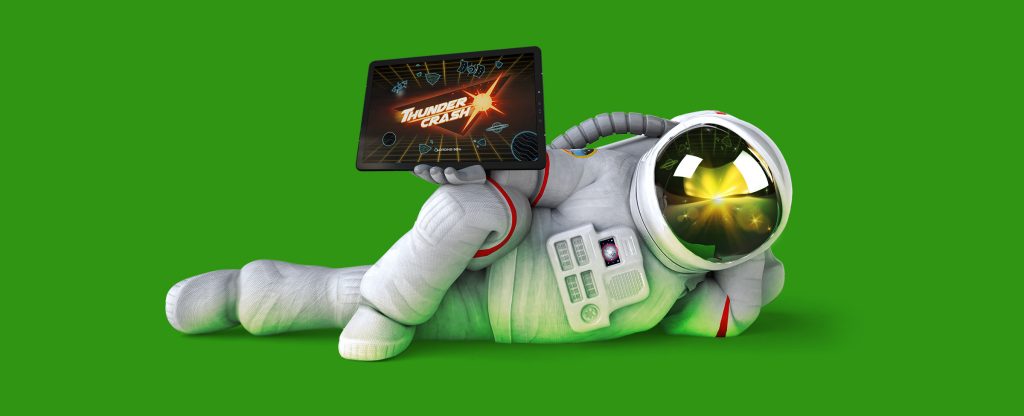 With Thundercrash, you not only have to consider the amount you're betting, but also the maximum multiplier amount to reach before cashing out. It's a good idea to pick the max multiplier value at a higher range, like 4x. That way, the game won't stop if you're on a roll. Or a cruise. 
Having said that, it's quite the feat to reach 4x, and you'll likely find yourself stopping the ship sooner very often. So this pro-tip is a safety PSA: Keep both hands on the wheel, and be sure your attention doesn't wander off with the multipliers while your ship is in motion. Over to you, Captain.
Joe's Final Thoughts: Pass or Play?
Thundercrash is by far the most special of the Joe Fortune specialty games I've welcomed at Joe's in recent times. Not only is it a magical throwback to classic arcade games, but it's also a refreshing way to build up your multipliers alongside your adrenaline. Tons of online pokie players like that it has an engaging theme and quality graphics like a pokie, but much more strategy and control over the game. 
I offer my personal guarantee (let's call it a gentleman's agreement) that you'll be on the edge of your pilot's seat as you decide just when to cash out, collect your winnings, and save your crew from meeting their demise in a high-impact collision amidst the acrid stench of burning jet fuel. Something worth striving for.
Play Thundercrash Specialty Game At Joe Fortune Now
Try Thundercrash out in Practice Mode for free arcade play before you commit. Unlike most Joe Fortune games in practice mode, you won't be able to place mock bets, but you can see how the plane moves and how often it crashes. Once you get a feel for it, it's time to channel Captain Kirk and show this crew what you're made of. 
Like my game reviews? Of course you do, they're some of my best work. There are plenty more Joe-infused recommendations where this came from, and you'll find them right here under Pokie Game Reviews.