Panda Pursuit: Royal Edition Pokie Game Review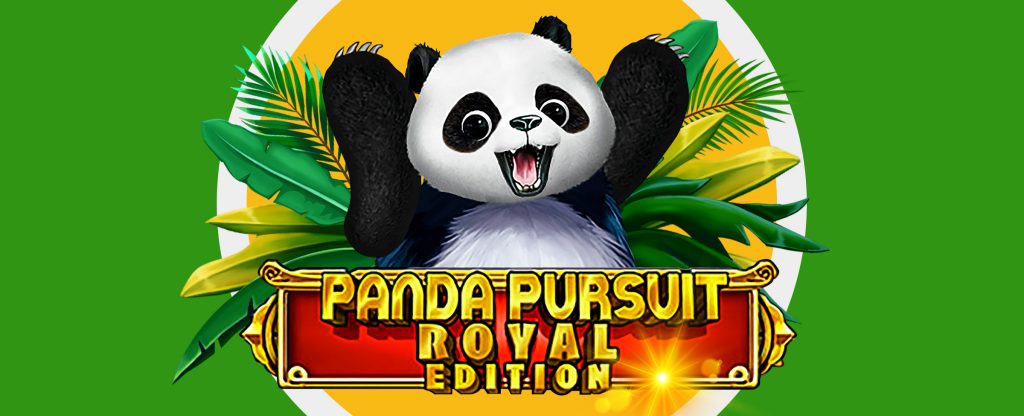 It's time to put those flowers and expensive dinners away for a while, because pursuing people in the human habitat can be… well, let's say that sometimes, it's hard to catch up. So by my count, you deserve a break, and therefore it's my pleasure to introduce you to a whole new type of pursuit – and take it from me, this charmer is certainly not interested in playing hard to get! 
The Joe Fortune Panda Pursuit: Royal Edition pokie takes all the promise of a hot pursuit, repackages it as cruelty-free, and stuffs it inside a light-hearted game that won't leave you sitting by the phone, wondering if you need to reconsider your choice of deodorant. 
You don't even have to be on your best behaviour to pursue the free spins and multipliers of this lovely panda, although I'm told that flowers are always appreciated. 
How to Play Panda Pursuit: Royal Edition
Based on the original Panda Pursuit game by Genesis Gaming, Panda Pursuit: Royal Edition is built with higher variance and more opportunities for greater wins. It's a game built on a foundation of multipliers, upon which the adorable panda performs a bouncy dance whenever you land winning combinations. You'll see. It's so damned cute I can hardly stand it. 
Here's the basic lowdown before we start chewing the bamboo: 
Free spins + Multipliers

Multipliers up to 64x

5 reels

4 rows

1,024 ways to win

$1.25 – $500 betting range
The main objective of the game, aside from the obvious aim of winning enough money to fund an extravagant beach holiday this summer, is to get into the pokie free spins feature. The feature is the centre of this entire game, and it's where you can win the biggest prize of 64x your bet. It's also your ticket to a room upgrade – a king suite, obviously – and an ocean view. Let's not forget that we're in the Royal Edition. 
So which features are going to get you to the butler service?  
Top Features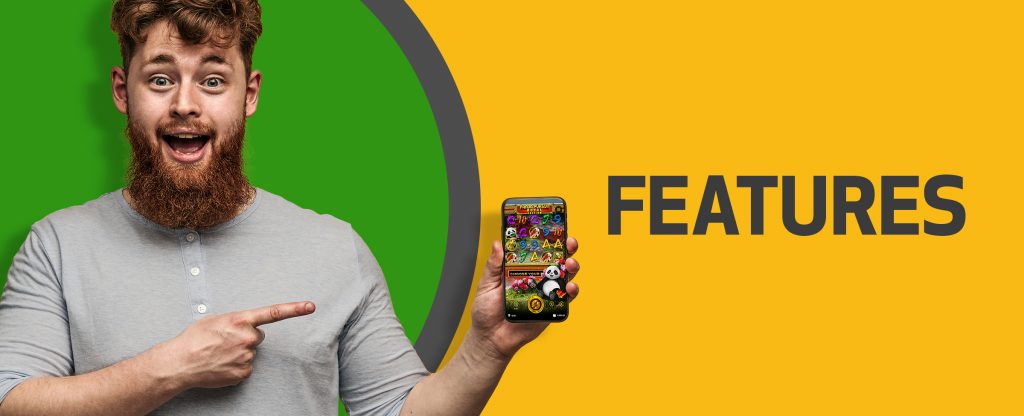 Panda Pursuit Free Spins
To enter the best part of the game, where you can get your paws on all those brilliant features, you have to land three or more bonus scatter symbols anywhere on the reels. The number of free spins you're awarded is based on the number of scatters you landed:
3 scatters = 12 free spins

4 scatters = 20 free spins

5 scatters = 25 free spins
But there's more left to score! 
Wild Multipliers
While you're doing a fine job pursuing free spins in Panda Pursuit, you may stumble upon tasty bundles of bamboo Wilds dotting the reels. Each Wild symbol comes with a multiplier that's applied at random: 2x, 3x, or 4x.
When your pursuit is going well, you could get lucky by landing a bunch of Wilds on the reels at once, triggering the Wild multipliers which are compounded together for one gigantic win, up to 64x. 
There's still more? I told you, it's all about one of the best beastly features in the business.
Extra Free Spins
You can get even more free spins within Panda Pursuit: Royal Edition pokie at Joe Fortune by landing more scatters during the free spins round. More scatters = more free spins. Here's my math.
2 Scatters = 5 extra spins

3 Scatters: 12 extra spins

4 Scatters: 20 extra spins

5 Scatters: 25 extra spins
So, all told, the Panda Pursuit Free Spins includes Wilds, three types of multipliers, multiplied multipliers, AND extra spins. Now that's something worth pursuing, which is more than I can say for some of those Tinder tots and their ghosting and whatnot. You won't find a mate in captivity; drop that exhausting pursuit and stick with the Panda. And that's from a happily married man. 
Payouts Explained
There are 1,024 ways to win in this game, which is more than the minutes spent perfecting your online dating profile. Since winning pokies is the only thing better than playing them playing them, here's how it happens.
The value of your prize comes down to your total bet divided by the number of paylines you play. Whenever you get a multiplier, the game automatically multiplies that sum by the value of the multiplier. 
Don't worry if it sounds confusing. Like I said, this panda isn't playing hard-to-get, so the game will automatically calculate the payout for you. You just sit back and enjoy! 
Joe's Pro Tip
Just because there's no mega Joe Fortune progressive jackpot doesn't mean you should shy away from this one! There's so much potential in the free spins round that you could find yourself becoming a big winner from any spin. 
Joe's Final Thoughts: Play or Pass?
If your heart's aflutter at the thought of a game with a staggering number of ways to win, stacks of rewards dished out frequently, and the opportunity to hit it big inside one, easily accessible feature, then Panda Pursuit: Royal Edition is the game for you. I swear by the fur on my back that it receives my full, whole-hearted seal of approval. Pursue away!
Joe Recommends Games Similar to PANDA PURSUIT
Golden Buffalo
If it's the ample ways to win and multipliers you loved in Panda Pursuit: Royal Edition, then run over to the serene Golden Buffalo which has a jaw-dropping 4,096 ways to win, and multipliers up to 3,125x. 
Panda Fortune
Then again, if you were more enthralled by the adorable cuddly panda bouncing through your spins, then open your arms and embrace another panda-style pokie in a bear hug. You'll have another 1,024 ways to win, and more free spins and Wild multipliers to pursue. Try it here!
Panda Pursuit
Of course, it would be remiss of me not to mention the original Panda Pursuit edition. This first-born child of the panda family is still a big hit with all the same adorable characters and plump prizes. 
PLAY PANDA PURSUIT: ROYAL EDITION POKIE AT JOE FORTUNE NOW!
Until you're lured back into the harsh realities of romantic pursuits, seek emotional safety as you're hot on the tail of free spins and multipliers. This Joe Fortune online pokie will restore your faith in the benefits of pursuit, as your efforts begin to pay off. Try it in Practice Mode before you commit, like a speed date, then go all in and pursue the art – and the heart – of making real cash.