GOLDEN BUFFALO POKIE GAME REVIEW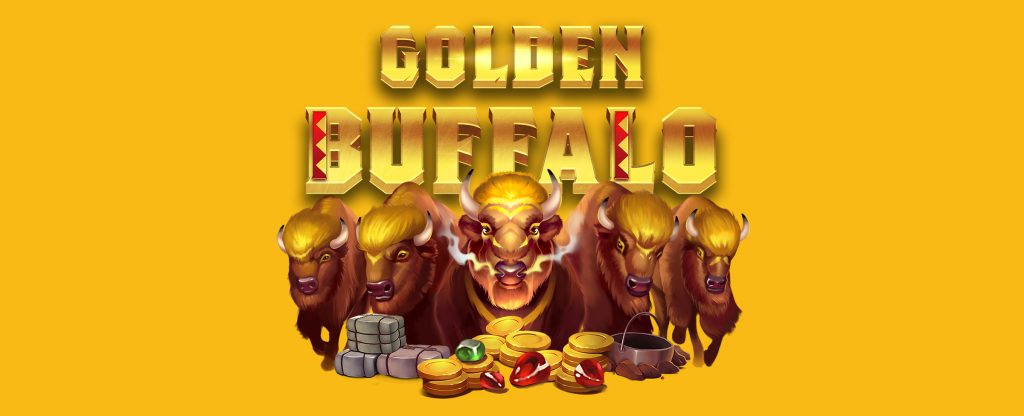 The Golden Buffalo is hiding somewhere within the canyons of the old west, and like a wide-eyed kitty vying for your attention (and your ankles), he's taunting you for a chase. The untamed beasts of the wild loom overhead in the sky, dart past rocks, and perch upon the canyon's edge. You can hear coyotes howling and eagles cawing as they spin through 6 reels and 4 rows along with raccoons, wolves, and the elusive Golden Buffalo himself. 
Does that sound adventurous enough for a seasoned traveller, like yourself? Just wait until you see the features that are hiding within the Joe Fortune Golden Buffalo pokie – then I guarantee, you'll really have an experience to remember! 
With extra paylines and extra multipliers beyond your wildest imagination, this beast of a pokie is about to take you on the ride of a lifetime. Let the beauty (ahem, my mum says that's me) and the beast carry you off into a golden sunset – at full buffalo speed.
---

JAKE W. FROM VICTORIA WON $43K PLAYING GOLDEN BUFFALO AT JOE FORTUNE IN FEBRUARY 2022!
---
HOW TO PLAY GOLDEN BUFFALO
The golden buffalo is about as tame as a cat hyped up on catnip. Wide-eyed, tail to the sky, ready to take to your ankles like scratching posts. Like Fluffy, you won't have a single dull moment as you fly through the reels in an effort to tame the wild golden beast. 
Before I dive into all the details, here's what my Golden Buffalo pokie looks like on paper: 
6 Reels and 4 Rows

4,096 ways to win

Wins that are awarded from left to right

Wins across adjacent reels

96% RTP

Multipliers up to 3,125x

Free spins galore

500,000 max win per spin

Stunning audio-visual experience

Alas, the Golden Buffalo offers no progressive jackpot
TOP FEATURES
The Golden Buffalo pokie at Joe Fortune is all about the untamed features ambling their way across the reels and into your bank account. As promised, this is where it gets good.
Wild
The gold-framed canyon Wild symbol stacks on reels 2, 3, 4, 5, and 6 during the base game. It can replace any other symbol in the game for a potential win, except for the bonus symbol.
Bonus Symbol
The bonus symbol is also framed in gold, and it can land anywhere on the reels in the base game. Three is all you need to trigger up to 100 free spins with multipliers.
Go Forth and Multiply in Free Spins
When you enter the free spins feature by way of three or more scatters, the music picks up pace and the animals come to life as the animalia of the entire canyon collectively channel their winning spirits squarely on you. Wilds that land on the reels compound with multipliers, which can reach up to a staggering 3,125x. In fact, this feature deserves its own section. Let's gallop forward and talk about multipliers.
The Ultimate Prize: Explained
The biggest prize in this game comes from wrangling in all 3,125x multipliers. All you need are three scatters in the base game to get started. This triggers a round of free spins. If you get just one Wild in a winning position, you get that multiplier. Then, if you land another Wild on the same winning line, it multiplies on top of that. This can go on through the ages until you reach the pinnacle of this game, where the ultimate prize awaits: 3,125x multipliers. That's a number to make even the most sober of us drunk with ambition.
Paylines: Explained
This buffalo means business. Since there are 6 reels and 4 rows in this game, he's able to offer an astronomical number of ways to win (4,096 to be exact!). Of course, that includes your standard left to right, up to down, and even your zig-zags as shown in the paytable. It also includes any symbols that appear from left to right on adjacent reels. 
JOE'S PRO TIP
The great news with this game is that you don't have to bet on max to be eligible for great wins. When the buffalo's in town, the biggest wins come from the multipliers. The higher your bet amount, the more you can win from the free spins round. Getting all 3,125x multipliers is not an easy task for any adventurer, but there's a size-dependent chance of collecting enough winnings to make a mid-to-high bet value worth your investment.  
JOE'S FINAL THOUGHTS: PLAY OR PASS
Golden Buffalo is equal parts mystical, wild, and adventurous, all in one signature dish. The graphics and features make it worth a play alone. I swear, you can smell the buffalo hide through the screen! 
Seriously, though, I can happily claim that few games out there match Golden Buffalo's winning potential. With 3,125x multipliers, you can collect some serious coin – which means this game can help you make bank, no progressive jackpot needed. 
If you're looking for the best pokie prize potential, I can't recommend this game strongly enough. Or maybe I can. Come back tomorrow and I'll likely recommend it again.
JOE RECOMMENDS MYTHIC WOLF
If you channeled your inner spirit animal to chase down the wild Golden Buffalo and claim the riches from his hulking back, then you're going to love lurching through the night in pursuit of the mythical wolf. Mythic Wolf is an adventure that howls excitement, but with a distinctly eerie sheen. There are wilds, a free spins super round, and a dice-based bonus round for desktop. Only the most spirited of players need attend this slot… but since you've already tamed the mythical Golden Buffalo, I reckon you should do just fine with this puppy. 
PLAY GOLDEN BUFFALO POKIE AT JOE FORTUNE NOW
Get your saddle ready and be on the lookout when you play Joe Fortune pokies. The Golden Buffalo is barreling through your mobile or PC in Practice Mode for free or for real money just the same. Dive in on either platform, make a bet, and spin your way to a golden payday.