Gold Rush Gus and The City of Riches Pokie Game Review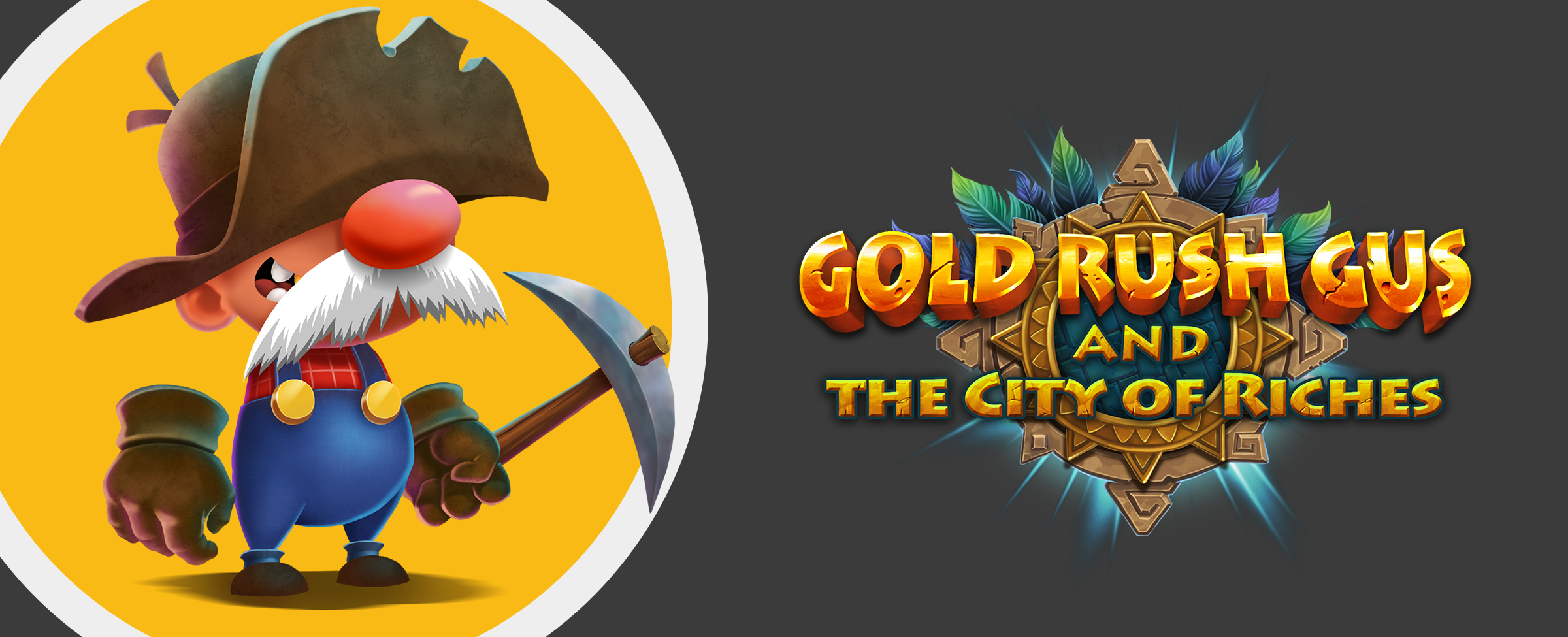 There are few characters in the world – real or imagined – who can stir up the sorts of excitement like the one-and-only good-guy Gus.
You may remember Gus from the original Gold Rush Gus game, where you joined him on a digging-spree to unearth gems and jackpots. Now that you two have had a nice repose from those digging days, Gus has called upon you again to lend your working skills for yet another journey to gigantic wins.
I hope your boots are still by the door and your pickaxe is still sharp, because the newest treasure-digging craze has arrived! Head out with Gus in Joe Fortune Gold Rush Gus and The City of Riches pokie and see just what mysterious riches are buried within the earth of the jungle.
PLAY GOLD RUSH GUS AND THE CITY OF RICHES NOW
So, let's get into it. I know you'll dig my pokie game review… (I know, I know. I can't promise more digging puns won't escape me, but come along anyways.)
How to Play Gold Rush Gus and The City of Riches
This new pokies adventure with Gus takes place deep within the jungle over a land that was once inhabited by a long-forgotten tribe. The people of that time might not be here to guide us anymore, but they've buried all of their best treasures within the ground, as well as some clues about how to find them. And as you might have guessed, your old pal Gus was the first to get privy to the secrets!
Before we get in the thick of it, here are the basics of this Joe Fortune online pokie:
5 reels
3 rows
10 fixed paylines (left to right)
Progressive jackpot
Instant win
Coin gamble game
Free spins with multipliers
Re-spins
Wilds
RTP: 96.41%
Betting range: 0.2 – 100.0
Are you still on board? Excellent, now let's see what these ancient folks want us to find!
Top Features
Gold Rush Gus and the City of Riches pokie at Joe Fortune is absolutely chockablock with features. Let's explore them together!
Wild
Don't be alarmed when you dig up a lion-like head with a mane of gold. This is a blessing, not a curse – and this symbol will substitute any regular symbol to help you win.
Free Spins
The spectacular stone tower is your free spins symbol, and you'll want to see it on the first, third, and fifth reels to get 5, 10, or 15 free spins with 2x, 3x, or 4x multipliers whose values are both awarded randomly.
Random Respin
The ancient spirits are strong here in this online pokie, and after any non-winning spin, two to five reels can respin at random. Thanks, godly guys!
Key Symbol
Not all hidden secrets will be as obvious as a larger-than-life tower sprouting up from the ground. There are smaller keys resting in the dirt, and when key symbols appear on reels one and three, one of three very special prizes are randomly awarded from within the treasure chest.
Coin Gamble Game
One of those prizes is the Coin Gamble Game, and it's exactly what makes this one of my players' favourite pokies to play online. In the feature, you're presented with a large stone wheel and multiple stone coins.
You can select as many coins as you like to raise your multipliers. But there's a catch! If you unveil one of the two red skull coins, the game is over and you win a multiplier of just 10x. If at any point you'd like to keep your winnings and get back to the regular game, you can hit "collect" and get back to digging.
Instant Win
No action needed from you here! If you get an Instant Win randomly awarded within the treasure chest, up to 50x your bet is yours to keep – hellyeah!
Progressive Jackpot Explained
Of course, what we all really want to know is where the biggest treasure lies. The civilization that buried this amount of gold wasn't ever going to make it easy, but lucky for you, Gus knows just where to look to find it.
If you get the treasure chest via the two key symbols, the Joe Fortune progressive jackpot might randomly appear inside. If it does, then it's time to kick off those boots and take a break. You've won the biggest prize in the game!
Joe's Pro Tip
When it comes to progressive jackpots, remember that the higher your bet size is, the better your chances are of winning it. This online pokies game doesn't require you to bet on max, but it does certainly help.
If you're ever in doubt, just refer back to my guide on how to win a progressive jackpot, and you'll feel a lot clearer on what to do in this game or any other.
Joe's Final Thoughts: Play or Pass?
You know I'm always up for a good time. When it comes to an online pokie with features as exciting as this one, I'll never say no to a good session of getting a bit dirty with Gus!
When you hear the call of the pickaxe, I say don't hesitate one minute: join Gus to PLAY!
Joe Recommends Games Similar to Gold Rush Gus and the City of Riches
Gold Rush Gus
If you'd like to reminisce with Gus about your first adventure together in Gold Rush Gus, you could always go back to the first Gus pokie online in the diamond mine with three progressive jackpots and at least as many unique and interactive features. Get a refresher in my Gold Rush Gus pokie game review!
Solfire
There's another guide for exploring ancient ruins, and Solfire is always looking for another guest. Follow this warrior woman to unlock hidden riches within a deep and mysterious cave for one of the most unique pokies experiences known to Joe's players.
Treasures of Aztec
Those Aztecs really did know how to build wealth, and in Treasures of Aztec, they're revealing six reels and a massive 32,400 ways to uncover their gold.
Play Gold Rush Gus and The City of Riches Pokie at Joe Fortune Now
Are you ready to seek riches yet? Of course you are! Gus is ringing you up, and I suggest you answer his call at Joe Fortune Casino, and give that man a hand with his diggin'!