Fast & Sexy Pokie Game Review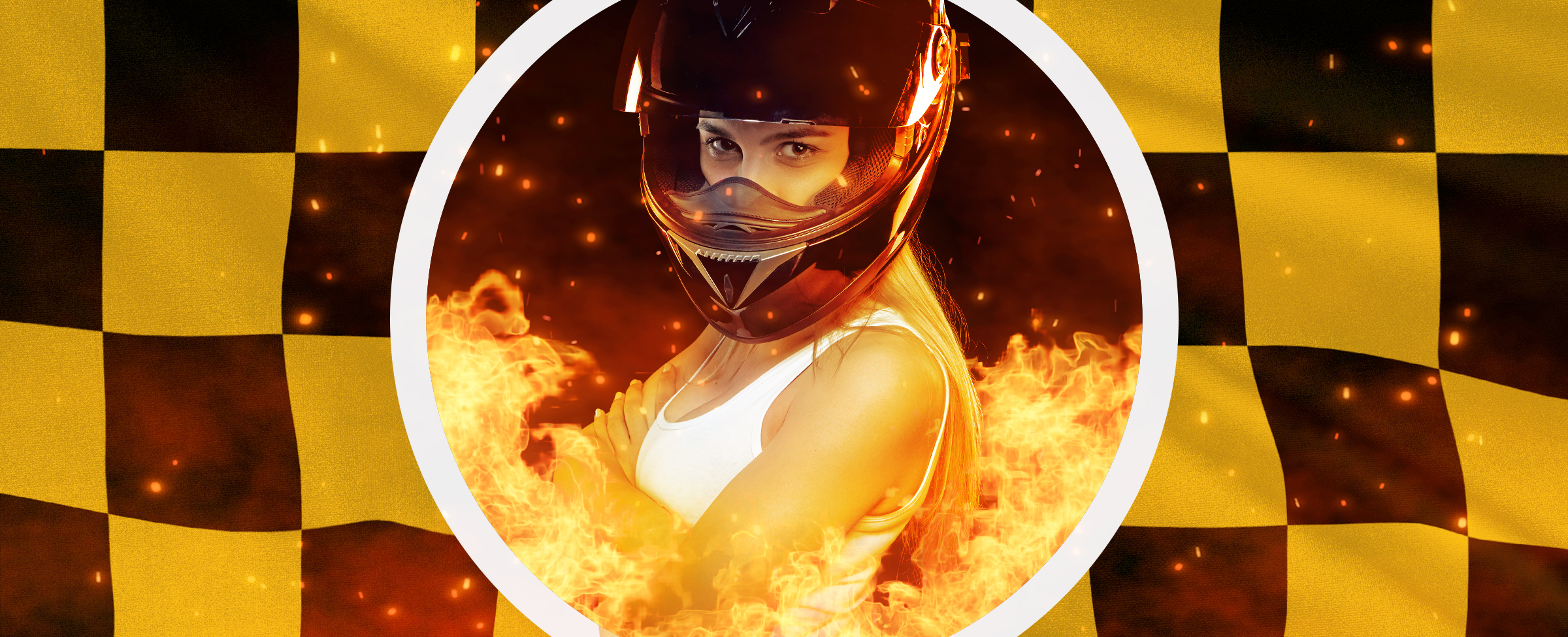 You don't necessarily need a midlife crisis to get behind the wheel of a shiny red sports car. You can be crisis-free, in fact, because sliding into shiny red cars are the god-given right of any online pokies player at Joe Fortune casino, whether you're mid-life or still wet behind the ears.
In fact, packaged up right here inside the Joe Fortune Fast & Sexy pokie, I've got all the right ingredients to make you feel fresh as a daisy and free as a bird. You'll be a torpedo on wheels through Monaco, Vegas, Tokyo, Havana, and our very own Sydney, in the car of your dreams.
Meanwhile, the game delivers on its "sexy" namesake with a different category of appreciating assets, and these ones almost pull your attention away from the road with their lustful gazes. But, I suppose you can only get so distracted when you're scooping up balance-boosting prizes at every sharp turn.
Ready to shimmy behind the wheel like it's yours? Those stunning ladies sure think you are, and if there's one thing I've learnt about women by living with one, it's that you don't argue with them.
How to Play Fast & Sexy
Fast & Sexy pokie at Joe Fortune takes place inside that lovely red sports car. The reels are your screeching tyres, and the "spin" button is the accelerator. This is what you'll find on the road from Monaco to Vegas and back around again:
5 reels
3 rows
20 fixed paylines
Expanding Wilds
A free spins round
A Bonus Game
Multipliers up to 300x
Max win per spin of 2500x your bet
Betting range: $0.2 – $200
You can invite along an enthusiastic sidekick, too; all of the ladies are vying for prime position next to your gear stick. Among the cast of coy characters are a leather-bound redhead, a curvy blonde, a tomboy in a yellow cap who could probably kick your butt from here to Sunday, and an intriguing gal with a devious grin and a mop of curly, black hair. Whenever you pull a fast trick in your car with a great set of symbols on a payline, expect a visit by some of those fine ladies – they'll appear right there in front of your windscreen to offer a little encouragement!
Let's get into all the fine details in this Fast & Sexy pokie online review now.
Top Features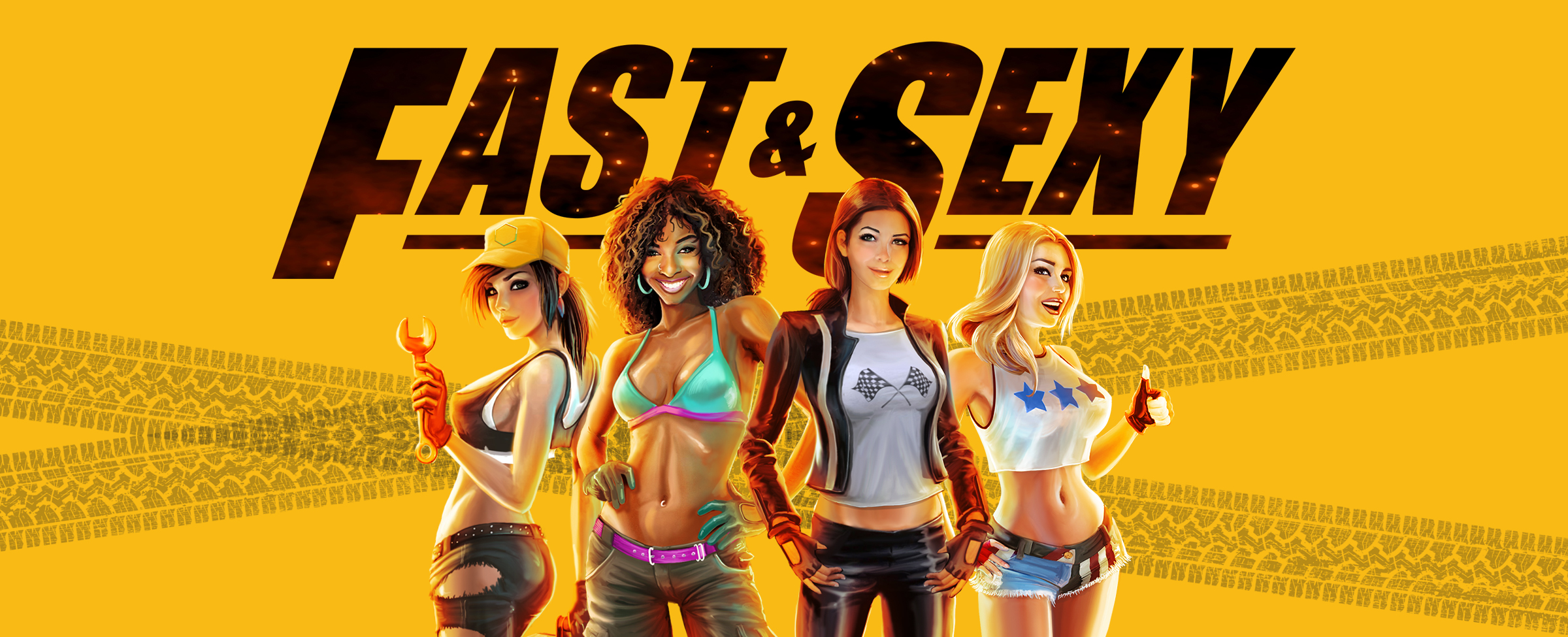 As any good race car driver will tell you, it's not all a seamless pursuit of the finish line. You'll need to stop for gas at some point, and along the way you could encounter, say, a smoking tailpipe. Which is a fantastic name for… well, all sorts of things. Anyway, in this smoking pokie game, you'll be nicely rewarded for being a responsible (but exceedingly suave) driver.
Wild
You already know that these girls are a pretty wild bunch, or else they wouldn't be almost bursting out of their bustiers on the hood of your sports car as they implore you to hit the gas. In the true nature of girls gone wild, the Wild Girls symbol can replace any other regular symbol on the reels. Whatever comes out of that is anyone's guess, but it could easily help you score. In the game, dude, in the game.
Expanding Wild
Reel 3 is extra dangerous on the roads of Tokyo, and an expanding Wild symbol can bolt out into the road at any minute. When it does, it'll expand over the entire reel and stick in place, then rev up the engine on the other four reels for a respin.
Free spins
It's a merciless race out there in Havana, and the competition is fierce. But on occasion you'll encounter a helping hand with three free spins symbols, and sometimes that helping hand is attached to a striking alternative-style chickadee with a blue pixie haircut and a massive canister of nitro. You can be sure she knows her way around an exhaust pipe. Let her set you up with some extra turbo power, and you'll be collecting ten free spins that can be retriggered.
Biggest Win: Bonus Game
As you speed through the coast of Sydney, a rattling under your hood and three bonus symbols might force you to pull over and take a break. I wouldn't fret it too much, because you'll quickly be presented with three sets of brand new supercars, each with a multiplier parked inside it. After you pick your favourites, all the multipliers are added up for your total win… which could be up to 300x!
Joe's Pro Tip
The graphics of these reels and the interior of the car are already top-notch, but if you want an even more realistic effect, you can set the reels to autoplay on this Joe Fortune pokie. On this mode, the car zooms ahead and screeches to a halt whenever the reels stop, and picks up speed right after. Just remember to keep an eye on your balance, and set your auto-spin limit to something manageable.
Joe's Final Thoughts: Play or Pass?
When it comes to impressing the ladies, nothing gets them more enthused than a suave race car driver who knows how to zoom past the finish line and turn those casino bonuses into cash.
I'm no backseat driver, but I can definitely tell you that if you want to have a good time, you should take the wheel of this online casino pokie and PLAY.
Joe recommends Games Similar to Fast & Sexy
Whether it's the sexy or the fast part that you love about Fast & Sexy, I've got a stack of other pokies that are right up your alley. Or down your road. Or anything else you'd rather steer your bets into.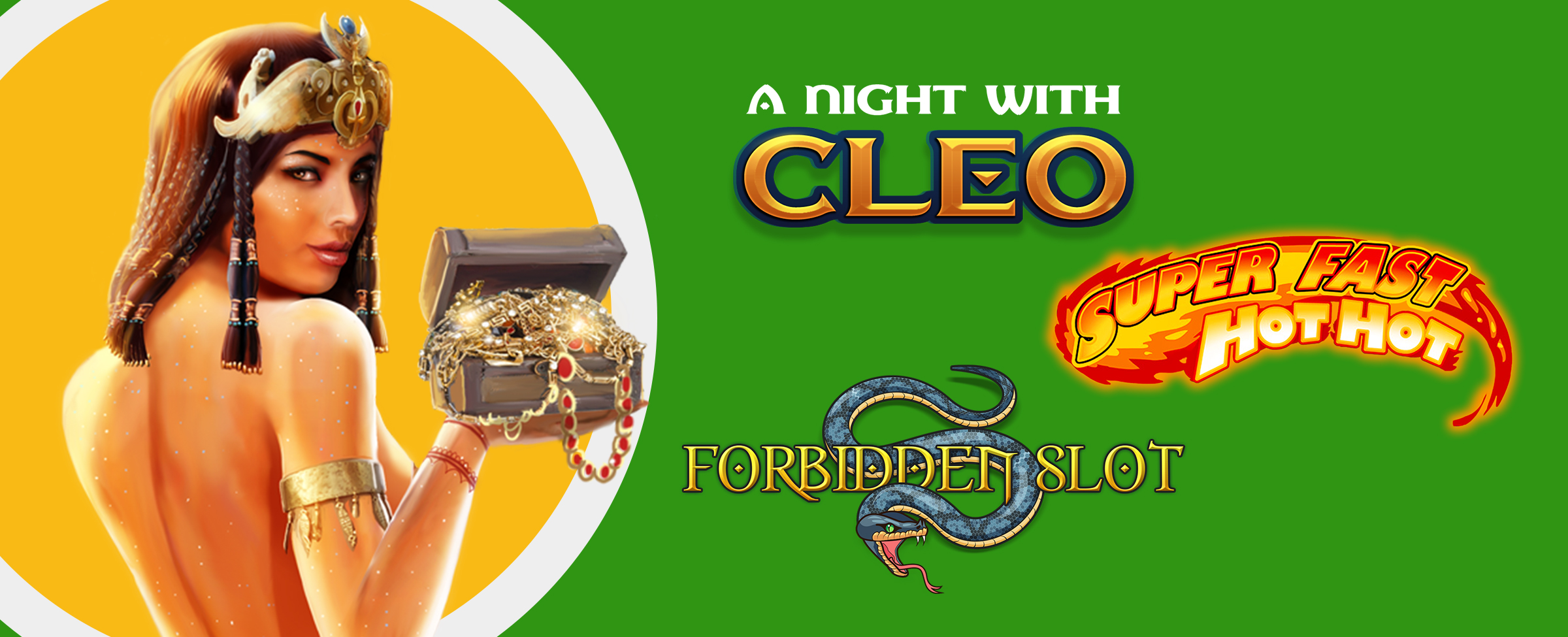 A Night With Cleo
Cleo is a true beauty from a different time and place: welcome to ancient Egypt. The famous Pharoah might not know what to do with an engine in A Night With Cleo, but she can get yours running, and she does have a wonderfully romantic room and a very adult game for any adult bettor who joins her via the Gamble Feature. Note from Joe: NSFW!
Forbidden Slot
Speaking of tantalising adult things. In Forbidden Slot, two gorgeous women take on the role of good and evil as they play tongue hockey in gigantic symbols on the reels. If you're looking for the sort of show that usually has a back entrance, you've found it right here.
Super Fast Hot Hot
As long as you've got that speed going, you might as well crank up the heat. In the classically themed Super Fast Hot Hot pokie, the fruits and diamonds will spin past in a blur as you pick up multipliers… and maybe even that hot, progressive jackpot.
PLAY FAST & SEXY POKIE AT JOE FORTUNE NOW!
As long as you have a license to thrill and you've squeezed into those hot leather pants, you only need to sort your deposit to win those pokies by leading the race. That first part is easy; the next part will be up to you to take the wheel. You look like you're ready to put the pedal to the metal. Head on over to Joe Fortune Australia to play this popular pokie and more now.