Online Roulette in Australia
Get ready to experience the thrill of online roulette at Joe Fortune, Australia's premier online casino. Our wide selection of roulette variations, including American and European versions, as well as thrilling multi-wheel and multi-ball games, will keep you entertained and engaged for hours. And to sweeten the deal, we're offering new players a generous $5000 welcome bonus to get you started. With fast and easy payment options and 24/7 support, you can focus on the game and let us take care of the rest. So why wait? Join in on the action and sign up today! At Joe Fortune, the roulette table is always open and ready for you to place your bets.
Play Roulette & Claim Your Welcome Bonus

Have you ever walked past the roulette tables at The Star Casino in Sydney, or The Crown in Melbourne and thought you'd love to play – but you just don't have the guts to try something new (and possibly embarrass yourself in front of 20 strangers)? Or maybe you've already tried it at the casino, and now you are eager to try your luck at home?
Online roulette for real money is much easier to play than casino roulette, without all those prying eyes watching you. You still play roulette for money, and you will still have a whole lot of fun! And don't forget to take a look at our other games, including online pokies, online blackjack or video poker.
Here's everything you need to know about playing roulette online.
PLAYING ROULETTE ONLINE: THE BASICS
If you're playing roulette online in Australia, there are a few things you need to know before you start to play roulette for money.
How many slots on a roulette wheel?
First, with real roulette, you need to understand the wheel. When you first start playing roulette online, you're going to see the wheel, which has 38 numbers. It includes the numbers 0, 00, and 1-36. (If you are playing a European roulette game, however, you'll only see 37 numbers). The numbers are listed on the wheel in random order. But you'll notice that they are black, red, black, red, while the 0 and 00 are green.
After you place your bet, the wheel spins, and the ball spins as well – but it goes in the other direction.
Know The Roulette Board / Table
The roulette board, or table, is where you put your bets down. At the casino, it's not hard to miss. Online, you'll find the board at the bottom of your screen. Again, it's not hard to miss. The numbers on the wheel are the same as the numbers on the board. They are the same colour as well. On the table though, you'll find they are all in order of sequence (1, 2, 3, etc.) – left to right, and three columns. If you want to place a bet, you need to drop your chips directly on the number you want to bet on. And this is the same for online roulette as well as casino roulette.

HOW TO PLAY ROULETTE
The basics of learning to play roulette online are simple. You bet on a number, a ball drops into the wheel, and if it stops on the number you have bet on – you win.
Different types of roulette games have different sets of rules, so do your research before you start spending your money. Maybe try some free online roulette games before you start betting with real money.
When it comes to making bets, you don't have to simply bet on one number. There are two types – inside and outside bets. Inside are placed within the grid on the online roulette table. These are single number bets, or you might bet on up to six numbers. Outside bets are larger groups, and the payout is usually less.
Betting rules:
You can choose to bet on 12 at a time – the first 12, second 12 or third 12. You could choose to bet on the first 18 numbers or the second 18 numbers, or you might pick any of the three columns. There are a few other options you can choose as well:
Street bet – three numbers in a row, starting from the left column
Corner bet – four numbers
Split bet – two numbers
Line bet – six numbers
Call Bets and Neighbour Bets – based on where the numbers appear on the wheel, not the table
You can also bet on red or black in general – or you might choose to bet on odds or evens. The more numbers you bet on, the more chance you have of winning. But, the more complex your bet, the better the payout will be.  If you were to bet $10 on all the red numbers, you'd double your money. But if you were to bet $10 on a single number, and that was the winning number, you'll win 35 x $10 – $350.
You can choose both inside and outside in each game you play if you want. And let's be honest, if you want a good roulette strategy – practice makes perfect.
TYPES OF ROULETTE
There are a variety of types of roulette when you play online, and there is even the option to play live roulette. It depends on the game you choose. There are, however, a few basic game varieties that apply.
European Roulette is by far one of the most popular and more player-friendly games for Online Roulette. The odds are better as there is only one 0 on the board.
American Roulette has a 00 on the wheel and the table. If you are playing Online Roulette, this type has double the house edge (house advantage) compared to European roulette, so most people prefer not to play.
French Roulette is one of the most sought after versions. It has a special "racetrack" layout that is designed to make betting easier with different combinations. It also offers three fixed bets and one variable, along with other racetrack bets. If you're going to try this style, do a little research first, so you understand it better.
Premier Roulette is the same as European Roulette but the graphics are more advanced, and you'll find a range of special features. For example, you can choose your own colours for the table.
Live Dealer Roulette is as the name states: you play online but at the same time your dealer is a real person on the other end of the camera who spins the wheel. This is a fun and unique way to play if you're after something a little different, and a more personal "casino" feel.
Roulette Royale has a jackpot that continues to grow. Progressive jackpots mean you could be playing for hundreds of thousands of dollars. If the ball lands on the same number five times straight, you get the jackpot.
Multi-Player Roulette is a type of European Roulette that allows five players at a time. This game is a lot of fun. You can see what other players have as their own best strategy, cheer each other on as they win (or commiserate when they lose), and chat with the other players in between turns.
Another type of European Roulette is Multi-Wheel European Roulette Gold, which allows you to spin up to eight wheels online at one time.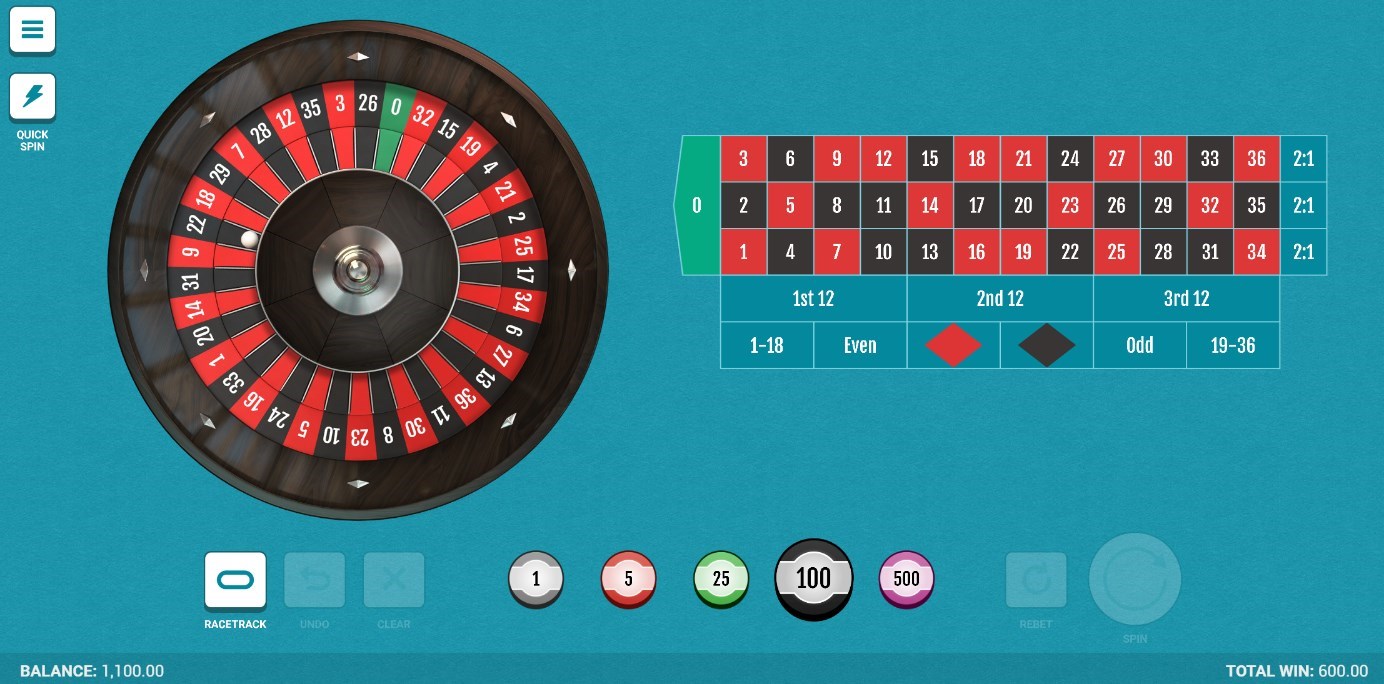 HOW TO WIN AT ONLINE ROULETTE
We've already discussed the basics on how to play (and win) at online roulette with real money, but there are some great bonus tips that can also increase your chances. Here are some of our best strategy tips and tricks to win.
If you want to win, choose the Outside bets. As mentioned earlier, these are the ones that have better roulette odds for winning (but they pay out less).
Choose European Roulette, simply because you have better odds at winning this game. The house edge on European is 2.7%, while American Roulette stands at 5.26%.
Try betting on reds or blacks, or odds or evens. You are more likely to win, but again, the payout won't be as high.
Play free Online Roulette first to get used to the game. That way, when you start betting with real money, you'll know what you are doing.
Stick to your limits. Don't bet money you don't have to spare. You might win, but there is a 50% chance you'll lose.
IS ONLINE ROULETTE FIXED?
This is probably something everyone who ever plays online gaming wants to know. And we have some good news for you.
Simply, no, it's not. While the goal of online gambling sites is, of course, to make a profit, any online casino that trades legally is audited by government authorities regularly. This ensures all the games they offer (whether old or new) are fair and that random numbers are truly random. If you ask any owner of an online casino, they will probably tell you these authorities are the bane of their existence because they are so efficient.
WHY PLAY ONLINE ROULETTE WITH JOE FORTUNE?
Roulette online Australia can be a whole lot of fun. Whether you have learned the tricks of the trade from watching experts at play at Crown Casino, Melbourne or Perth or Treasury Casino in Brisvegas (Brisbane); or you are a first timer hitting the online roulette games for the first time – you'll have a blast! We're also a proud Bitcoin casino, so make the most of your crypto stash and win big!
It's important to remember that with Joe Fortune, you play real roulette casino games with real money. And while we believe in responsible gaming, you also need to be responsible. Don't take online roulette too seriously and remember to only bet on the amount you can afford. You can have a great time when you play roulette for money but stay within your limits.