Online Blackjack in Australia

Are you ready to dive into the exhilarating world of one of the globe's most beloved casino games? Well, look no further – I'm Joe Fortune, your host at Australia's top-tier online casino! Join me at our online blackjack tables for a heart-pounding, edge-of-your-seat experience that's sure to keep you coming back for more. We've got a variety of table limits and game variations to suit everyone, whether you're a seasoned pro or just getting started. Thanks to our user-friendly platform and exceptional customer service, you can focus on the game while I take care of the rest. So, what are you waiting for? Dive into the excitement today, sign up, and let's get the online blackjack party started at Joe Fortune!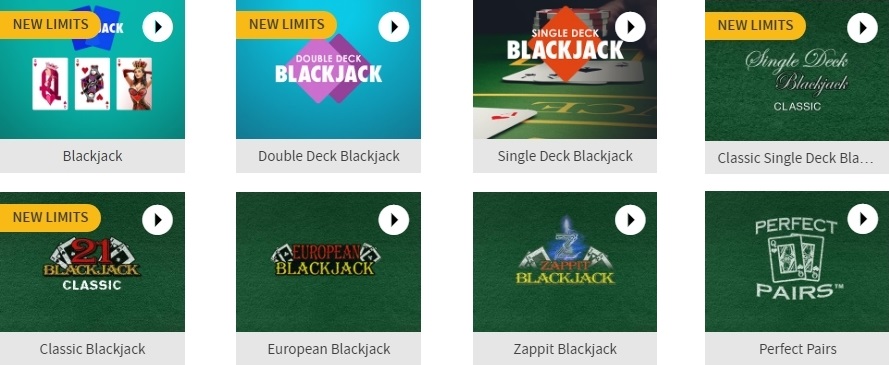 When it comes to online casino games, blackjack stands out as the preferred game of choice for many Australians. Although many people enjoy playing two up, online pokies and video poker, playing blackjack online in Australia has high odds when you are playing with real dollars.
If playing blackjack online is something you want to learn, you need to be familiar with the basics. Before you start betting with real money, you should know the basic blackjack rules and learn a blackjack strategy or two. Most importantly, you need to understand how to manage your money, so you don't end up flat broke at the end of the day.
THE BASICS: WHAT IS BLACKJACK?
Blackjack is a card game where you receive two cards. One card will be face down, and the other card will be face up on the Blackjack table. The 'aim' of the game is to get as close as possible to 21 without going over (bust). Once you have two cards dealt, you decide based on the added amount of both your cards whether you would like another card (hit) or stay with what you have (sit).
Once you have decided to stay with the cards you have been dealt, the next player has their turn, and it follows around the table until it reaches the dealer. One important thing to know is that the dealer will always stop their hand when the cards reach a total of 17.
HOW TO WIN AT BLACKJACK
Although the 'aim' of the game is to get as close as possible to 21 using your cards, the more important object of blackjack is to beat the dealer.
HOW TO PLAY BLACKJACK
There are many great ways to play Blackjack. If you are visiting major cities like Brisbane, Gold Coast, Sydney, Cairns or Melbourne, you can play blackjack in real life in one of Australia's many casinos. If you are keen to play blackjack more often, you can play online from the comfort of your own home.
There are many rules to the game, but blackjack is one of the easiest betting games to learn. The aim of the game is to beat the dealer's hand. This must be done without going over 21 points. Here are the rules of blackjack.
BLACKJACK RULES
Always assume any card you cannot see is a ten.
Blackjack can be played with up to eight decks of 52-cards.
The value of your hand is the total value of your cards.
Blackjack is the highest hand, which consists of an Ace and any ten-point card.
Blackjack outranks all other 21-point hands.
If the dealer has blackjack, all stakes in the game except insurance will lose. The one exception to this rule is if another player has blackjack.
Play always begins with the player on the dealer's left.
If the dealer goes over 21 points, any player who hasn't busted will win.
WHAT ARE BLACKJACK CARD VALUES?
Numbered Cards: Number cards equal their number value between two and nine.
Face Cards: All face cards (Queen, King, Jack,) have the value of ten points. Ten numbered cards also equal ten points.
Blackjack ace rules: Aces can be counted as either 1 or 11 points depending on how you need to play them.
WHAT IS BLACKJACK SWITCH?
Blackjack Switch is based on blackjack, but is different in the following ways:
Two hands are dealt to each playing position instead of one.
You can exchange or switch the top two cards between each hand. As an example, if you are dealt K-4 and 7-Q, then you can switch the cards to change the two hands into K-Q and 7-4.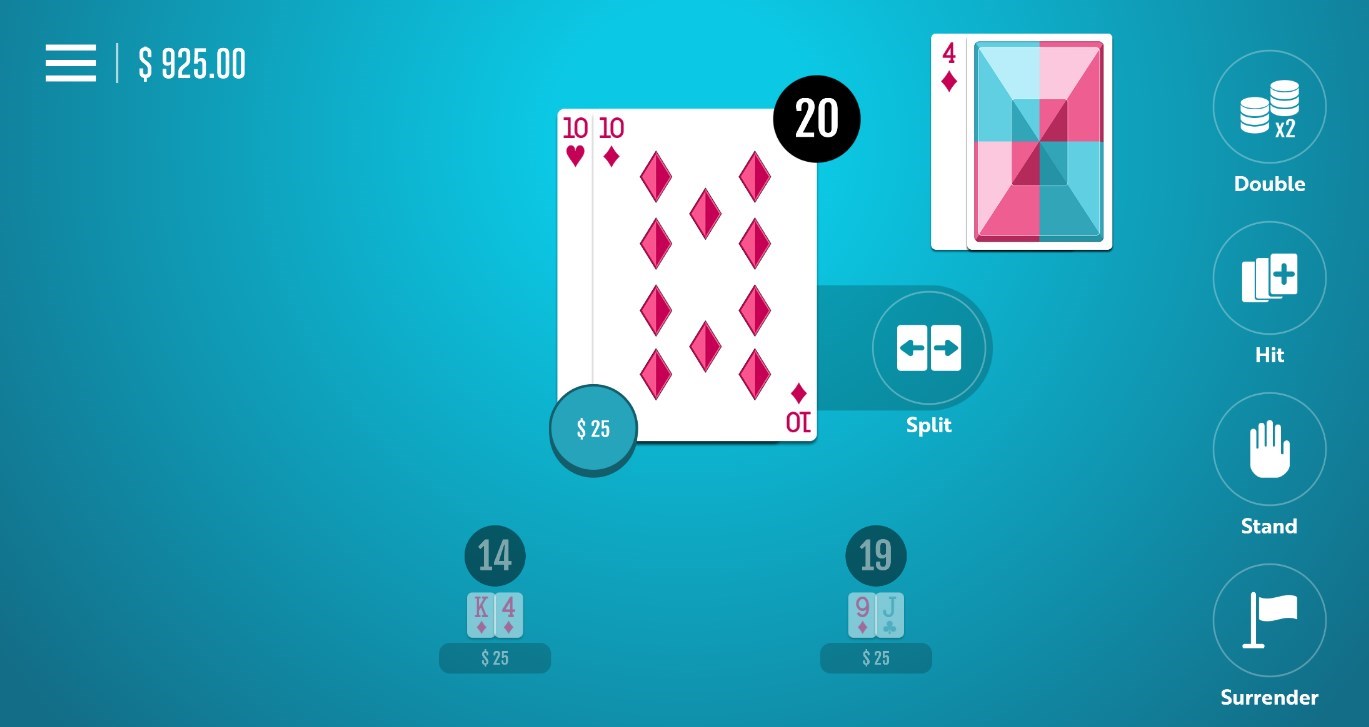 BLACKJACK LINGO – WHAT DO THESE BLACKJACK TERMS MEAN?
If you want to understand more about the game itself, you need to get your head around the lingo. Here are some of the common terms you'll come across:
Blackjack:

 The term blackjack is used when only the two dealt cards are used to a total of 21 points. This is achieved with a 10/King/Queen/Jack and an Ace.

'21':

 21 Blackjack refers to a hand of 3 cards or more that are used to total 21 points during the card game. This is the second-best hand in Blackjack.

Betting Limit:

 Normally, each casino or online casino game will have both a minimum betting amount and a maximum betting amount allowable to place on the blackjack table. For example, there will be a minimum wager of $1 with a maximum bet of $5,000, which will vary depending on the game.

Break or Bust:

 A broken or busted hand happens when a player has cards exceeding 21 points.

Double Down:

 A blackjack player can 'double down' by placing a second bet on the blackjack table. When do you double down in blackjack? The key to doubling down is the same as the main rule of blackjack online – always assume any card you cannot see is a ten. You can double down in blackjack when, after you have been dealt your two original cards. You can double your initial bet and get a single card in return. You should only double down when the combined value of your cards is 11 or less.

Hard Hand:

 The Ace is what distinguishes your hard hand from your soft hand. In a hard hand, the Ace=1. In a soft hand, the Ace=11.

Insurance:

 What is blackjack insurance? Blackjack insurance on a bet is taken out when a dealer has an Ace card facing up. Insurance is a secondary bet where you can guess whether the dealer has a natural blackjack. If you are right, you can win double your initial bet.

Perfect Pairs:

 In blackjack, you can be dealt with a pair of cards of equal value. These can be a mixed, coloured or a perfect pair, which is when you have two of equal value in the same suit.

Split:

 When you acquire a pair, you have the option to split the pair and have two separate hands on the blackjack table. You will also need to add another bet to the table. There is one exception to the split rule, and that is if the player splits two Aces. Only one card is dealt rather than the two, and if it totals a score of 21, it is not considered Blackjack.  When do you split in blackjack? If dealt a pair, or any two ten-point cards, you can double your bet and separate your cards into two individual hands. The dealer will give each split card a second card. You can then either hit, stand, or double. Doubling after splitting is not always allowed.

Resplit:

 Following a split, you can choose to 'resplit' if you gain another pair. Usually, you can resplit up to a maximum of four hands, depending on where you are playing blackjack online.

Surrender or Fold:

 This is a blackjack strategy where you surrender a lousy hand of cards to get half your original bet back.
WHAT IS A FLUSH IN BLACKJACK?
Flush hands are used in side bets during blackjack. Known as 21+3, the 21 stands for blackjack and the three stands for 'Three Card Poker'. This 3-card poker hand includes your first two cards plus the dealer's up card. If a flush, straight flush, straight or 3 of a kind is acquired between those three cards, you can win 9:1 for that side bet.
A flush in blackjack are cards in the same suit – e.g. King, Jack, and Ace of Diamonds.
A straight flush in blackjack are cards in the same suit – e.g. Queen, Jack, and King of Diamonds
WHY PLAY BLACKJACK ONLINE WITH JOE FORTUNE?
It doesn't matter whether you're in Brisbane, Melbourne, Sydney or Mount Isa, you can play blackjack online, any time of the day with Joe Fortune. Whether you're looking for a new way to spend your Friday nights, or you are sick and tired of putting on a suit to head into the city. Online blackjack is guaranteed to be a whole lot of fun!
Keep in mind that online gambling should not be taken too seriously. To keep your online gambling experience fun, Joe believes that responsible gaming is a priority. When you gamble online, you gamble with real money. Stay within your financial limits and never wager more than you can afford.
Bitcoin Blackjack
If you're a fan of blackjack and looking for a new and exciting way to play, consider trying bitcoin blackjack. Our bitcoin casino offers the opportunity to play blackjack using bitcoin, a secure and convenient digital currency. Not only does this provide an additional layer of privacy and security, but it also allows for faster and more efficient transactions. Plus, with the same great graphics, live dealers, and real money prizes as our traditional online blackjack game, bitcoin blackjack offers a unique and thrilling experience for players. So why not give it a try and see if you can hit that winning hand while enjoying the benefits of bitcoin?
Live Blackjack
If you're on the lookout for a thrilling twist to your blackjack adventures, look no further than our live blackjack tables. Joe Fortune's online casino is your go-to spot for an electrifying blackjack experience that takes the game to a whole new level. Imagine immersing yourself in the heart-pounding action of live dealers dealing the cards, making each decision more exhilarating than the last. With the same fantastic graphics, interactive gameplay, and the allure of real cash prizes, our live blackjack tables deliver an unmatched gaming experience. Ready to spice up your play? Take a seat at our live blackjack tables, soak in the excitement, and cap off your gaming journey with the rush of a winning hand.