Caribbean Stud Poker Guide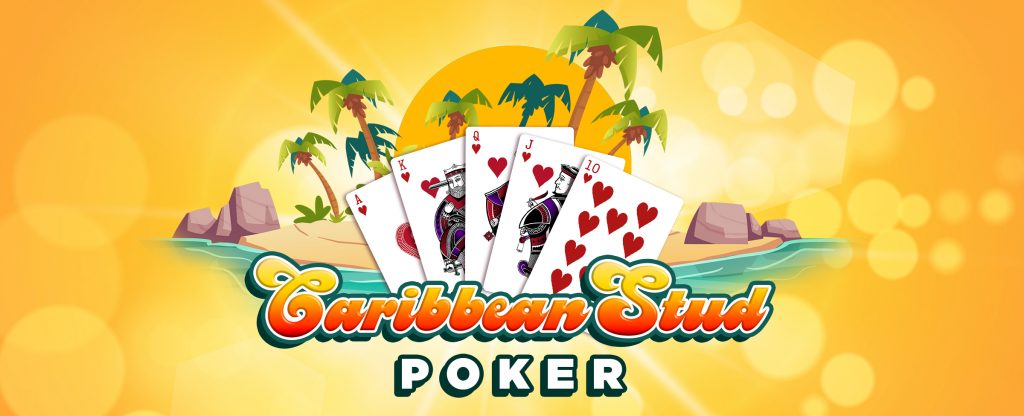 If a high-heat holiday on the island of Aruba sounds like your cup of rum and coca-cola, then you'll want to hear all about one of Joe Fortune Casino's top games for an exotic tropical getaway: Caribbean Stud poker online. Despite how it sounds, this brief guide does not end with an all-expenses-paid trip to the Caribbean island where the game is thought to have originated. But we do sell coconut water in the lobby, and simply playing the game sure doesn't deflate your overfed holiday fund.
In fact, as a player at Joe Fortune Casino, you can play Caribbean Stud poker anywhere you'd like, whether it be from the beach with sand between your sun-kissed toes or from your couch with an Ikea shag carpet tickling your feet. Either way, you'll find that Caribbean Stud poker is one of the most smooth and simple Joe Fortune Table Games. With roots in poker and branches reaching into Caribbean life, there are only a few decisions to make, and rounds are over quick-smart.
Once you've established an account and used your own Joe Fortune login, you're ready to learn the ropes, lower the house edge, and receive 5 handy tips to maximize the game and ultimately rule the beach. Let's start at the tarmac and go over the ocean.
Caribbean Stud Poker Rules
Unlike regular poker with its multiple players and options to decide which cards to hold and which to replace, Caribbean Stud is a five-card game that's a whole lot simpler. The perfect holiday pace, perhaps.
The game is played in 4 quick steps:
Place your starting (ante) bet
Five cards are dealt to you face-up, and five to the Dealer with only one card face-up
Based on your own 5 cards and the Dealer's sole face-up card, you decide to either fold and forfeit your bet, or double your ante (raise) and face the Dealer's full weaponry
If you face the Dealer, they have to have an Ace-King or higher to qualify
That's the base game. These are the possible outcomes at this point in the game:
The Dealer didn't qualify, so you get paid 1:1 on your ante (nice one) and your raise is returned as a push
The Dealer does qualify and your hand is better than theirs. In this case you get 1:1 for your ante and more based on the poker hand you have. The higher the rank, the higher the payout
The Dealer qualifies and their hand is better than yours. Be a good sport, now. The Dealer may have won this round, but the next one is just around the corner
The fun part comes in when you have a decent ranking poker hand after beating the Dealer. The better your hand is, the bigger you payout. These are the payouts for the different hand ranks:
| | |
| --- | --- |
| Hand Rank | Payout |
| Royal Flush | 200:1 |
| Straight Flush | 50:1 |
| 4 of a Kind | 20:1 |
| Full House | 7:1 |
| Flush 5 cards | 5:1 |
| Straight | 4:1 |
| 3 of a Kind | 3:1 |
| Two Pair | 2:1 |
| One Pair | 1:1 |
| High Card | 1:1 |
Aside from the exciting payouts, the real stud in Caribbean Stud poker is the progressive jackpot. It grows bigger and bigger with each wager in the game, often reaching tens of thousands of dollars. All you have to do to be eligible is to opt in with $1 at the beginning of the game. Click or tap on that red circle before hitting "Deal" and you're in.
Then, on top of the payouts already covered from the base game and your own poker hand, you get paid like this for the progressive:
| | |
| --- | --- |
| Hand Rank | Progressive Jackpot Payout |
| Royal Flush | 100% of the progressive. Rejoice!! |
| Straight Flush | 10% |
| Four of a Kind | $500 |
| Full House | $100 |
| Flush | $75 |
Caribbean Stud Poker Odds
With a house edge generally at 5.2% for Caribbean Stud poker at your friendly Joe Fortune Casino, it's already a bit higher than other poker games. Not gonna lie (but I might take a swim). Having said that, if you follow a basic strategy centered on when to raise and when to fold, which I'm about to show you, you can lower this edge to 1% or less. Don't you just love a golden opportunity at no additional cost?
So let's go over those winning tips for Caribbean Stud poker at my fine establishment commonly known as Joe Fortune Casino.
5 Winning Tips and Strategies

These winning tips should sort you out just fine (prepare the sun balm, you're nearly ready to take the Caribbean Stud dive).
If your first five cards show a pair or better, raise that bad boy and face the Dealer, no matter what card they're showing
Raise on Ace-King or better. If you have any hand that's lower than an Ace-King, it's better to fold it. The payoff risk won't be worth it, regardless of the card the Dealer shows
Be strategic with Your Ace-King hand. So let's say you have an Ace-King and the Dealer shows a Queen or lower that matches one of your cards. That tells you they are much less likely to have a pair in their hand, and you should raise
If you have a Queen in your hand, raise in this case: the Dealer's cards do not match any of yours, and the Dealer's card is less than your fourth highest card
You should also raise when you have a Queen or a Jack and the Dealer's up card shows an Ace or a King
Using any of these strategies will keep that house edge as low as possible. Whatever you do, just don't raise on every hand! That gives the house an insane 16.5% house edge. Be wise and follow most or all of my top 5 tips instead.
Now that you're a full-fledged expert in all things Caribbean Stud, you can deposit and play casino games at Joe Fortune like the total stud we all know you are. Slap on that sunscreen, show off that six pack (straight from the fridge), and wave around that cash. You're about to take the trip of a lifetime.