Best Blackjack Version and Best Way to Play Online Blackjack

After so many centuries of expanding popularity (around three, actually), an established game like Blackjack naturally begins to take on new forms. Tweaking the rules ever so slightly could have the power to tip those odds in favour of winning paydays. But only if you know what to look for.
In order to do us both a favour and make sure you play the game with the best Blackjack odds, let's go over online Blackjack and its many faces. You just might learn something new. Even better, this online Blackjack guide just might be the ticket you were looking for to find your groove and hit the ground running.
Online Blackjack Variations
There are a few versions of Blackjack you can play at Joe's. This online Blackjack guide will go over all of them. Let's start with the mother of them all: Classic.
Classic
When a Blackjack game is called Classic, or Twenty-one, that means it's played the traditional way without any special rules. The number of decks can vary, although at Joe's, our Classic version is played with 6 decks.
Aside from that, Classic Blackjack is also famous for having some of the best Blackjack odds, sitting around 0.5%. But as you're about to see, the "best" Blackjack odds isn't so easy to label, as each version comes with its own fiercely competitive set of odds. That's Blackjack, for you.
Let's go a little deeper.
Single Deck
Any online Blackjack guide will tell you that the fewer decks you play with, the better your odds will be. That holds true here, as the house edge in Single Deck Blackjack is only 0.15%!
Single Deck is played in exactly the same way as Classic. The biggest advantage to single deck Blackjack is that the fewer cards you have in play, the more chances you have of winning a Blackjack. It also means that when you choose to double down, you're less likely to bust with a 10-value card.
Double Deck
Next in the online Blackjack guide is double deck. As I'm sure you've gathered, having two decks means playing with twice the number of cards, which has a slight impact on your decision-making.
An example of this is when you double down. In Double Deck, there are simply more 10-value cards that could result in a bust after doubling down. For this reason, you'll want to be more careful.
European Blackjack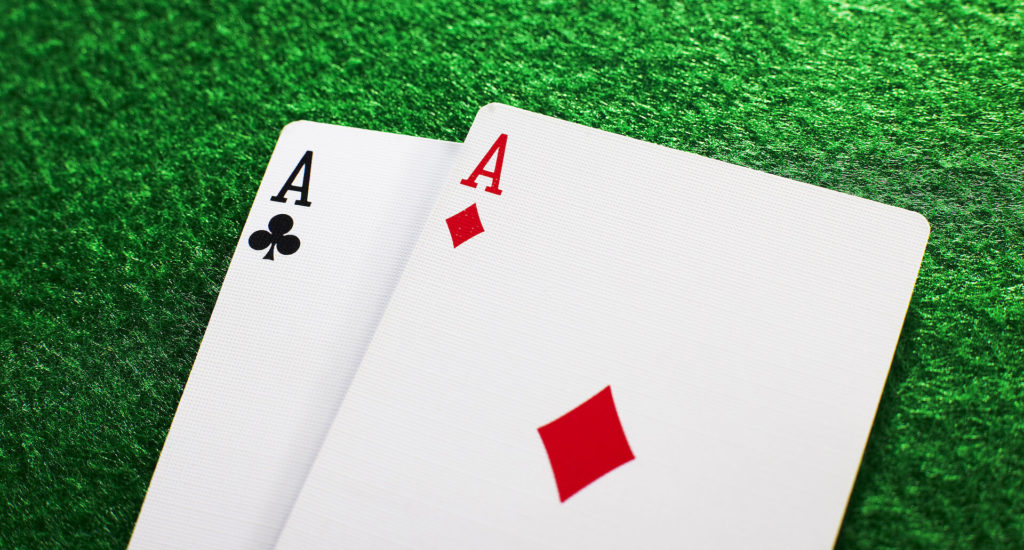 This type of online Blackjack for real money has some of the best Blackjack odds at 0.4%. It's played the same as Classic, but with a different dealing method.
In Classic Blackjack, both you and the Dealer each get 2 cards right away, although one of the Dealer's cards is face down. In the European version, the Dealer only gets one card, and won't receive the second until you've made all of your moves, including splitting and doubling down.
Keep in mind that in European online Blackjack for real money, you can double down like all the others. But now you can only double down on a hard 9, 10, or 11.
Perfect Pairs
With Perfect Pairs, you have the option to make additional side bets based on card pairs and increase your profits up to 25:1.
At Joe's, you play Perfect Pairs with 6 decks. That's good for you because it increases your odds slightly to get the ultimate perfect pair and win a bonus. On the downside, however, the house edge is roughly 5.79%, which means it does not have the best Blackjack odds
Zappit
Zappit is a totally unique version of online Blackjack for real money.
During the game, you have the option to "zap", or replace, your cards, when you have a hard total of 15, 16, or 17. This is great because those hands are the toughest to decide in a regular game of Blackjack, and they're considered the most risky.
Another thing is that if you have a score of 21 or less and the Dealer busts with exactly 22, it's considered a push, or a tie. It is not considered a win for you like it would be in Classic Blackjack. This rule is in place to balance the value you as the player get for being allowed to replace a poor hand.
Best Version of Blackjack to Start Playing
If you're new to the scene and looking for a place to start, you'll want to have a go with Single Deck. With the best Blackjack odds of all types of online Blackjack for real money, and no confusing rules to follow, it's a reliable place to start.
After that, you can up your game a bit and try Double Deck. Now you have more cards to keep track of, but you also have more opportunities to double down, which is great practice. Playing Double Deck also sets you up for better skills in other multi-deck games like Perfect Pair which is played with 6 decks.
How to Play Optimal Blackjack
First and foremost – get yourself a chart. A Blackjack chart lays out every scenario based on yours and the Dealer's cards, and tells you what action to take in a game. Aside from that, follow these guidelines to make sure you're playing for the best Blackjack odds:
Skip the insurance. Although you have the option for insurance in European Blackjack that pays out at 2:1, the odds for winning that bet reach as high as 7.5%. It's called the sucker bet for a reason.
Review the game's rules. You'll notice slight variations between the types of Blackjack that will affect your strategy such as whether or not the Dealer has to hit or stand on soft 17, how many hands you can split, and whether or not you can split aces.
Know when to split. Typically when the Dealer's face up card shows a low value like 2-7, you should split if you have a 2-2 or 3-3. If you're playing with a single deck, you can extend that rule to split with 6-6, too, but only if the Dealer has a soft 17 and must hit on that value.
Take advantage of doubling down. In a single deck, there are fewer 10-value cards, which means you're less likely to get a high card that causes you to bust (go over 21) and lose your bet.
Games with the Best Blackjack Odds
Like we said, the fewer decks involved in the game, the better your odds will be. While that may be true, the best Blackjack odds are determined by the different rules and, ultimately, the way you play.
These are the versions of online Blackjack for real money at Joe's and their odds, starting with the best one first:
Blackjack Version / House Edge
Single Deck / .15%
European / .4%
Double Deck / .45%
Classic / .5%
Zappit / 1.15%
Perfect Pairs / 5.79%
If you're into higher risks with higher returns and perfect pairs, you'll love Perfect Pairs. If you want to keep it simple, and stick with Classic, Single Deck, or even Double Deck. If you want to have more control over your hand, try Zappit. If you like the rush of the unexpected, European will be good for you. A game for all seasons.
Either way, you should be primed to have an awesome night in with this online Blackjack guide, and you can be sure that I've set you up with the best Blackjack odds. You can Deposit and Play Now to see which version puts more swagger in your style.