Your Favourite Dinner Could Make You A Winner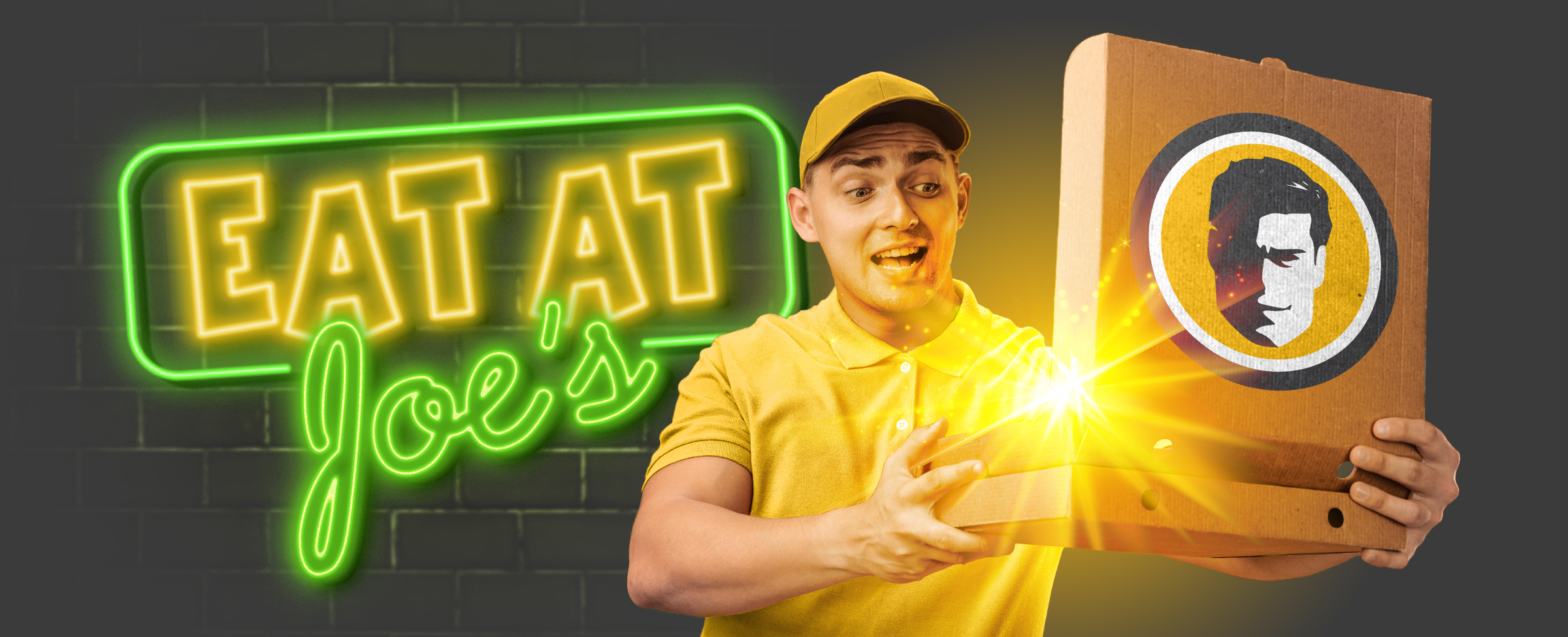 Orders Up! This is Your Next Pokie, Based on Your Favourite Food
Mmmm, d'you smell that? Joe Fortune online casino has got some top-notch pokies cooking in the oven, with waves of juicy jackpots simply oozing out of the pan and their aromas wafting into your balance. You also hear a rumbling? That's probably just my stomach – suddenly I'm a little peckish!
Maybe it's the taco platter I had for dinner last weekend still visiting me in my dreams. Or maybe, just maybe, it's the silver platter of hot, delicious pokies that I'm serving up right as we speak.
And let me tell ya – at the Joe Fortune online casino, it's hardly Oliver Twist round here; no one goes hungry for pokies and jackpots, especially not your balance that always seems to be grumbling for some jackpot grub. Please, Joe – Can I have some more?
Well, grab your napkins, sugarpie. These pokies are designed to complement your favourite meal and your insatiable appetite for fat stacks.
Chef Joe has served up a veritable feast. Let's dig in.
Candy: Candy Burst

If you're always catching yourself raiding the biscuit jar or breaking off a few squares of chocolate one too many times a day, you'll be happy to hear that Candy Burst has more treats to choose from than a seven-year-old's birthday party lolly-bag, and it's all calorie-free.
Nevertheless, the bold, bright stripes and bright pastels and colourful sprinkles might still render this a game for non-dieters – you could be off the wagon before the ride is over.
With 6 rows and 6 reels full to the brim with high-paying gummy rockets, chocolate bombs and mystery sweets, just try to resist devouring enough sweets to make your balance burst.
The gummy bears are especially satisfying in this game (the red one is my pick, as everyone obviously knows), as three gummy bears award you 10 free spins with a 2x multiplier.
It's like taking candy from a baby.
Pizza: Reels and Wheels XL
If you play Reels and Wheels XL with a big appetite, it's understandable if the wedges of the spinning wheels seem to transform into a pizza before your eyes. All the colours blending together is like watching an eager team of pizza artists sprinkle more toppings on the creamy sauce.
To get the first pie, you need to land two bonus symbols and one wheel symbol in the base game. Then your doorbell rings and the delivery driver hands off your first bonus wheel. You chomp through those wedges, and maybe even taste the jackpot piece as a secret ingredient. If you do, then your doorbell rings again, but this time the driver has a special jackpot wheel for you! And he doesn't even ask for a tip!
If by some miracle you're still hungry after all of that, and you'd like to try a different type of pizza, err… wheel, then check out the original Reels and Wheels slot review to see if any of those cash toppings are enough to satiate your animal appetite!
Sushi: Sushi Wins

Sushi Wins is run by an experienced Japanese chef who's got a way with a fillet knife, and they've laid out a variety of sushi for you to try on a colourful platter.
As you mix up your sauce dish with soy sauce and wasabi, don't hesitate to pile in a little extra wasabi to heat things up. Sure, it might burn going down, but when it expands to cover the entirety of reel 3, it triggers reel 4 to spin yet again, which is all a part of the culinary experience.
To say thanks for your patronage, the sushi chef offers you 10 free spins with doubled wins on the house, and all you need to do is take a few sips of sake on reels 1, 3, or 5 to get it. Not a bad price to pay if you ask me – in fact, make me a reservation!
Fruit: Magic Apple
The characters from Magic Apple are suspiciously close to those in a certain fairy tale involving a snowy white lady, a witch, and a crew of little people with beards. While the witch may appear to be rotten to the core, those magic apples she hands out prove she's got a bit of generosity up her sleeve.
When you accept six or more magic apples from her brittle and bony hand, you get to play a magical hold and win game with the chance for a mini, minor, major, or grand jackpot.
Oh yeah, and speaking of magic – here's a little trick for you to try at home.
Did you know that if you refer a friend to play at Joe's, you receive an automatic $50 to use in all of my games? Yep, just bring a friend along for the fun, and get fifty bucks worth of free spins on any game, including this one.
How do you like them apples?
Fish N' Chips: Larry's Lucky Tavern

For those of us who love to dive into a big pile of greasy, salty comfort food, I couldn't think of a better place to do it than in a pub while having a pint and surrounded by friends.
Larry from Larry's Lucky Tavern happens to make a mean Fish N' Chips, and patrons at Larry's have a lot of features to chow down on as well.
Wilds with multipliers, free spins with multipliers, and a bonus game to select barrels to match up drinks are all available. Just be sure to toss your boy Larry a little tip once you take your winnings out. He might even save you a brewski on the house for next time, but you can take that advice with a grain of salt.
Omelette: 15 Golden Eggs
Are there any more breakfast lovers in the house today? I've been known to chow down on a big, hearty breakfast on a lazy Sunday morning (especially if I had one too many at Larry's the night before).
No breakfast is complete without an omelette, but omelettes made with golden eggs are a real treat. And in this pokie, there are 15 of them – yes, 15 Golden Eggs to fry up on a fiery skillet. I seriously hope you're famished.
Now, there is one incy-wincy catch. You may have to make your way through flocks of pelicans, parrots, and cockatoos to get your hands on these golden eggs.
Bargaining with birds for your breakfast might appear intimidating at first, but rest assured it's a great way to build an appetite, and there are no bad eggs in this bunch. All you need is to ask nicely and collect only three to start things off. Then the eggs will keep on coming in waves of free spins, each sticking to the game board to help you add up a higher prize.
Now, I know you already have a lot on your plate after gathering up all these foody pokies to sink your teeth into, but shove the peas over to the side to make room for just one more thing.
All of these spicy pokies are Bitcoin pokies, which means you can deposit with Bitcoin and withdraw your wins in just minutes. That's exactly why Bitcoin is the best for online pokies, and especially for the calibre of wins inside these.
So, if you're like me and feeling ravenous right now, let the waiter push in your chair and take your order (but go easy on him – by day he runs a flourishing online casino). Joe Fortune Online Casino is serving up hot jackpots every day, and your only role is to savour them.
Go eat 'em for breakfast, champ!
Hot Drop Jackpots are now at Joe Fortune, with hourly and daily jackpots to be won!