Play on the Go and Go Mobile with Joe Fortune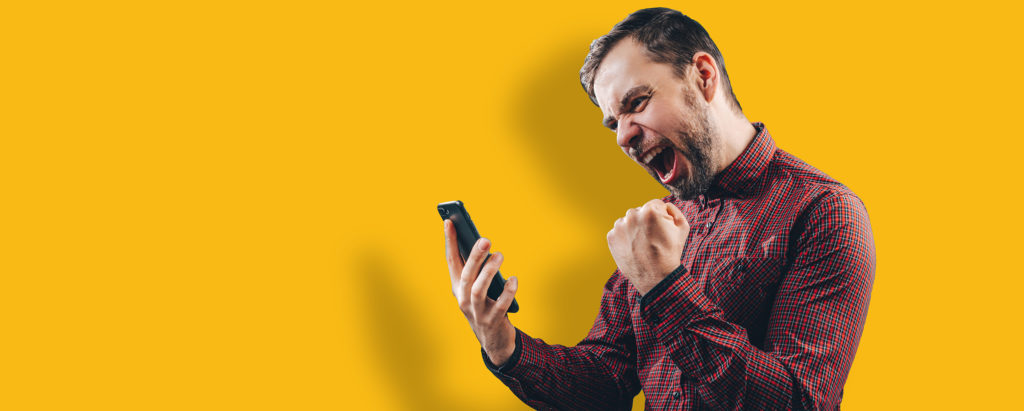 Let's face it: the days when you can rock up to a land casino in your Saturday-night best again are still some ways ahead. As an alternative, you already know you can play your favourite casino games online, which is convenient as-is. But now that you have a Joe Fortune mobile online casino, you can make money and have a good time on the go. PC not needed! 
Aside from the sheer convenience, you'll love the variety of casino mobile games, too. You could pass a few minutes spinning through Vegas slots while waiting for your coffee, or dive deep into a swanky night of Baccarat while you sip on martinis at home. 
Most importantly, you'll need yourself a free mobile casino to get it done. That's where I come in. Welcome to Joe's. Let's go over how to deposit and play casino mobile games such as mobile slots, and which games are the best at a free mobile casino. 
How to Play Joe Fortune Mobile
To get started, you'll need a Joe Fortune casino login. Check! Next, select the type of game you want to play from the icons towards the top. 
If it's pokies you're after, you'll see that most of the best pokies are available on mobile. To play those, tap the pokie you're into, place a bet, and spin like usual. Don't forget to rotate your phone for landscape mode!
If table games are more your pace, head to your game's category. While you can play most table games on mobile, you'll want to look out for the ones in blue, as those ones are optimised for the best mobile experience. 
You'll notice that during mobile online casino game play, most controls aren't displayed directly on your screen. This keeps it nice and tidy. In this case, look out for the hamburger icons. That's your menu for betting, reading the rules, and adjusting your settings. And building an appetite.
It may take a few games to get used to the layout, but you'll quickly find that it's a simple, streamlined experience. Basically, everything you could want from a free mobile casino. 
How to Deposit For Mobile Play
You'll be happy to hear that depositing for casino mobile games is just about the same as on PC. In other words, easy as pie. 
Once you've signed in, tap on "Deposit". Now you choose your deposit method, which is the same as on PC. Enter the deposit amount you're putting down, along with the relevant details. Don't forget to collect your bonus, and hit "Deposit". That's it: you're ready to get down and party with casino mobile games.
Best Casino Games for Mobile Play
While you'll see most of the games at Joe's are available on mobile, not all of them are created equal. Some have been optimised especially well for mobile play, complete with interactive interfaces and gameplay smooth as butter. Just the way it was meant to be. Take a squiz at these games for the best free mobile casino experience, as well as some tips on how to dominate. 
Blac
k
jack

Classics, classics! Blackjack is a game that goes down in history for its simplicity and top-notch winning potential. 
You and the Dealer each get two cards. Yours are face up, and the Dealer has one face up and one face down. You want to get as close as possible to 21 without going over, as well as have a hand higher than the Dealer's. As you may already know, the two primary actions in Blackjack are to hit (take another card), or stand (stop the round with the cards you have). 
As far as casino mobile games go, the Online Blackjack experience is one of the best. The screen is simple and intuitive, with minimal controls clogging the space. Right now, Double Deck Blackjack is the top choice especially for mobile. That also happens to be one of the most popular types of Blackjack with a house edge as low as 0.45%. In this version of the game, the Dealer has to stand on soft 17. You can also take advantage of splitting, doubling, and insurance which pays 2:1 (pro tip: skip the insurance!). 
Baccarat
James Bond may have been the master of the Baccarat table, and even of the bejeweled ladies. But one thing's for sure: he never got the chance to experience Online Baccarat at a mobile online casino. I don't think. In order to channel your inner 007 (and perfect your 'come hither' glance), head to "Table Games" and click on the blue Baccarat. 
Starting out, you'll need to make a bet on either of three things: the Banker, the Player, or a Tie. To place your bet, drag the chips into the correct circle, and hit the icon with two cards on the right side to deal the cards. Both the Player and the Banker get two cards, and in some cases a third. Whichever person is closest to a total of 9 wins the round. If the winner is the one you bet on, you win the game. 
The coolest thing about Baccarat on mobile is the trackers for the game, located on the left side and the top. They make it super easy for you to keep track of the rounds in case you're using an alternating betting strategy, which many players do. 
Pro tip: focus on the Banker and the Player, because they have the best odds.
777 Deluxe

Let's talk pokies! The great news for us pokie lovers is that most casino mobile games are centered around pokies. All of your favorites are there, including this bad boy: 777 Deluxe. 
This game takes classic fruit machines up a few notches with 3-D graphics and a generous progressive jackpot. With 5 reels and 10 lines, you can get paid from left to right, right to left, or within the three middle reels. 
As you're spinning through, you'll notice a mysterious question mark pop up. Why? These symbols transform into any other icon in the base game in a wild tornado frenzy. When you land 3 question mark symbols, they shoot you off to the bonus round where you could win prizes and multipliers, as well as the whole damn progressive jackpot itself. Thanks to the bright, popping graphics and hypnotic music in the game, you won't even know you're playing at a mobile online casino. The world melts away as the progressive gets closer and closer.
5 Times Vegas
5 Times for Vegas and a thousand times for fun. What would a free mobile casino be without a tribute to the original home of playing the odds? 
This 3×3 game takes place over the flashy city lights with palm trees and a sky full of stars. The main feature of this game are the wild symbols which are 2x, 3x, and 5x. Each wild symbol comes with its own fancy pay table (displayed on the left), and has the power to multiply your winnings up to 25x. Even more interesting is that when a wild lands on reel 3, reel number 2 spins again for another chance at a win.  
All of the other classic symbols like cherries, watermelons, bells, grapes, sevens and bars come with their own value. Landing 3 sevens on a line from left to right awards 50 coins, and 3 bars gives out 20. 
Overall, you'll find this game a satisfying mobile experience of classic pokies and an easy-going spin for terrific paydays. 
Monster Manor
Some pokie players like to take it easy, just like with 5 Times Vegas. Others like to get the daylights scared out of them with bats, ghosts, mummies, wolves, and witches. 
Ok, maybe these characters lean more towards cute than the terrifying. But when you step into this spooky Manor there's nothing "cute" about 50 pay lines and a betting range up to $100. That makes it great for low-stakes bettors and high rollers alike. 
Among the symbols spinning through the Manor, 3 bats award 10 free spins with a 3x multiplier. Land 5 bats, and you get all that plus 50x your total bet. To the Batcave!
When you land 4 ghost symbols, the bonus game is triggered. In the game you have to click on the ghosts and try to collect 3 potions of the same kind to win. 
The coolest feature that makes this one of the best casino mobile games is the Expanding Wild. When multiple black cats appear on a winning line, that line is multiplied by either 3x or 5x. This black cat is not what it seems, and she is the true mystery of the game. When it lands on reel number 3 during Free Spins, the cat transforms into her true form – a witch that's tall enough to cover the entire reel. (A good witch or a bad witch? Which?)
That about wraps it up. In order to get down with the best online games with the best chances of winning, you've got to hit up a free mobile casino. Take your pick from the Joe Fortune casino mobile games platter, and have an awesome time outside and on the go. Or inside and not going anywhere. Doesn't make a difference, as long as you're kicking on!