How to Play Progressive Jackpots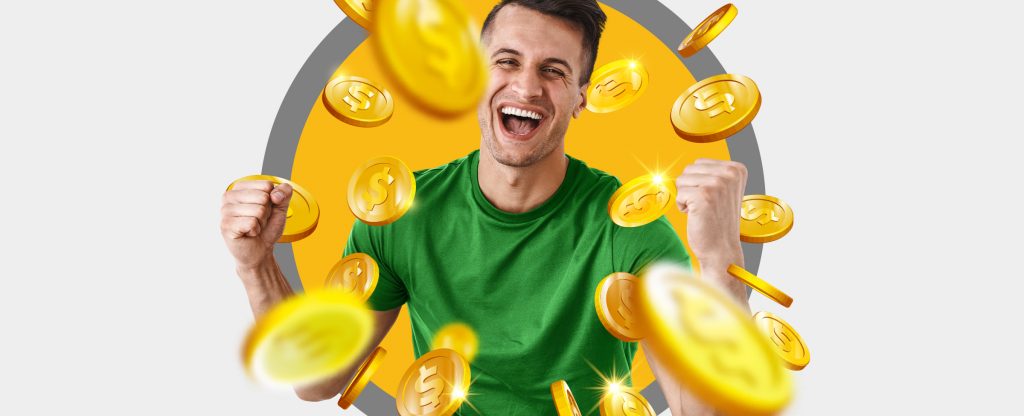 The games I'm about to unveil below have the biggest payday you'll find on the reels. That's right – they boast fat stacks of cash that any player could pocket at any given time. My Joe Fortune pokie progressive jackpots offer up life-changing payouts, if I do say so myself.
I mean, who wouldn't come running at the chance to score a six or seven-figure win at the drop of a spin? And if you're not the pokie type, no sweat! We'll talk table games with their own progressive jackpots for comparably impressive paydays. 
This guide is about all things progressive, from pokies to table games. I'll play teacher by defining what a progressive jackpot is, sprinkle in a few tips, and then we'll get progressively more interesting as we go full throttle towards the games with the best jackpots. Let's jump right in!
What is a progressive Jackpot?
As enticing as these jackpots are, you may find yourself slightly stuck on the term "progressive". Just as Joe Fortune casino is a destination with boatloads of options, the word progressive carries a boatload of meanings. Progressive rock is bloody great; progressive dancing not so much. Progressive disease; you can keep that. Progressive jackpots; well, I guess you can keep that too!
So, a progressive jackpot is a jackpot that grows exponentially until it's won in a single, unsuspecting spin. It's that Hollywood-style jackpot you think of when a machine starts bleating like an old fire alarm. Lights, confetti, camera crew, the whole deal. Here ma'am, breathe into this paper bag, etc.
It starts with a small contribution from yours truly. When Joe players, both near and far, place a bet in that game, the dollars stack up and the sum total grows bigger and bigger. Why? Because they're all chipping in, that's why. Just like the Lotto – their contributions determine the top prize value. As soon as someone hits that baby, the party starts all over again from the beginning.
So how can you get your hands on these epic progressives? Reach over here with me.
Progressive Jackpot Tips
Max Betting: In order to be eligible for the progressive pokie jackpot, usually you'll have to play on max bet. For example, in Shopping Spree, which boasts a multi-million dollar jackpot, you need to land 5 diamond rings while spinning on max bet to trigger it. If you want to know more about a specific slot, definitely read the game rules to be sure you're eligible for the progressive.
Random Progressive: A random progressive refers to a pokie that's configured to release the jackpot after any winning spin. As you could imagine, this adds a whole new element of thrill to the game. For this style of jackpot, you usually don't need to bet on max to be eligible. It should be said, however: the higher your bet amount is, the greater your chances of going home with the progressive. And this is a case in point for why I'm known for my parties.
Opt-In: For table games, and we'll get to those later, you'll need to click or tap the red circle on the board to opt-in for a chance to win the progressive jackpot. This only costs a dollar, so it's a no-brainer. Or, it's an astute move from a strategic player. Pick the hat that fits. 
Best Pokie Progressive Jackpots
Are you all dressed up and ready to talk jackpot games yet? These are the pokies that reliably grow the biggest progressives, and I must say they steal the show for entertainment as well. The amount is always growing, so check in with the Joe Fortune Jackpots to see what it's at now. And… now. How about now? 
777 Deluxe
777 Deluxe is easily one of the most popular jackpot pokies around here. It also happens to be one of the most accessible games to seize that ultimate prize pool, with only two correct spins required to get your mitts on it. First, you'll enter the bonus game after landing three question mark symbols in the base game. Easy. In the bonus game, you'll be facing one payline as you reach in for the spin. If you're my lucky winner for the day, you'll land three gold 7s. Even if you don't end up with the gold 7s and the progressive this time, it's not a case of "all over, Rover." There are still a good bunch of smaller prizes to be had by combining 7s of different colours in a winning configuration. That's the beauty of a casino like Joe's: it's not just one-and-done. 
Lucky Leprechaun
We all have that buddy who's never without a devious twinkle in his eye: ready for a good time at the drop of his green hat, and a joke at your expense. You don't mind, because it's always so damned clever. In this game, the lucky leprechaun is that buddy. This charming pokie has turned up the dial, with three progressive jackpots waiting under a rainbow, alongside all the good-time vibes. As usual, the requirement is to bet on max if you want a solid shot at them. You'll need to land five pots of gold to trigger the barrel-picking progressive bonus round. Sounds a bit cliched to the uninitiated, but it's not at all lepre-corny. 
Ultimate Super Reels
For Ultimate Super Reels, we don't even have to leave the real-life land casino with the whitenoise of a busy casino floor. In fact, we simply have to shuffle a few steps to hit up this ultimate pokie machine. USR is a spitting image of the version you'd find in a traditional, bricks-and-mortar casino, but here you'll play on five clunky reels instead of just three. If you manage to land three Ultimate Super Reels symbols, along with 1x "+1000" symbol, and 1x "x10" symbol, the progressive jackpot is all yours to bundle up and carry home. 
Super Fast Hot Hot
Hot, hot, hot! This game is on fire, and it's not because the wiring is shoddy. Super Fast Hot Hot not only happens to be the fastest way to get a progressive jackpot, but it's also the most fun to say on repeat. Hot with super prizes; fast to get there. No further explanation needed. You'll find that this game is a first cousin to Ultimate Super Reels with its classic theme and 5 reels. All you need to do is land five "Hot Jackpot Hot" symbols on max bet, and you'll be the hot topic of the entire casino floor. Can't be too hard, right?
The Ruby
The Ruby is a little gem of a game; kind of like a throwback you'd find inside an early land casino, with the murmuring of bettors in the background setting the tone. Reels 1, 3, and 5 are the ones to watch, and when you land three bonus symbols on any of reels, you might just trigger the jackpot bonus round. Get your lucky spinning arm warmed up, because you'll need to spin the wheel of your fortune and watch your fate rotate in a blur. As it begins to slow, you can watch it creep closer to one of the three jackpots, plus other prizes from free spins and multipliers. The Ruby should be called The Nailbiter.  
How to Win Table Game Progressive Jackpots 
We've been talking a lot about pokies, as well we should. But sometimes it's good to take things in a new direction. Now it's time to pivot into Joe Fortune table game progressive jackpots. 
Like I mentioned earlier, each game requires a $1 side bet at the start of the round to be eligible for the big win.
Let 'Em Ride
Let 'Em Ride is loosely based on five-card poker, since you're wagering on the outcome of your own three hands, plus two community cards. The difference is that you play the game over multiple rounds, with options to raise your bet throughout. To win the entire progressive, your final five cards must be the ultimate hand: a Royal Flush. If not, you can still get a princely portion if your cards form a lesser top-tier poker hand. 
Caribbean Stud Poker
Caribbean Stud poker brings all the thrills of poker, but at a faster pace. It's just you against the dealer, and you each get five cards to start. All of your cards are flipped face-up, but you can only see one of the dealer's cards. The idea is to fold if you think your hand will lose, and raise if you think you can beat the house. As long as the dealer qualifies with an ace/king or higher, you can win the round. If you happen to win with a Royal Flush, you win the whole progressive, too. You came in a stud, but you left a rich stud. 
Caribbean Hold'em
In Caribbean Hold'em, you still need a better five-card hand than the dealer. You and the dealer start off with only two cards, and you can't see any of the dealer's. Three community cards are dealt face up in the middle. You want to raise if you think your hand is better, and fold if you think it can't upstage the dealer's. Just like the others, a Royal Flush equals a royally progressive payout. But also like the others, any top-tier poker hand will win you a slice, too. Let the dealer eat cake.
To wrap up our comprehensive progressive jackpots chat, just remember one key thing: progressive jackpots are the big-ticket prizes, in both pokies and table games. But you've got to follow the rules! So be sure you're betting on max at the reels, and opt in with a dollar for your table games. Good luck, my friend.