Best Land-Based Casinos in Australia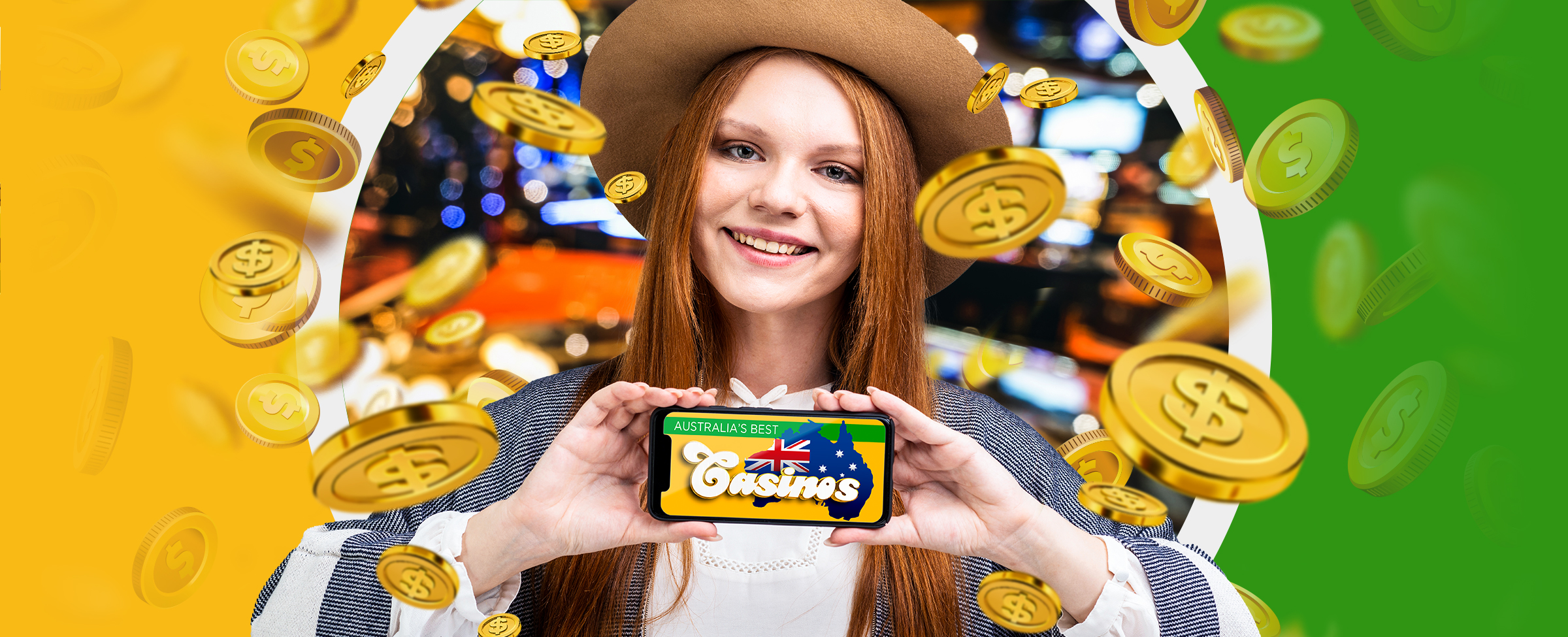 In case you haven't spent more than five minutes with me, it's worth knowing I have a huge passion for all things casino related. I'd travel a country mile to swing open the doors of a landmark casino and then I'd proceed to sway to the trill of the machines singing, and the patrons laughing and cheering. If you saw me there, you may suspect I'd had a few too many scotches with lunch.
I imagine you, like many players here at Joe Fortune Casino, would share in some of those same joys of casino life. For that reason, I'd be honoured to drive you on a first-class tour of my favourite land casinos in this sprawling wonderland that is Australia.
I've visited every one of these land-based casinos, from Brisvegas to Melbourne to Sydney and back again – and I've discovered staggering opulence, mesmerising games, and some life-long drinking buddies along the way.
Allow me to introduce you to my favourite casinos right here, including, of course, Australia's very best. (Ahem. That's me.)
Joe Fortune Casino
Now, I don't like to toot my own horn – unless someone cuts me off on the open road – but my own casino is right up there with the best, and for some very good reasons that even make my mum proud… and she's a tough sell.
For starters, I like to cater to everyone here by providing the best selection of games for all gaming palates, such as my wide variety of Joe Fortune online pokies. And once you're signed up, you can collect a $5,000 Welcome Package – it's my way of saying, thanks for choosing Joe's!
Your deposits and withdrawals are always fast and secure. Joe Fortune online casino is praised for its level of security. We use SSL (secure socket layer) encryption to protect your privacy, and that's legit technology – not just acronym jargon to sound impressive.
Above all, I offer plenty of support to my valued patrons and guests, including actual cheat sheets on how to win on games, and pro-level tips and tricks for maxing out wins with killer pokie strategies.
If you don't like the cut of my casino jib, no worries – but you can be sure that you'll never find tips like these in a land-based casino!
Crown Casino in Melbourne
But if you had to visit a land casino, I'd say the Crown Casino and Entertainment Complex in Melbourne is an excellent place to start.
You won't just be spinning pokies or tossing dice. Crown's entertainment and hotel venue is complete with shows, bars, restaurants, a spa, and a fitness centre. Imagine that! Oh, and three fancy as all-get-out hotels.
You can eat a steak dinner then head straight to the treadmill to run it off. Or you could do as I did on my last visit to the Crown, and join the lively Craps table for a workout throwing dice and belly laughing with the characters watching on. Then finally crash out on a luxury king bed, preferably with someone you adore, after a long night of good games, great fun, and solid winnings.
It's not uncommon to get lost in the expanses of Crown, and it doesn't have a handy navigation bar like I do at Joe Fortune online casino. You might want to visit with a local buddy to get around easier.
Which, come to think of it, is kind of like when you grab a buddy and use my Joe Fortune Refer A Friend bonus. Friends helping friends, that's how life should operate, and how Crown should be explored.
SkyCity Adelaide Casino
Adelaide can be heard bumping until dawn as one of the only places in South Australia open so late: welcome to SkyCity. The location used to be a railway station, but don't expect it to be a grunge-fest. SkyCity's Adelaide Casino is quite the world of luxury, complete with a fancy Chandelier Bar.
If you're a poker fan, Adelaide (Radelaide to the locals) Casino is a great choice, because they have regular poker tournaments where even inexperienced players can join in. Then again, if you don't feel like facing competitive players on the felt in real life, you could always try some online poker-based games at Joe Fortune in Australia.
Poker is great, of course, but my favourite part of the Adelaide Casino is the Australian Two-up, where you bet on which side the coins will fall. I love to play Two-up on Anzac Day, when you're sure to get a lively crowd ready to throw down some coins!
If pokies are your thing, you'll be happy to know that new pokies in SkyCity are regularly introduced – perhaps keeping with the Joeses? (sorry) – and you can stay up until the crack of dawn enjoying them. Rock on, Radelaide.
Star Casino Sydney
Just a 2 hour flight from Adelaide, we've got the second largest casino in Australia next to Crown. Come on over to Sydney!
What'll really wow you about Star Casino is the main entrance. The foyer is a breathtaking array of swaying lights, and a prism-shaped screen features an interactive light show that moves with the waving of your hand.
Once you make it past the entrance, if you ever do at all, both regular players and high rollers alike will find something to fall in love with at the Star. The first gaming floor is for regular gamers looking to have a good time on any dime. The Inner Sanctum room is for the high rollers, and you have to bet $100 to $500,000, and probably flash some gold teeth, or at least a finely tailored suit jacket.
If you want some of that high roller life, you could even learn how to play Let 'Em Ride at Joe's which has a $500 max bet and a huge progressive jackpot. No diamond-studded incisors required.
The Star also has a fine hotel to stay in, so if you're looking for a little staycation this year, just look up to the Star.
Casino Canberra
Table game purists love the Canberra Casino life. If you want to trade in the fluff for the felt, then you'll really appreciate this traditional venue.
Casino Canberra doesn't need any hotels, theatres, or retail stores: the table games at our nation's capital are what this casino revolves around, and there are plenty to pull your chair up to. There are 39 gaming tables that feature the classics like Blackjack, Roulette, and Baccarat. You'll also find a poker lounge with 6 tables, and a sports lounge to watch the latest game.
One thing Casino Canberra doesn't have is pokies – it's truly a haven for table game fanatics. That said, they've recently been given a green light for 200 gaming machines. So pokie lovers have something to look forward to at Canberra! Watch out for the pollies, though – they tend to have a bet each way.
And in the meantime, you can play pokies at Joe's!
Treasury Casino
The Treasury is run by the same entertainment group as Star Casino: Star Entertainment Group (go figure). So you can expect it to be properly grand.
There are six restaurants, five bars, and a nightclub. So after you're well fed and you win some money on the always-bustling Texas Hold 'Em table, you can put on something slinky or suave and filter some of those winnings into a cocktail and hit the dance floor.
Treasury Casino in Brisbane features some fun games with their own spin on things. Treasury 21 is a variant of Spanish 21 (similar to Blackjack), and the Treasury Wheel is a variant of the Australian Big Six Wheel.
I won't even pretend that I'm fancy like the Treasury – I've got a more laid back thing going on at my establishment – but I do love variety in games just like the next player.
Joe Fortune has two versions of Roulette, eight variations of Blackjack, eight types of video poker, six kinds on Bingo, and even a fun wheel game, kind of like the Treasury Wheel.
The Star Gold Coast Hotel and Casino
The Star is back at it again! It was once known as the Gold Coast's stellar Jupiter's Casino, but I suppose the naming gods felt that a celestial body was more appropriate for the classy, highbrow holiday-makers of Surfers Paradise.
This seven-acre facility is close enough to the beach that fine grains of sand can be seen in its thoroughfares. In fact, going from this casino to one of the Great Barrier Reef hotspots is an easy flight away, and I'd say that's a great way to spend some of your winnings.
Aside from the standard fare of table games, poker rooms and pokies, there's also a pretty damn fine theatre that got a $20 million haircut and a new dress in a 2012 makeover. I don't know much about putting on the ritz, unless you're talking the best in online gaming facilities (then I'm THE expert), but it seems to me that 20 million would get you something well worth the trip; a full-on theatre production or a Vegas-style concert, I'm betting.
I hope you're not too tired after the tour, because there are still endless lists of games at Joe Fortune Australia that beckon. And after all, land casinos are always a helluva good time, but there are a million advantages to playing casino games online, too. Joe Fortune Casino is open all the time, and you don't need to get dressed up to visit. You don't need to get dressed at all – just don't tell me about it. So come on down and swing open these doors! I'll be there to greet you with a handshake, and to point you in the direction of your favourite game.