Best Casino Games for Skilled & Strategic Players

Let's hear it for the days when you've gotten plenty of sleep, the coffee's kicked in, and you're buzzing with brilliance. If you're shrugging your shoulders right now, let me paint a better picture: your eyes aren't filled with sand, you pick your feet up when you walk, you haven't been hungover in at least 3 days, and both socks are matching. And is that I smile I see? You're on fire! When those days roll around, you're ready to put your wits to the test.
We don't waste your clearest moments, either: the games that require a bit more brain power also happen to be the games that pay out the most. But hold those wild horses! You'll need the best online casino strategies to reap those rewards.
From the online Blackjack guide, to the online Craps guide, through to Poker, Sudoku, and Roulette – I'll show you how the best online casino strategies will sharpen your focus and make you a tidy profit. First up is online Blackjack. Hit me!
Blackjack
Let's assume you know that the point of Blackjack is to get as close as possible to a sum of 21 without busting, or going over. So, if you are closer to 21 than the Dealer, you win the game. While it's a simple concept, the beauty of Blackjack is the degree to which you control your actions, and therefore, the outcomes.  
Of the four main actions you can take during your hand (being hit, stand, split, or double down), one of them is mathematically proven to be more advantageous in each scenario. In a world of casino games that rely solely on chance, that's kind of a big deal.
But I'll let you in on a little secret. Even on your best days where your mind is twisting like a Rubik's cube, you don't need to rack your brain to wield the best online casino strategies in Blackjack. A detailed chart with clear instructions can be found in one of my self-authored online Blackjack guides. The work is done for you, so you can play the game at ease and reap all the rewards, too. My pleasure ☺
Video Poker
This is another casino game that's heavy on the strategy but equally sizable on the rewards. In fact, it's often called the "best kept secret" of an online casino, not including the mysterious provenance of this magnificent head of hair. (That's kept well-secured in the Joe Fortune online vault.) 
I'll admit that mastering video poker is more challenging than a game like Blackjack, mostly because there isn't a chart to help you through. But with the ultimate payout of 800:1 for a Royal Flush, you can see how video poker is a game worth thinking for. 
In the case of video poker, you'll want to play a game with a higher Return to Player (RTP). Anything above 99% is considered awesome. Anything below 94% is a game you should avoid. Keep in mind also that the RTP of a game changes based on how you play. And that, my friend, depends on your wits. And yes, I spelt that right.
Take Jacks or Better, for instance. This is a style of poker where the lowest winning hand is a pair of Jacks. If you play the game without any strategy, you could see an RTP of 99.52%. When you use the best online casino strategies for poker, the RTP increases to 99.54%. Small advantage, but measurable gains.
Sudoku
Sudoku is notoriously tough on the upstairs department. It could take hours to get through a single game on paper. But regardless of whether you're the brightest crayon in the box or the dullest tool in the shed, the online version of Sudoku is something you can manage, no problem. In fact, you could deposit and play now and walk away with a payout of 2000:1 in less than 5 minutes! Smarty pants…
The concept follows the idea of the paper puzzle but with a user-friendly approach. Now instead of jotting down, rubbing your chin, erasing, re-jotting, and doing it all over again, you can simply place a bet and spin up the numbers. 
The numbers land on the grid in a random pattern, and they payout based on the Sudoku combinations from the traditional game. You win the big daddy when the numbers match a complete Sudoku pattern.  
Roulette
Roulette is yet another game that's easy to play, but can reap much higher rewards when played the right way. 
There are 20+ bets on different parts of the wheel, but only four have a roughly 48% chance of winning (in the European version). Those are red/black, low/high, or even/odd. You could focus on those bets and do perfectly fine as is. But the best online casino strategies in Roulette build on those bets with a bit of planning. One of the strategies is called the Martingale System. 
The idea behind the Martingale System is that you start with the minimum bet, and double your bet amount after each loss. When you get a win, you go back to the minimum and start again. The idea here is that you have a chance to recover your losses plus win a bit extra. 
While this strategy doesn't lower the house edge, it's a smart way to manage your bankroll. And as I hope you know, bankroll management is the core of all the best online casino strategies. 
Craps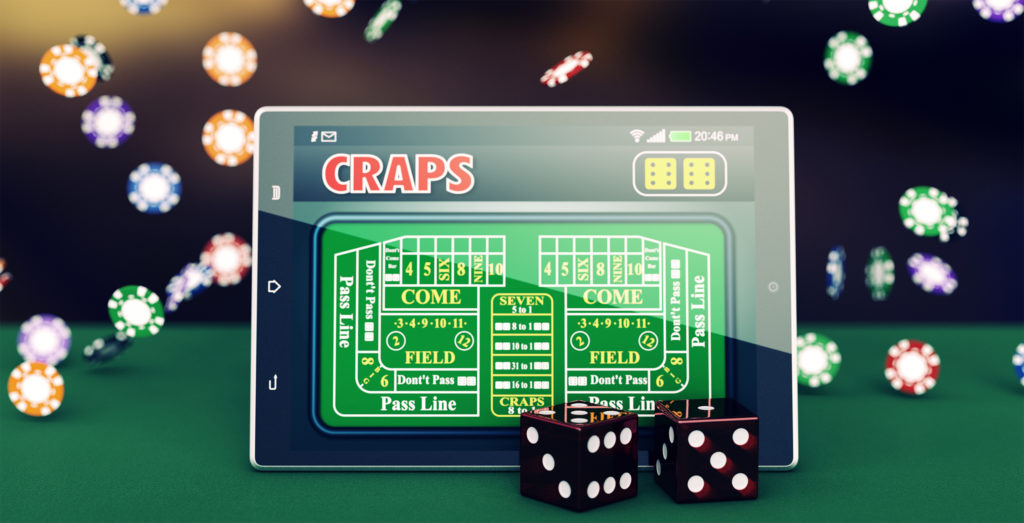 If you really want to know a slightly less fashionable game for some advanced play and huge rewards, Craps is where you want to be. With over 120 bets available, the pathways to a win are practically endless. But there is one clever strategy that will set you apart from most other Craps players. 
An online Craps guide that knows its stuff will tell you that the best online casino strategies in Craps come down to two complementary bets: the pass/don't pass bet combined with either taking or laying the odds.
When you make a pass/don't pass bet, the house edge is roughly 1.41%. After a point is established in both cases, you have the chance of either laying or taking the odds. Either of the odds bets are statistically fair with a 100% return. When you combine these two bets together, you can lower the house edge as low as 0.2% when you bet on 10x odds.
Take the odds even further with the come/don't come bets, and you'll be well ahead of the curve on the Craps table. Come (or don't come) for the lingo, stay for the odds. 
Any old chicken can peck at a button with their eyes closed, no matter how much fun comes with the gameplay. So when it comes to the best online casino strategies for brainy and dedicated players, some games are simply better than others. Give the strategies a try on practice mode, and be fully locked and loaded to smash the real thing.