Joe's Pokies for a Day at the Beach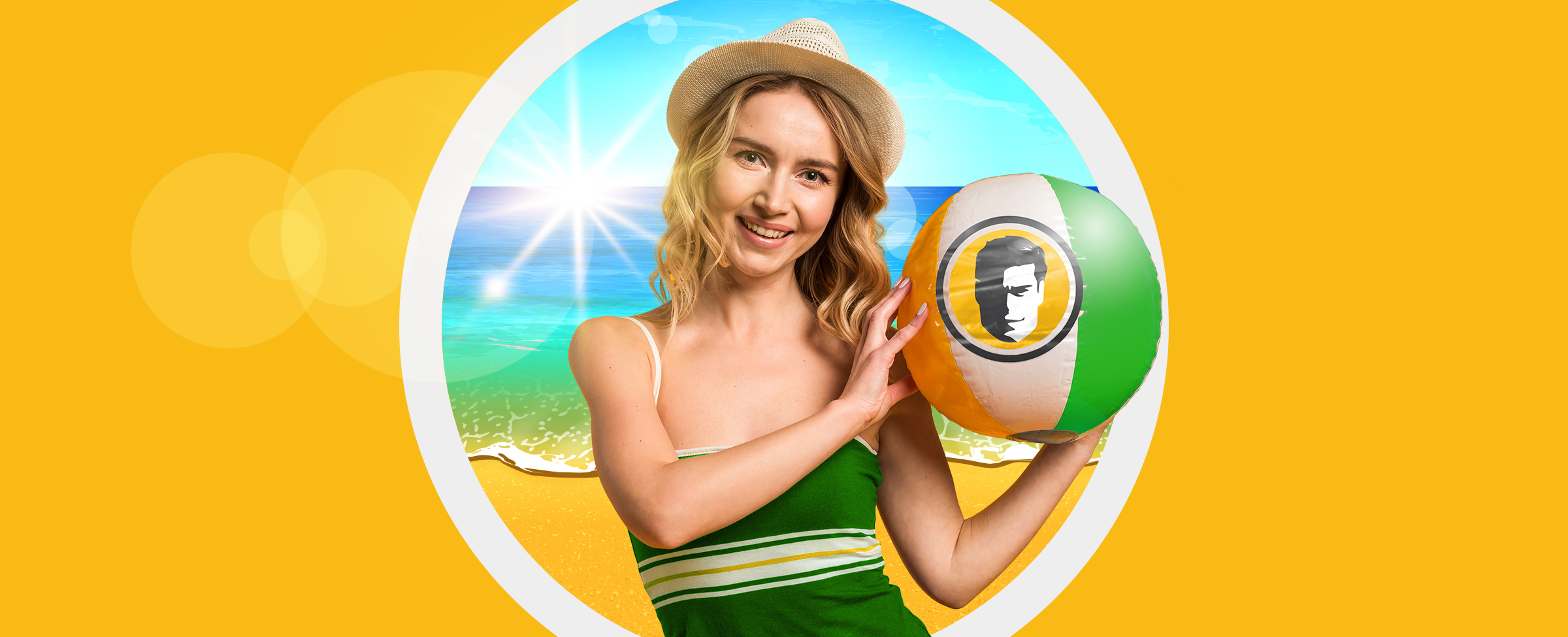 I couldn't be more stoked that January has finally arrived. Judging by the full carparks at the popular beaches and lines in front of the ice cream van, I'd say a good number of you are just as stoked as I am. And if you're in that category, there's a good chance you've already got your eskies and beach tents ready at the front door.
And a good thing, too, since I'm here to drive you to your favourite strip of the coast. So shake last year's sand from those bathers because I've built you a sand castle. And a bunch of personally curated pokies to wet your appetite. Oh, Joe…
Let's take a refreshing dip into these Joe Fortune beach pokies, shall we?
Super Fast Hot Hot
It's hard to imagine how anything at the beach could be fast, but when you've got an esky full of beer and a crew to drink it, it's safe to say those drinks go down at rapid speed. As for the hot part, well, that's why the lager is going down so well.
As the perfect companion to your beach day, I'd like to introduce you to the Super Fast Hot Hot pokie. This one comes without sand, though. It's a traditional pokie set inside a classic land casino. There's a steady, comforting murmur of patrons in the background. Holding diamond symbols, free spins with wild multipliers, and a gigantic jackpot are all there to turn up the heat and diving into the water in a jiffy.
Instant Inferno
But hold on! Don't cool off in the water just yet, because another heatwave is coming… and Instant Inferno is actually on fire, with simmering flames spitting fireballs behind the reels.
The flames rise up whenever you land a winning combination, along with a catchy guitar riff. I'm pretty sure you can make out a mosh pit in there, too, and a few long-haired rebels rocking out with a spot of head banging. Just the type of dudes you'd want to have a riff-fuelled beer with in this pokie, before you head for the waves and they head to the physio.
In a winning solo, the 'Pick Me' bonus feature gives you a red hot chance to drum up 20 free spins with multipliers. You'll be dripping sweat from the energetic beat. Boom tish!
Bikini Paradise
If you've been working on that beach bod, to use a term that sounds ridiculous coming from my lips, then hopefully you've had better results than me. Why? Because this beach pokie is stacked from reel to reel with beautiful bikini-clad ladies who are on the lookout for a fine gentleman (but word has it they don't discriminate), to liven up their day out in the sand.
You can do all sorts of things with your new half-naked lady friends. Go surfing, for one, which could end up riding the wave of 20 free spins. You could also build a sand castle with stacked wilds packed in layers of sand. Then again, if you get really, really lucky, you could get these ladies to give you the biggest prize every beach goer is drooling with desire for. I think we can all be adults here and say what that prize is. It's the real money casino jackpot, of course. The 5,000 coin jackpot, and the luckiest prize in the game.
Sun of Egypt 2
Believe it or not, Australia is not the only place in the world with pristine beaches to visit in January. Our friends over in Egypt have it (almost) as good, and you can be sure the crowds are lounging under the hot Egyptian sun as we speak.
We can join them, too, with a big winning spin, but no need to hop on a plane just yet; in Sun of Egypt 2, we can experience the Egyptian sun from afar, without ever leaving our own beach chairs. If you're interested in working on that summer glow, then just wait until you land six blazing sun bonus symbols in this game. That will sweep you in the Hold 'n' Win feature where multiple blazing suns stick on a board and award your prizes.
Thai River Wonders
It's not the most conventional choice, but I'd like to take the opportunity in this final beach pokie to acknowledge my players who won't make it to the beach this summer. For those players, sometimes a river will have to do. Hey, it's better than being stuck up Schitt's Creek without a paddle. Regardless, the river of Thai River Wonders is streaming in fresh and cool from Thailand's waterways, with plenty of space on its banks for a Joe Fortune casino player to enjoy the watery serenity just as much as the sand-dwelling player.
The river is quiet and serene, with 6 reels, 5 rows, and additional reels on 2, 3, 4 and 5. As you float peacefully through the quaint Thai village, relaxing more and more with each gentle wave, you'll glide over free spins with increasing multipliers as well as sticky Wilds-on-the-way. Sand is overrated anyway.
The best things in life are free, but I bet whoever coined that phrase wouldn't have said no to a big stack of cash.
Whether you prefer to lounge on the beach in real life or just virtually, I've got all the beachy fun you need right now at Joe Fortune Australia. So parade those bathers, slather on the sunscreen, and prepare to take a deep dive into these sun-drenched pokies.