Shopping Spree Pokie Game Review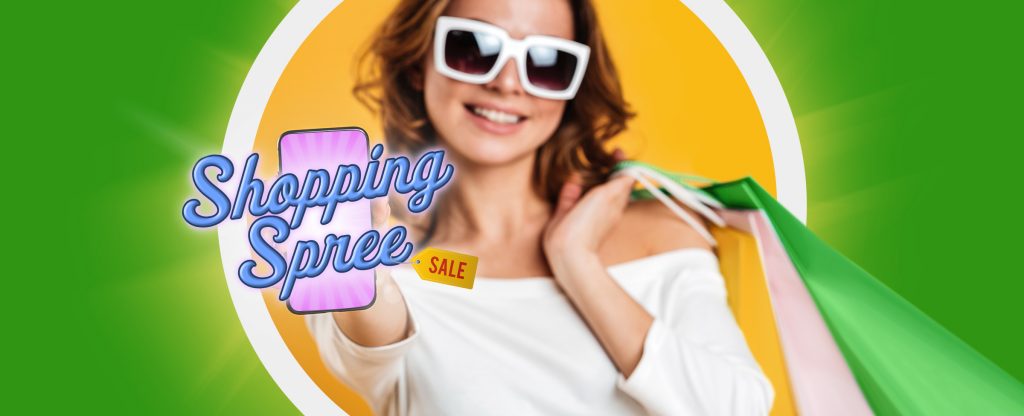 Anyone with a beating heart and a simmering desire for all things bright and beautiful loves a good shopping spree, or at least the idea of one. Or, if things aren't really your thing, you might have one special idea. Now, I can't pretend that I spend Sundays at the mall, but I do have a bit of a thing for tailored smoking jackets. Hold the smoke.
Chances are, you've got your own curated version of my jacket collection that you'll happily whack on the Mastercard – it doesn't much matter that you're not carrying dozens of store loyalty cards alongside it. What unites shoppers and curators alike is a shared agreement that a multi-million progressive jackpot is more than enough to tie up our shoes and nudge us out the door for a trip to the security-guard shops. Enter the Joe Fortune Shopping Spree pokies. 
How to Play Shopping Spree
It all starts off with a peek inside the window of one of New York City's finest stores. At just one glance you'll see a vase full of wine-red roses, a black handbag, bottles of perfume, sky-high stilettos, and a diamond necklace set with a green rock that looks fit to send you down to the wreckage of the Titanic. We'll save that trip for another time.
Here's what you'll browse along the way:
5 reels 

3 rows

Nine paylines (not fixed)

Two special bonus rounds

A ridiculously huge progressive jackpot

RTP of 95%

$0.25 minimum bet and $1.25 maximum per line
I don't dance around the facts, so let me tell you right now: this Joe Fortune online pokie isn't about to win any awards for its graphics. That's almost the beauty of it, really. Scooping up designer goods isn't the attractive part, and if you've ever watched high end shoppers come and go, you'll notice an expression of perpetual dissatisfaction. Of course, that could be the botox paralysing the smile muscles, but my point is, all of the jaw-dropping elements in Shopping Spree come from the bonus bags and the jackpot itself, and that's really what this game is all about: dollar signs, baby!
Top Features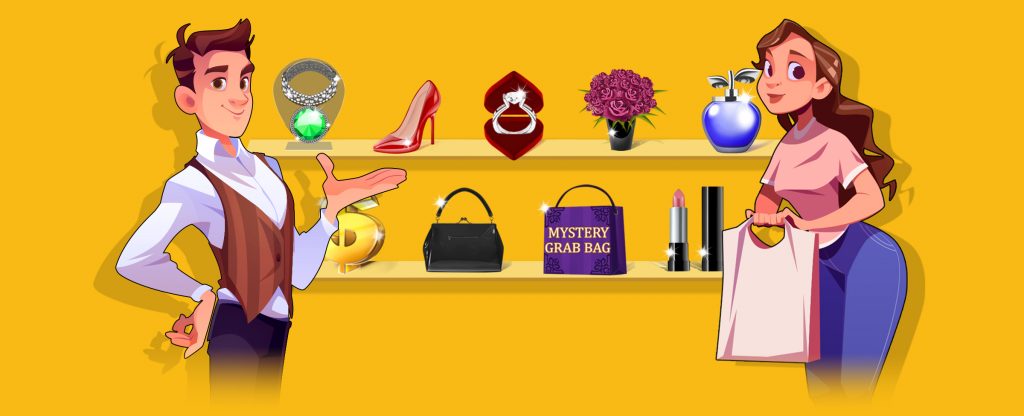 In my limited experience, there are two types of shoppers: those who can shop 'til they drop, (or at least until the store manager is turning off the lights), and those who want to drop at the very idea of it. Category A shoppers, this one's for you! But not so fast, column B, because everything in life is enjoyable when it's done right, and the two bonus features alone are sure to make your trip worth the effort. 
Big Money Scatter Bonus
For the first surprise, you'll land three or more sparkling yellow dollar sign symbols on the reels. Your reward is the Big Money Scatter Bonus of up to 4,000 credits. But! – that's only if you're playing on the max bet and max lines. And why wouldn't you be, since this real money casino game is all about going big or going home!
Mystery Grab Bag Bonus
Remember the lolly bags of your childhood parties? The grab bag is kinda like that. Except the suh-prizes (enough, Joe) come in platinum or 24k gold, which is precisely what you're made of here, and frankly, what you always are in my eyes.
Once you collect three mystery bags anywhere on the screen, you click on multiple bags and add up their prizes until you reach the final "collect" bag. But hold on tight because you know for sure little Timmy is going to roll up and ask you to swap. Give Timmy the shimmy – this prize is all yours.
Progressive Jackpot Explained
Here's the thing about Joe Fortune progressive jackpots: they grow bigger as more people play the game. The Shopping Spree jackpot is most often in… brace yourself… the millions. Sometimes one million, sometimes two – and still climbing! 
And ambitious bettors love this game because winning said progressive jackpot isn't all that hard. Unlike other games where you have to enter a special bonus round and jump through hoops, swing on a trapeze, and shoot out of a cannon, this progressive jackpot involves no theatrics. 
Here's the deal: land five diamond rings in the base game when you're on the max bet. That's it. If those flashy rocks fall on the reels, you'll be taking home the entire multi-million dollar payday. 
What else is this easy?!
Joe's Pro Tip
The main thing to remember about Shopping Spree pokie at Joe Fortune is to play on the max bet for both the coin value and the number of lines. The good news is that the max bet is only $1.25 for each line played, which is a modest investment for my biggest winners. Having said that, the bonus rounds still award prizes based on any bet amount. 
Joe's Final Thoughts: Play or Pass?
Regardless of whether or not you enjoy shopping in real life, it's safe to say the shelves in this Shopping Spree have something valuable for everyone. As long as you don't mind playing a game with cartoonish graphics, you're going to come for the features and stay for the colossal progressive jackpot dangling before you at every spin.
Joe shamelessly approves of this materialism – it's a PLAY. Call me what you will.
Joe recommends Games Similar to Shopping Spree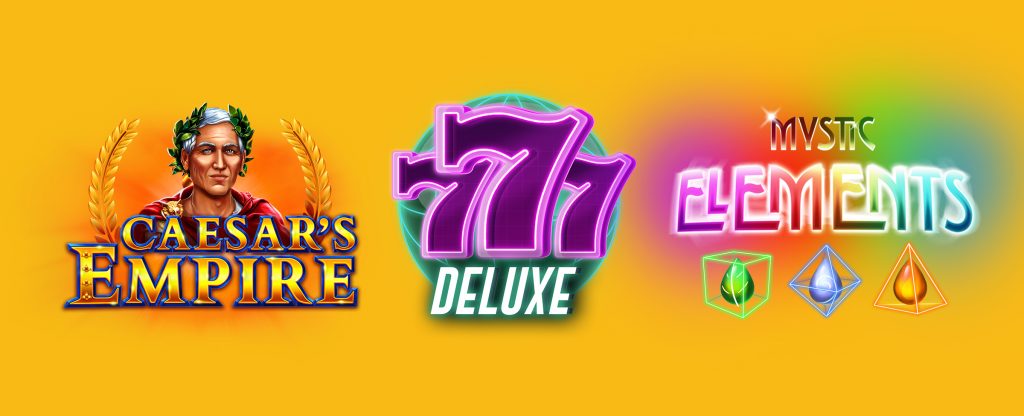 Mystic Elements
If it's the enormous progressive jackpot that's got you hyped for Shopping Spree, then Mystic Elements is the game for you, with yet another constantly growing prize that's bound to knock your socks off. 
777 Deluxe
This game takes the deluxe life one step further with classic symbols on modern reels, and a progressive jackpot that makes the eyes water, just like in Shopping Spree. Read more about this next-gen pokie classic in our 777 Deluxe game review.
Caesar's Empire
With its simple graphics bursting with the classic colours of the Renaissance and paydays that are right are home in modern times, Caesar's Empire is right up there with Shopping Spree – including a progressive jackpot that totally rules. One by the sword, and the latter by the store's trading hours.
PLAY SHOPPING SPREE POKIE AT JOE FORTUNE NOW
Shopping Spree is a dreamy, indulgent game where the budget never dies and the prizes sit upon the shelves, ripe for the picking. You can play it in Practice Mode before using real money – pokies money, not Gucci money – and try on as many Levi jeans and diamond rings as you'd like. The shops are open, and it's your turn to step up and walk through the door at Joe Fortune Casino.