Reels and Wheels Pokie Game Review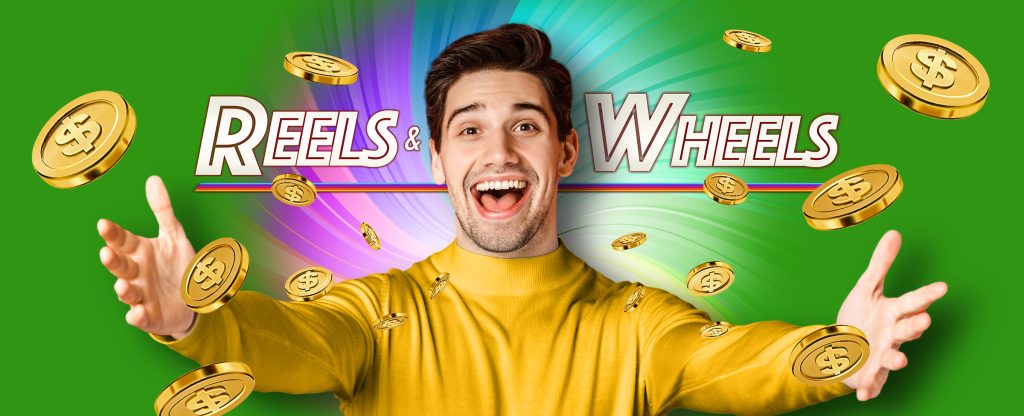 Once in a while, you've just got to bring things back to basics. You know, old school; a bit or rough and tumble behind the shelter sheds. As much as bells and whistles and all that jazzed-up stuff impresses, nothing soothes the soul like familiarity and nostalgia. Enter: Joe Fortune Reels and Wheels pokie. Even though it's my game, I'm not the sort to put a bow around a bundle of sticks and call it a bouquet. I'll give it to you straight.
So pull up a pew, kick your thongs off and get comfortable with a cold one. Let's start reviewing.
How to Play Reels and Wheels
Pokie purists go giddy over Reels and Wheels because the setup is like a real old-fashioned pokie machine. You play on a big hunk of metal with 3 spinning reels cranking through BARs, cherries, diamonds and 7s, just like the classic rock of online pokies.
Having said that, appearances aren't everything – you might think you're dealing with a well-oiled relic, with its retro knobs and whatnot. It may be primitive to the eyes, but with two bonus wheels in play, your wallet will be left feeling highly sophisticated. 
Let's recap the numbers:
3 reels

1 payline that goes left to right, directly in the center

5 jackpots (that is not a typo)

1 wild symbol

1 bonus wheel

1 jackpot wheel

$0.02-$100 betting range

96% RTP

An XL version (more on that later)
We've got one wheel for multipliers and one for jackpots – of which there are five. Reels in the base game, Wheels in the bonus games. Reels and Wheels. Someone award the pokie naming guy Employee of the Month, stat: the guy's a bloody genius.
Top Features
No need to pull out a dictionary. The features of Reels and Wheels pokie at Joe Fortune aren't hard to grasp, but they do pack a mighty punch of prize potential. 
A Classic Wild
Just like original pokie models, the gigantic diamond in this pokie is your wild symbol. It can replace any other symbol on the payline to help you win. Then it multiplies your win by 2x if only one lands, and by 5x if two land.
Bonus Symbol
If just one flashy pink bonus symbol graces your payline on the 3rd reel, you trigger the first surprise of this game, which is the bonus wheel. 
Bonus Wheel
This is your first wheel, and let me tell you, it's a doozy. Adriana Xenides and John 'Burgo' Burgess would be proud to get their hands on this wheel… and in fact I've got a mind to call the manufacturer to spruik this idea for a sequel. But sticking to Reels and Wheels, this bonus wheel consists of multipliers from 5x-500x, or one very special "jackpot" wedge that sends you off to the ultimate wheel.
Jackpot Wheel
If there's a better loved word than jackpot here at Joe Fortune Casino, then I'm yet to hear of it. This is the dizziest part of the game. If you make it this far, you're likely already delirious with excitement. With the colourful jackpot wheel, you can win one of the five jackpots. 
Progressive Jackpots Explained
And so we find ourselves standing before the jackpot wheel via the first bonus wheel, you'd be well advised to take a deep breath and steady yourself for one more massive spin. There are five options to win with, each are jackpots, and each gets progressively more epic. (As a regular at Joe's, you'd know that the progressive jackpots grow with each contributing bet made by players from Bunbury to Brisbane.)
Like the lights of the real city, Vegas glows as the big progressive jackpot at the top of the list:
Vegas 

Mega

Major

Minor

Mini 
Joe's Pro Tip
Even though the big progressives are the rippers of this pokie, don't forget about the reliable wins you can also rack up while playing. Be on the lookout for three diamonds or three 7s, which offer up 50-500x your bet. Spinning for a few of those can really help one's bankroll.
Joe's Final Thoughts: Play or Pass?
Reels and Wheels is a proper throwback to the '90s, stirring up warm feelings of nostalgia, Nike Air Jordans and Nirvana's Nevermind. This is the perfect, no-nonsense game to lose yourself in after work, and even if you're bloody tired and zoned out, it's super easy to cash in on some fun money for the weekend without giving it anything more than your most basic attention.
So the verdict? Like I said, sometimes you just can't beat the classics. This game is an absolute banger, so go for it like the clappers.
Joe Recommends Reels and Wheels XL
As the saying goes, the bigger, the better. Except, for maybe in your doctor's office. No doc ever said good news: it's a whopper. But they did say it at an online casino, and that holds true for this XL game. 
Reels and Wheels XL has all the vibes and features you're going to love from the original Reel and Wheels, but this one's wearing a three-piece and a pocket hanky, with its jacked-up prizes and ample opportunities to cash out. The base game has 5 reels, 3 rows and 20 paylines. There are a few extra symbols in there, plus the option to get free spins. Then you've still got the bonus wheel and your five jackpots in the jackpot wheel. Like I said, bigger and better!  
---

DANIELLE B. FROM NSW WON $50K PLAYING REELS AND WHEELS XL AT JOE FORTUNE IN MARCH 2022!
---
PLAY REELS AND WHEELS POKIE AT JOE FORTUNE NOW!
Both Reels and Wheels and Reels and Wheels XL will have you happily spun out and in perfect comfort – without the price tag of a big night out at your local pub. Once you've hit up the Joe Fortune pokie jackpots for free in practice mode to see if my reviews are really worth the paper they're written on, the bets are all yours, but the rest of the entertainment tab is on me. Bottom's up.