Lawless Ladies Pokie Game Review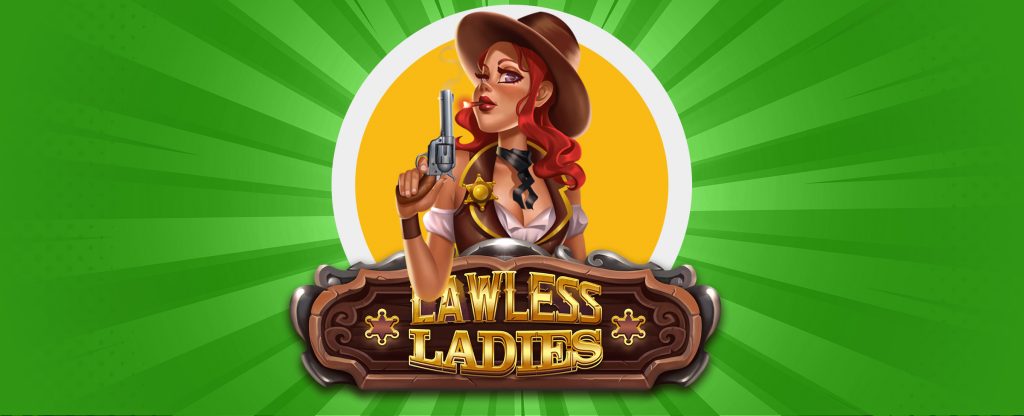 If you're a fan of old-fashioned citizen justice and you wouldn't mind swinging your own pistol on the streets, then you're going to love my Joe Fortune Lawless Ladies Pokie. The badass ladies who rule the desolate streets of this rundown town don't give two hoots about the law!
Now, forgive my clumsiness here, but it's probably worth noting that they're not too hard on the eyes, either. And in a genre full of traditional Hollywood and spaghetti Westerns where cowboys stuff the saloons and stage shootouts on the street, trading in those stubbly beards for painted lips – or switching out those stiff, starched collars for a diving neckline – sure makes for a topsy-turvy kind of world. But only in the best possible way. 
So, step right up and prepare to be deputised by my favourite outlaws as you shoot for the big loot. 
---

PETER A. FROM VICTORIA WON $52K PLAYING LAWLESS LADIES IN NOVEMBER 2021 AT JOE FORTUNE!
---

HOW TO PLAY LAWLESS LADIES
Aside from the enhanced aesthetics and the vamped-up vigilantism, this ripper of a game also offers plenty of features to tip your cowgirl hat to, including three types of Wilds, free spins galore, and a random progressive jackpot. 
Here's an overview of what you'll find on the old Western's reels:
5 reels

3 rows

20 paylines

RTP: 95.8%

Min bet: $0.2

Max bet: $200

Free spins with multipliers

Random progressive jackpot
Top Features
The streets may be quiet, but there's some wild action behind every boarded up building in Lawless Ladies pokie at Joe Fortune.
Wild
Word on the street is that the sheriff's in town – but since you're an outlaw, you ain't afraid of no two-bit cop. When you see his badge on the reels, come out and face him like a true outlaw. He'll transform any regular symbol into another to give you another shot. That is, another chance. You may not get another shot if your draw ain't the fastest in the West.   
Random Wild
After the reels have stopped on any spin in this favourite online pokie, high symbols of one kind could change into a Wild at random. It's almost as exciting as having the green-haired cowgirl shoot up your local watering hole while sipping whiskey and getting fresh with the bartender. 
Expanding Wild
A ginger-haired lady of the lawless variety means business. She's a special Wild, and she's not afraid to remind you of that fact as she presents with a smoking pistol in hand. Now, I wouldn't usually recommend welcoming a sharp shooter into your inner circle, plunging neckline or otherwise, but do make room for her on reel 3, because when she lands she'll expand to cover the entire reel. 
Free Spins
Once you're in full spin on the dilapidated streets of the old, Wild West, those classic, dusty vibes will overwhelm your senses, and soon you'll find yourself looking for a door to kick in. I won't stop you, but if I may make a suggestion, you might try the casino up the road first. This may be a lawless land, but I built that door with my own two hands. If you feel as though you could refrain from vandalizing my cherished property, you could instead kick down the swinging doors symbols which serve as Scatter Free Spins. If you smash one open on reel 1 and another on reel 5, you'll be hauling out of town with 10 free spins. Farewell, partner.
Free Spin Multipliers
While you're shootin' up the reels and rounding up those most wanted free spins, your wins are all tripled. Landing three more swinging doors will trigger the whole showdown yet again. 
Random Progressive Jackpot 
After any winning spin, the progressive jackpot could blow up the game with a win shocking enough to stun the whole saloon into silence. Billy the Kid's right hand might even twitch in his grave when he hears about the jackpot you've managed to loot. 
Joe's Pro Tip
I wouldn't show up to these lawless streets without a gameplan. Good thing I'm here with the right betting tactics to throw down for a fight to the finish. Since the progressive strikes at random in this town, you'll want to make your bet as high as the rusty rooftops in order to increase your chances. 
Joe's Final Thoughts: Play or Pass?
I couldn't think of a better way to live the cherished Hollywood films to get a taste of the excitement in the Wild West. I say slap on that cowgirl hat and tighten up them stirrups! The law here is on borrowed time, and you're about to show that progressive who the real boss is in these here parts. 
Joe recommends Games Similar to Lawless Ladies
Female-friendly pokies are a hot commodity in this establishment, so jot these pearlers down for a rainy day.
Cyberpunk City:

If you love taking over the streets in search of random progressives and elusive Wilds, then take a citybound trip to this dystopian future where you join a crew of cyborgs on a mission. 

Fast & Sexy:

These sexy ladies may or may not be law-abiding citizens, but you're probably operating slightly outside the law when you speed these race cars through the city streets in pursuit of free spins and bragging rights. 
PLAY LAWLESS LADIES POKIE AT JOE FORTUNE NOW!
If you're in the mood to shoot up some saloons and have a showdown with the local sheriff, then by all means, join these lawless ladies for a fight. The only rules that exist here are the ones the Joe Fortune online pokie game runs on. You're just the right kind of player to join the girl gang and set about finding the big progressive loot… oh, and the right to rule these streets.