Aloha King Elvis Pokie Review
Quick Review: Long for a little "Blue Hawaii?" Then say, Aloha, King Elvis, and play my new pokie that has bonus buys, free spins, and a feature that increases your odds. All that while the froggiest Elvis impersonator spins a tune every on every reel. Don't believe me? Play now or read my full review below.
---
I'll admit, when this new pokie came through my doors I thought, "you've got to be joking me." The theme I was expecting was the real bloody Elvis with a lei, a Hawaiian shirt, and ukulele – maybe serenading a surfer girl like one of my mum's movies.
What I saw on spinning reels was Kermit with a pompadour, and his frog lady friend that no amount of beer goggles could polish.
But once I gave the pokie a go I learned a valuable lesson: Don't judge a book by its frog legs. You're going to love this slot for its music, and fresh gameplay features like the ability to buy bonuses and improve your odds.
OK … a little less conversation, a little more action. Let me give you the details.
How to Play Aloha King Elvis
I'm sure you know how to spin a pokie or two, but what sets this one apart is its new gameplay options could increase your RTP from 94.98% to 98.69%.
Buy Bonus
Click Bonus Buy and you'll trigger the free spins or coin respin by paying a little extra for it. Sometimes we just want to get a pokie hot and "see" a bonus round. This lets you do it.
Chance x2.5
The Chance x2.5 option increases your bet and gives you more chances to hit the free spins or Coin Respin game. Again, a new gameplay choice that could help you cash in faster.
Coin Respins and Surfing Jackpots
About those coin respins …
Six gold coins trigger the coin respin feature where gold coins' values stick to the board and add up to your balance. Depending on how many gold coins you land, you can ride the wave of three fixed Surfing Jackpots:
● Mini jackpot: 20x your bet
● Major: 100x
● Mega: 1000x your bet, and Elvis rips off his disguise, confesses to everything, and bows down to you. You're probably off to the Chapel of Love. The kind with an Elvis impersonator.
Game Details:
● 5 reels
● 3 rows
● 40 fixed paylines
● Buy Bonus
● Buy Chance
● Three fixed jackpots
● Minimum bet: $0.25
● Maximum bet: $50.00
● RTP: 94.98% – 98.69%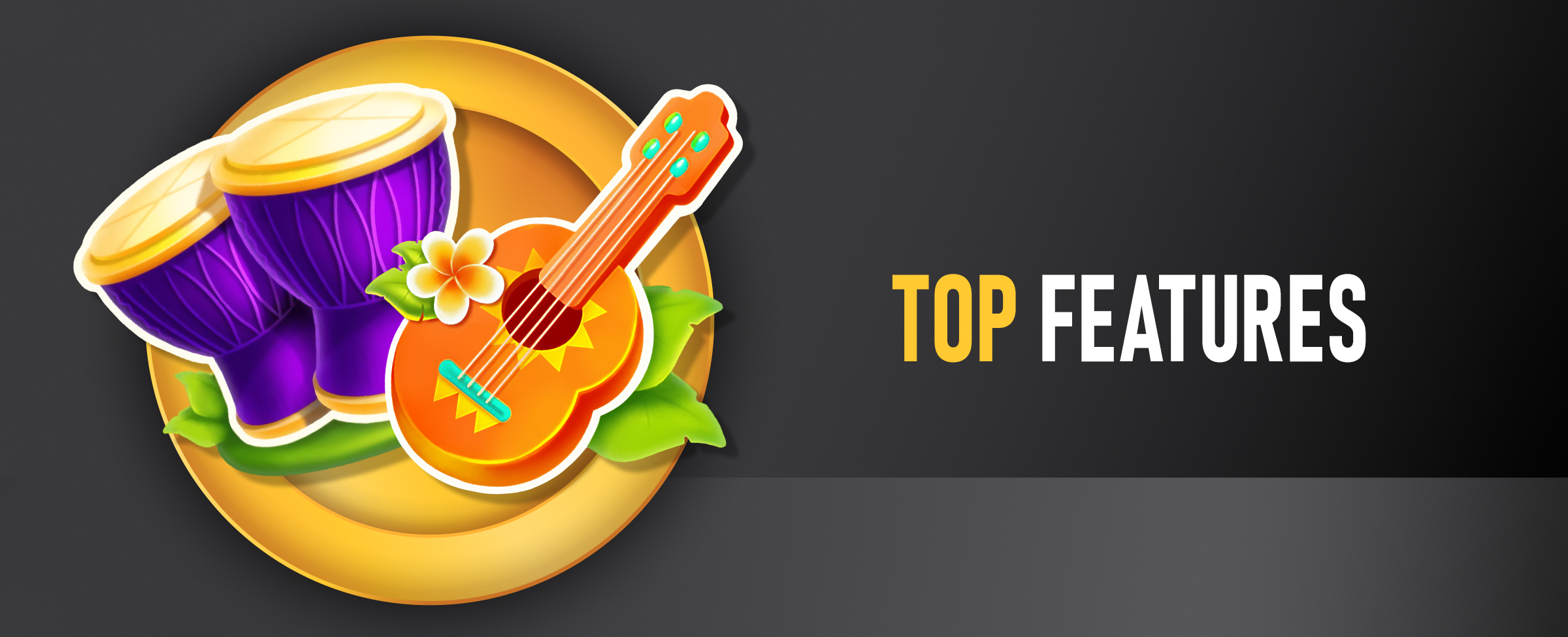 Despite initially being amphibian-phobic, as soon as I heard Elvis Frog serenade me with the most entertaining music presentation I've heard in a casino game, I knew this was going to become one of my favourite pokies to play online.
I'd go as far as saying that I can't help fallin' in love with it.
With music like this, I'll never return to vendor.
Ok, I'll stop.
Wild Symbol
He rocks the gold-rimmed shades, a red coat, a ukulele, green froggy skin, and the emblematic pompadour swept up in a flourish of gel.
Bonus Symbol
A tiki tower that seems very happy to see The King is your boner – excuse me, your bonus symbol, and it'll have you dancing to the jailhouse rock when three of them land on reels 1, 3, and 5 to trigger free spins – with one of two special free spins features of your choosing: the Special Guest Party or the VIP Party.
Special Guest Party
If you choose to be the absolutely super special guest with this option, reels 2, 3, and 4 transform into a giant symbol along with 5 free spins which can be re-triggered.
VIP Party
Then again, if you choose to go fancy as the VIP, then you'll still be a special guest, but now the regular-value, high-value, and coin symbols dance to the beat of 8 free spins. Perhaps in a familiar tune.
Joe's Pro Tip
Gonna set my soul on fire, got a whole lot of money that's ready to burn, so get those stakes up higher.
It's like he knew all along.
In any game with multiplier features – just like this coin re-spin feature – remember that the higher your bet (if your bankroll permits it) the higher your wins will be. Higher and higher, it's burnin' through to our souls.
Since I have the best Bitcoin casino you can find, the best advice I can give you is to take a few minutes to set up a digital wallet. You'll have your winnings much faster than any other method, where there's always the danger of getting a return to sender.
Joe's Final Thoughts: What type of player is Aloha King Elvis for?
If you can get down with your blue suede shoes and a lively, story-driven theme, then this may be the right pokie to play on your own throne, especially one of the porcelain variety, depending on how far you'd like to take it.  Aloha King Elvis is a mega hit of plentiful features with an average level of volatility. There are multiple smaller wins as well as the potential for something big, so those with smaller bankrolls can still enjoy it.
Games Joe Recommends That Are Similar to Aloha King Elvis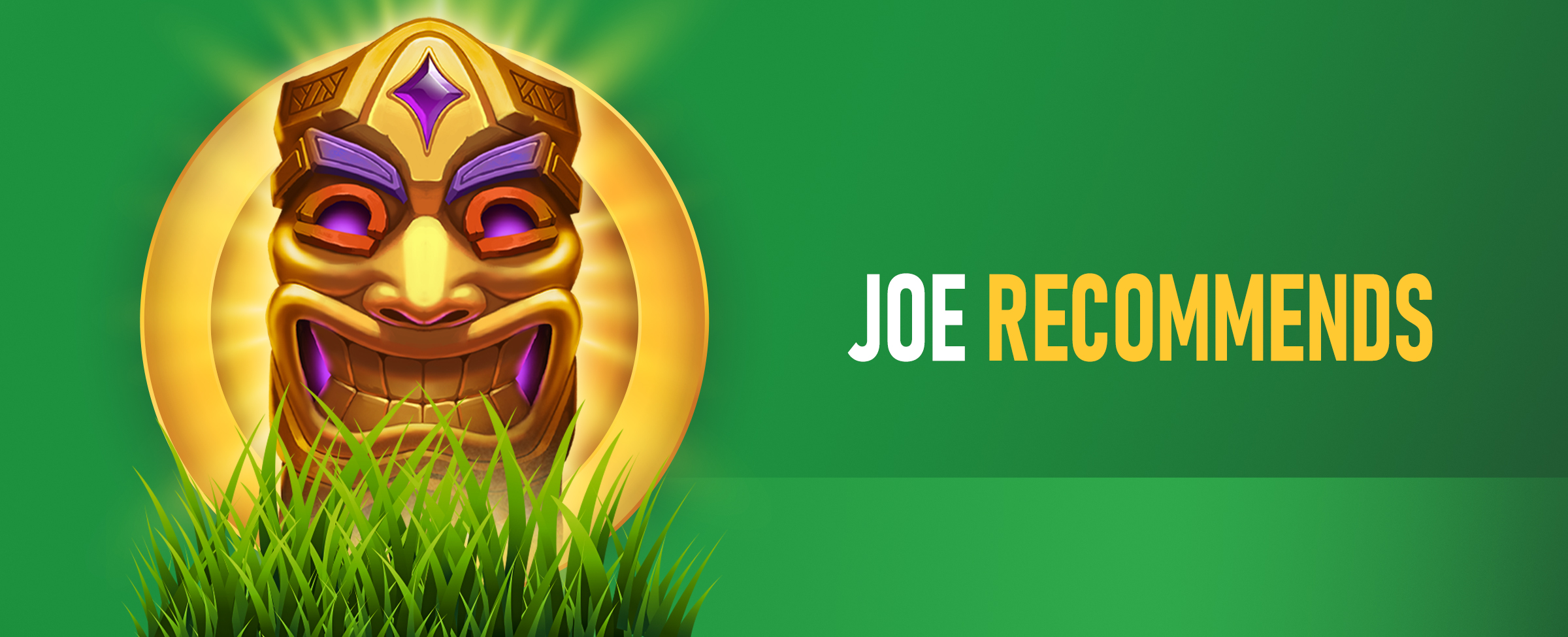 Don't pack up just yet, my friend! We've got a few more vacations and musical games until we're done.
Tiki Towers
Tiki Towers features a tall, perpendicular and distinctly phallic tribal structure that grows even taller with your spins, possibly even resulting in a win of 3,000x your stake. The innuendo is innuendless.
Oasis Dreams Hot Drop Jackpots
If you like the coin re-spin feature with Elvis the Frog, then you can get a similar rush inside the Arabian desert of Oasis Dreams Hot Drop Jackpots. Not to mention three Hot Drop Jackpots One of 'em could snag you $300K.
Instant Inferno
If it's the music you loved, then do The Slide over to another genre for a spin or two with Instant Inferno. This pokie is more of a heavy-metal paradise with two scatters and a Pick Me game for extra wins.
Play Aloha King Elvis at Joe Fortune Now
The hidden, little-known lyrics of Elvis' song goes: You ain't nothin' but a pokie player, winning all the time. And that's what we discovered inside the Aloha King Elvis pokie at Joe Fortune Casino. Conspiracy unlocked. Mission accomplished. Prizes won. It's now or never.