Absolute Super Reels Pokie Game Review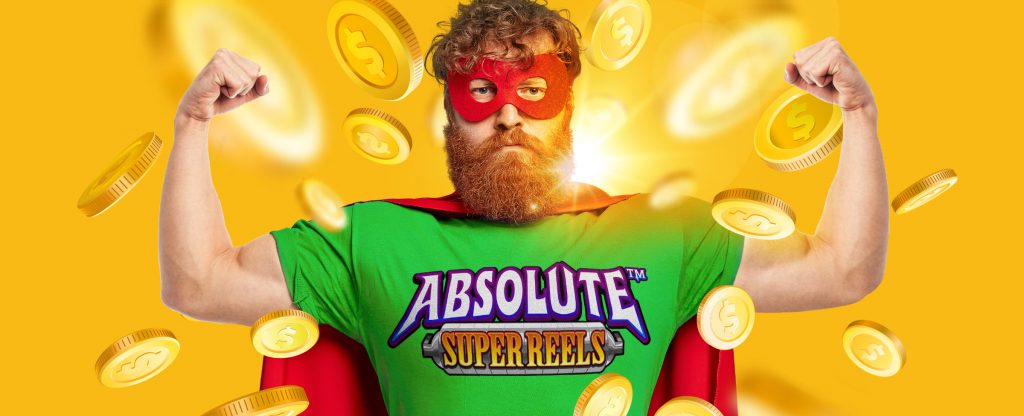 What happens when you travel back to the golden 80s, drop a coin in an old school pokie machine, and turn up a classic rock album? You get the Joe Fortune Absolute Super Reels pokie, of course. 
While other, more complicated pokies out there have you dodging through complex features to get a glimpse of the biggest prize, Absolute Super Reels likes to keep things super-duper simple; retro, even. Add a killer theme with electric purple and bolts of lightning, free spins and respins, instant win reel and multipliers, and you've got yourself a Joe Fortune pokie with rockstar status that's ready to jam. 
So, fire up that air guitar and let your mullet down, mate. We're going to the Absolute Super Reels show tonight, and you're leaving with a super stash of merch. 
---

CHO T. FROM NEW SOUTH WALES WON $48K PLAYING ABSOLUTE SUPER REELS IN SEPTEMBER 2021 AT JOE FORTUNE!
---
How to Play Absolute Super Reels
When you tear off the ticket stub, get the wrist stamp, and enter the Absolute Super Reels show, you're greeted by 5 reels on an old school pokie machine. Symbols of those well-loved 7s are engulfed in flames, presumably from the pyrotechnics behind the silhouette of the drummer. Cue: The Rolling Stones, Wembley Stadium, 1990. 
Here's what you'll find on stage in Absolute Super Reels:
3 reels + 2 extra reels

Instant win reel

Multiplier reel

1 row

5 winning lines, paid left to right

Super Jackpot Progressive

Free Spins

Additive symbols

Simple jackpot requirements 

Bet range: .75 – 75

RTP: 95.24%

Top Features
The Absolute Super Reels pokie at Joe Fortune features a lot more than just flashing lightning and electric purple. You can expect an entire rock show of features before you reach the grand jackpot finale.  
Fourth Reel
The 4th reel is an Instant Pay reel. It will spin along with the others with its own special additional symbols:
Whenever any of these symbols lands within a winning combination, that value is added to your winning for that line. 
Right on, dude. 
Fifth Reel
When this bad boy gets spinning, you get to add multipliers and re-spins to the mix. 
Just like the 4th reel, whenever the symbols on the 5th reel land with other winning symbols on a payline, it either multiplies your winnings by its value or triggers the free spins feature. 
Totally tubular. Tubular bells! Oh, you're probably too young for that reference…
Free Spins
Free spins are just one type of advantage to playing pokies online, and with this game you've got plenty. The re-spins symbol appears on the 5th reel; when you land the re-spins symbol within a winning line, you can get up to 7 free spins. Land it again, and you'll re-trigger the free spins show all over again. 
Super Progressive Jackpot Explained
Everyone loves the guitarist, drummer, and bassist. The saxophonist gets a welcome cameo, too. But we all know the real star of the show is the progressive jackpot, and when you know how to win the pokie jackpot, the biggest star is you. 
To rise up the charts to ultimate rock star status, you need to be playing on the max bet. That's not an instrument, either. Land three Absolute Super Reels symbols on a winning line for the first three reels, then a +1000 symbol on the fourth reel, and a 10x multiplier symbol on the fifth. That's:
Absolute Super Reels + Absolute Super Reels + Absolute Super Reels + +1000 + 10x 
Then, you'll be cheering at the top of your lungs as the progressive jackpot sets the stage on fire and your fellow fans lift you up to crowd surf for your favourite song, and finally plop you down on top of a pile of money, rock star style.
Joe's Pro Tip
While it's true you have to bet on the maximum value in order to win the whole progressive, this game still offers you a taste of that rock star life without going all in. Simply adjust your coin value to where you feel comfortable and watch as the Super Jackpot Progressive amount at the top of the screen reduces slightly to match. Now you can bet and know exactly how much you can win with this Joe Fortune progressive jackpot pokie. 
Joe's Final Thoughts: Play or Pass?
This banger of a pokie will guarantee plenty of rockin', nostalgic fun. It's a great opportunity to let loose and let your hair down, just like we did in the 90s when the Chili Peppers hit the stage at the Big Day Out, but this time, you'll be the one under the lights, leaving the show cashed-up.
As a dedicated of both kinds of music – rock and roll – I'm a slave to the music and that's enough reason to punch the air before we work in the progressive! It's PLAY all the way with this one – and it's going down in my Greatest Hits. 
Joe Recommends Games Similar to Absolute Super Reels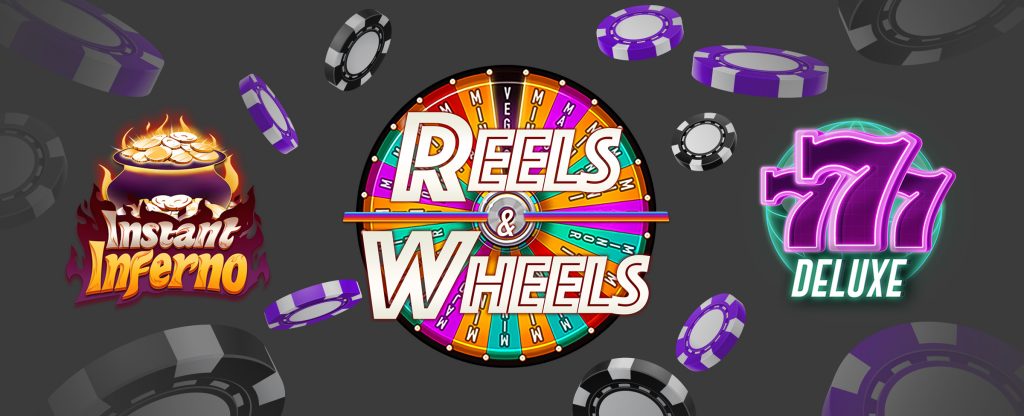 Once you've moshed yourself giddy, don't rush back to this decade just yet. Those rock n' roll vibes are still out there, blasting from the stereo in your neighbour's backyard. 
Instant Inferno
If it's the rock show you loved from Absolute Super Reels, then why not join the devil in a furnace of fire and rock in Instant Inferno, along with free spins, multipliers, and a Pick Me Bonus.  
Reels & Wheels
The good old days aren't done with you just yet. This Reels & Wheels pokie is as retro as it gets with a big clunky machine and three simple reels. Having said that, you can expect some very modern rewards with multiplier and jackpot wheels as well. 
777 Deluxe
777 Deluxe is the king of straightforward gameplay and gigantic rewards. It has classic symbols that appear retro like you might find in Vegas pokies, but the neon lights and huge progressive are far from outdated. 
PLAY ABSOLUTE SUPER REELS POKIE AT JOE FORTUNE NOW
Are you ready for the absolute best pokie of your musical life? Step inside Joe Fortune Casino, and shuffle through the crowd towards the stage. The Absolute Super Reels show is about to begin, and you've got a front row seat to the jackpot… so close you can reach out and touch it.