777 Deluxe Pokie Game Review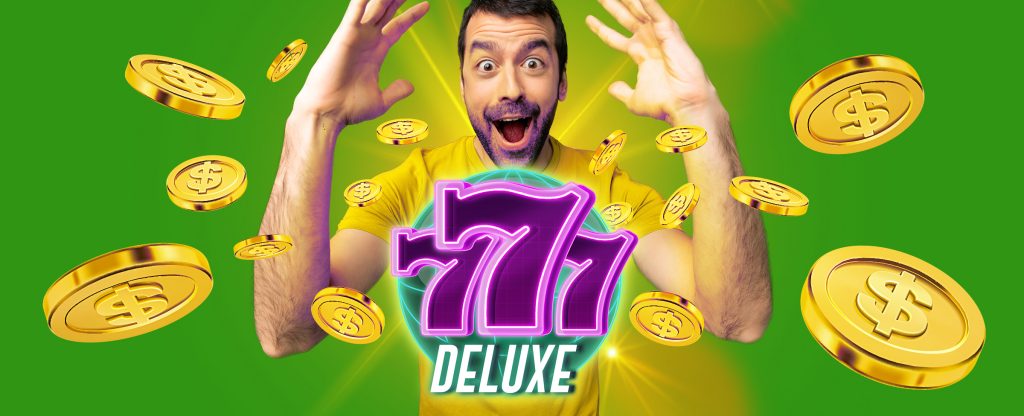 Those lucky sevens are back from the old days of arcade games, but this time they're tagging along with a few extra digits to crank up the value with 777 Deluxe Pokie!
On top of lucky sevens, nothing screams Deluxe like the bold fluorescence of 3D symbols leading you to a 6-digit progressive jackpot. That is, except for the luxurious entry rooms of a Las Vegas casino itself. Which, lucky for you classic pokie lovers out there, is exactly what the 777 Deluxe spirit is all about. 
The Joe Fortune 777 Deluxe pokie is all about old plus brand spanking new; simple to play plus gorgeous to look at; and majorly bank-friendly plus endlessly entertaining. You're about to get a taste of the true heart of pokies – from the 1990s, all the way up to 2021 in Vegas. 
How to Play 777 Deluxe 
If you ask me, and I'll pretend you have, 777 Deluxe was dreamed up by someone who caught the nostalgia bug after visiting one of those 50s-style cafes… you know the ones with the pastel paint jobs and the mini jukeboxes in your booth? Regardless of what I think, this beauty was developed by the clever folk at Microgaming – but I still maintain the jukebox theory. 
As for the game itself, this is what you can expect: 
5 reels and 3 rows

10 paylines that pay from left to right, right to left,

and

within the middle 3 reels

Betting range from $0.02 – $100 (perfect for all bankrolls!)

96% RTP

Bonus game featuring 1 payline

An incredible progressive jackpot (

cha-ching!

)

A mystery symbol. (I can't tell you any more than that. I've already said too much.)
Top Features
In a world where online pokies are decked out with complex side games, rules and a billion ways to win, 777 Deluxe pokie at Joe Fortune keeps its features as simple as a fool, favouring bigger prizes instead of Pixar-worthy story layers. 
Wild Questions
The question mark symbol serves as your wild, transforming into another symbol for a possible win. When you get 3 of those anywhere on the reels, you get to play in the bonus round.
777 Deluxe Bonus Round
The bonus round is where you can win the progressive, as well as seven other worthy prizes. It strips back to just 3 reels and 1 payline. Your goal here is to land 3 golden sevens. That's literally all you have to do to get the big jackpot. Speaking of! Let's see what that's like. 
Progressive Jackpot Explained
For those in the back, I'll say this once more: 777 Deluxe is the home for astounding, Vegas-style winning potential served with incredibly good taste.
The game is developed to make winning uncomplicated, especially for that coveted progressive – we all want the big one, don't be shy about it! There are only 3 reels and 1 payline going left to right, just like a classic should be. When you land three golden 7s, the progressive is yours. Even if you don't, you could also land:
Mixed 7s for 1x your bet

Pink 7s: 2x

Purple 7s: 5x

Green 7s: 10x

Blue 7s: 25x

White 7s: 50x

Red 7s: 250x
Joe's Pro Tip
As revealed in this 777 Deluxe pokie game review, when it comes to a game like this, you have more options than you may have realized. The typical advice with a progressive is to bet on max. While it's true you have to do that to be eligible, the bonus round in this game offers plenty of other prizes that you can win based on your stake. I'd say it's best to make a low to mid-range bet that lets your bankroll coast for longer, and gives you more time to enjoy the game.
Then again, you don't have to take my advice at all. It is, after all, just a tip. And it's only from the guy who gives out the money!
Joe's Final Thoughts: Play or Pass?
While I'd love to tell you to skip the old-school style games and go straight to something modern, the numbers don't lie. 777 Deluxe is by far one of the most popular games on site. The simplicity of play, fun graphics, and incredibly generous winning potential makes this top-shelf pokie an absolute no-brainer. 
Whether you're looking for an intro to progressives, or a chill pokie tinged with epic payday potential, I can honestly say that 777 Deluxe is the best choice you can make. Go for it, my friend.
Joe Recommends Games Similar to 777 Deluxe:
After you've squeezed the watermelons, lemons, and cherries dry on 777 Deluxe, you might still be thirsty for some more pokie action on a different board. 
Disco Bar 7s
Since we're already talking about lucky sevens, and all. The scatters and wilds both mean multipliers in this game, and the mix n' match feature keeps you moving in a distinctly retro, groovy 3×3 grid. Swell.
Ten Times Wins
Similar symbols, similar winning potential, but even more direct. This 3×3 pokie is all about the Vegas vibes with multipliers attached to each classic symbol.
Booming Seven Deluxe
Think 777 Deluxe, but with arcade sounds and a photorealistic casino backdrop, along with added free spins, multipliers, and a gamble feature. 
Play 777 Deluxe Pokie at Joe Fortune Now
Now, how've I done spruiking my wares? Am I the natural salesman, or has it sold itself? Does this sound like the game for you? If you like a straightforward, retro-esque pokie with the modern potential to win big, there's no better game out there to fit the bill – or the Joe for that matter. Try Joe's 777 Deluxe in practice play for free at Joe Fortune, or head straight to Real Play for the real money. At the risk of ending with an eyeroll, with 777 Deluxe, you'll be in 7th heaven.