Hold Up! Hold and Win Pokies Are Here…but What Are They?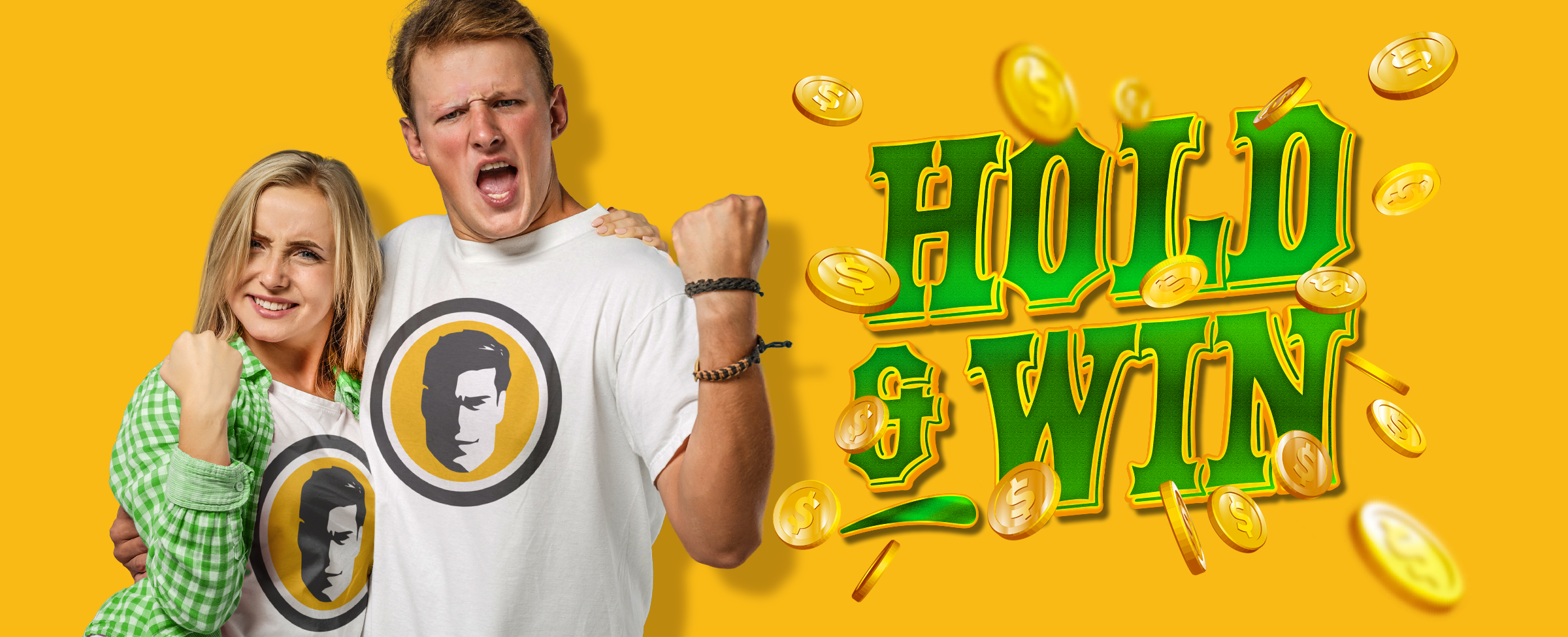 I've got plenty of popular pokie features doing their thing within Joe Fortune hold and win pokies, but there's one unique feature getting a whole lot more attention in recent years. The feature uses only the best symbols to boost up your balance, and more often than not, offers two jackpots, plus one major prize to trump them all.
Wake up and suck in the smelling salts, my friend, because I'm reasonably sure you're not dreaming. This is just the potential of hold and win online pokies. They sound great already, I know, but what exactly are these magical types of pokies, and how do they help you win more? I'll go over all the finer details later, but here's the gist:
Hold and win pokies feature a special bonus game where high-paying (and often jackpot) symbols stick to a 15-space grid, and add up their value for gargantuan payouts.
If you've never played a hold and win online pokie before, at Joe Fortune or anywhere else (like you would ever need to go anywhere else), you might be intimidated by the list of features and rules, because I'll be real with you, there can be a lot. Rest assured, once you catch yourself up with the ins and outs below, and then have your first hold and win experience in a game, you'll get the skinny and be a convert for life – scout's honour.
Are you ready to see what the world of hold and win online pokies at Joe Fortune has in store for you?
All right, hold my drink – I'm goin' in!
How Do Hold and Win Pokies Work?
Hold and win pokies are some of the most unique games at Joe Fortune.
To play them, just look for the games that have "Hold and Win" in the name. Not exactly 'Where's Wally?' over here, I make them pretty easy to spot. I'll even give you a few recommendations at the end, just to be sure.
Then, depending on the game's theme, each hold and win feature will operate a bit differently, but they'll follow the same general format.
Here's the flow:
Enter the hold and win feature via bonus symbols, usually five or six. The bonus symbols are most often pearls or something else round and shiny
The feature appears as an empty grid of 15 spaces.
The game starts with a given number of spins, usually three.
Only bonus symbols appear in the feature, and they flow behind the grid-like a waterfall. Any time one sticks to an empty space, your spins are boosted back up by three, and the symbol doesn't move for the entire game. Needless to say, you can be spinning for quite a while in some of these.
The bonus symbols each have a given value attached. When the round ends after your spins are up, or you've managed to fill all the spaces (more on that in a minute), the value of your bonus symbols are added up, and you're rich. Well, at least that's the hope.
As much fun as you'll have watching your bonus symbols add up, that's not even all the ways to win in a hold and win online pokie. There's a lot, lot more to come.
How Can You Win a Hold and Win Pokie?
As with any game at Joe's, referring a friend is the absolute easiest way to increase your winning potential, so that's got to be mentioned first. I mean, it gives you $50 right off the bat to use on spins, so why in the world wouldn't you take advantage of that before any game?
But you were wondering how you can win at hold and win pokies inside the game, weren't you? Gotcha, moving on.
Winning the jackpot in hold and win pokies is much different than winning jackpots in progressive pokies. Instead of landing the right symbols and bouncing through a few bonus rounds, the entire extravaganza takes place inside just one.
You already know that bonus symbols that stick in the grid add up their value during the game. Well, that's the main 'winning' part, but there's more.
Mini and Major Jackpots
In most hold and win games, there are Mini and Major bonus symbols on top of the regulars. These are easy to spot, as they say, "Mini" and "Major" on them. A wonderfully simple identifier in an otherwise complicated feature.
If either the Mini or the Major bonus symbols stick to the grid, you get a hefty, fixed jackpot prize, often something like 20x your bet for the Mini and 50x for the Major, but every game is different, of course.
Grand Jackpot
Slightly more difficult is when you fill all 15 spaces with a bonus symbol. Not only does that mean you get 15 bonus symbols added together for a big win, but it also means you get the GRAND Jackpot of the game, which could be 2,000x, 5,000x, or any other extravagant multiple of your bet, and the biggest prize available. Don't tell me you forgot how generous your Uncle Joe could be, now?
Other Ways to Win
Since there is no law of design for hold and win games, you'll see plenty of creative takes on them the more you try. Some games have special symbols that award extra re-spins, some that boost your multipliers, and some that appear as mystery symbols. You'll just have to do your due diligence in the paytable to figure out what's what. Variety is the spice of life, after all – or is that paprika?
Most Popular Hold and Win Games at Joe Fortune

There are a ton of hold and win online pokie games at Joe Fortune, but a few of them have a particularly memorable theme and bigger winning potential. Most players get into these games using crypto since the speed of deposits and withdrawals in Bitcoin gambling make it the best for playing online pokies. That said, regular cash-money works just as well, too.
15 Dragons Pearls Hold and Win
I'd say 15 Dragons Pearls Hold and Win is the most popular hold and win online pokie around here. It has a pleasant oriental theme, and the grand jackpot in the hold and win game is one of the biggest at a whopping 5,000x your bet. It also features a special "+1" symbol in the hold and win feature, adding another spin, but not sticking to the board.
You also get scatter wins, a Wild, and regular ol' free spins with only high paying symbols, just like you're used to when playing with your dear Uncle Joe.
Hit The Gold Hold and Win
Hit the Gold Hold and Win is another good-timey one that reminds me of Gold Rush Gus (if you haven't played or learned about Gold Rush Gus yet, you're missing out on one of the best games around).
A savvy gold digger and his dutiful doggo work hard applying his pickaxe to dig out shining prizes from the earth. There's a wild and scatter in the base game, as well as a regular round of free spins which can be retriggered. The hold and win game is your standard fare of six or more bonus symbols to launch, and 3 respins to start, but now you have Mini, Minor, and Major jackpot symbols, as well as the Grand jackpot for filling all 15 spaces.
Buddha Fortune Hold and Win
Buddha Fortune Hold and Win keeps the hold and win feature pure and simple. The base game features only a Wild symbol of the Lord of the Holy Backside himself, then six yin-yang symbols to land you in the hold and win round. The symbols continue flowing behind the grid until they stick with a given value. There is both a Mini and Major jackpot bonus symbol, and the Grand jackpot is 2,000x your bet. No need to rub this Buddha's belly for luck (although, I always get a kick out of it!).
This very joint was already the best place to be for pokies, but now with all these Joe Fortune hold and win online pokies competing for your attention, playing at Joe's is an absolute no-brainer. Hold and win pokies prove that you don't have to play a progressive pokie to win big. The jackpots are always there, fixed in the game, and you just have to jump inside and hold on tight to secure that payday.