Best Joe Fortune Casino Bonuses and Promotions (Claim Now!)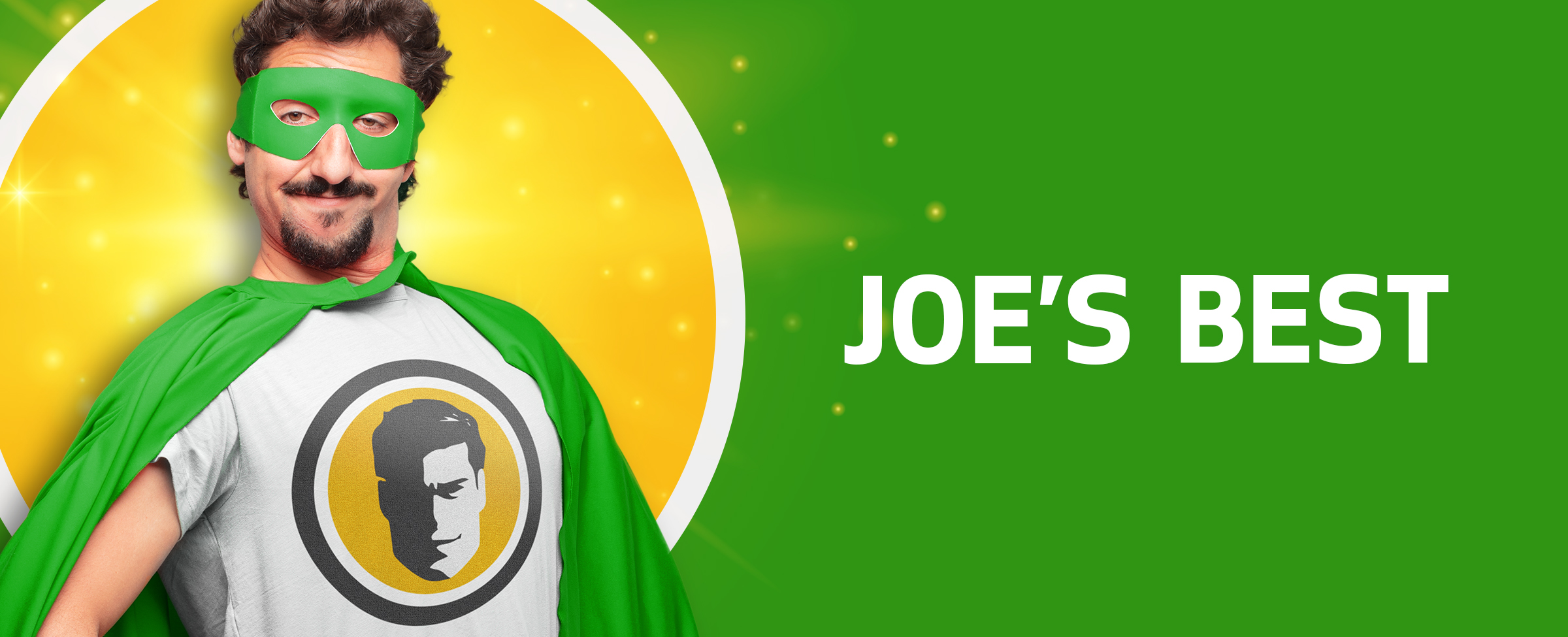 Bada bing, bada bonus. Whether you're a newcomer (welcome aboard!), or a seasoned player (welcome back!), my online casino has a whole host of goodies to give out via our Joe Fortune bonuses.
You'll find it hard to believe some of the promotions we have up for grabs around here – unless you frequently find someone handing you $5,000 with instructions to go buck wild? That's the Joe difference I suppose, whether it's giving you five large just to say 'welcome'; slipping in some money to elevate your everyday gaming experience; or straight-up handballing you free spins to improve your odds of winning, it's just how I roll.
As long as bonus money and having fun sounds appealing to you (and please see your family doctor as a matter of urgency if it doesn't), then you're invited to follow me to the land of sunshine and online casino bonuses.
$5,000 Welcome Package
Shout-out to all my newbies out there – I can't wait to get you set up with the best Welcome Bonus around. The Joe Fortune Welcome Package is by far my most generous offer, and it's available to any player making their very first deposit.
I'm going to give you $5,000 right off the bat. Yes, you read it right. Five grand.
The way it works is that you sign up at Joe's (click here if you want help with how to get started at a casino), then prepare to make your first deposit.
On this first deposit, I'll match your deposit amount 100% up to $2,000.
You want to deposit $50? Here's $50 from me. Do you have $1,000 that you can't wait to spend on pokies online? Fabulous. I have $1,000 with your name on it. However much you want to spend, you can get up to $2,000 in bonuses and I'll tack on 30 free spins for good measure.
But we're not even done yet!
On your second deposit, I'll match it 75%, up to $1,000.
For your third, you get 120% matched up to $2,000.
After all is said and done, or deposited and cashed, I should say, you'll have a whopping $5,000 in welcome bonuses and 30 free spins to start playing with immediately, perhaps on some casino games great for newbies.
What's more (and with Joe there's always more…), if you deposit with Bitcoin, we'll make that first deposit a 150% match bonus (instead of 100%) up to $2,000. That's even more crypto bonus money simply because your transaction method was a cryptocurrency!
YOUR $5,000 BITCOIN WELCOME PACKAGE
Refer a Friend
I'm sure a sociable guy or gal like yourself has tons of buddies you hang out with. Maybe you get together at a local bar, or for long walks on the beach at sunset? Okay, those sound like bad dating profiles, but my point is, when you're hanging out with friends, it can pay to mention the good times to be had at Joe's.
Whenever you get a friend to join my establishment, I'll give you – and your mate! – $50 through my Joe Fortune Refer a Friend program. How does that sound? Providing your friend makes a successful deposit of $20 or more and verifies their mobile number, I'm more than happy to say thanks with some green.
Even better is that there is no limit to the number of friends you can send my way. Does your crew like to win real money at an online casino? Send them over. Do your colleagues at work crave some extra intensity to their lunch break? We've got a game for them. Heck, maybe even grandma wouldn't mind a few extra bucks for bingo on the weekend?
There's always room for another friendly face here at Joe's, so spread the good word to the friendly folks in your life and enjoy some serious cheddar as a reward!
Joe's Rewards
Something I've always said is that you don't need money to make friends, which I whole-heartedly agree is true. That said, it's really not bad when one of your friends (i.e. yours truly) gives back a little in the relationship
With Joe's Rewards, you earn points for your casino play that can be used as a bonus in your games. As long as you have an account, you're already a member of the club.
The way it works is that each type of casino game is worth a certain number of reward points:
For each dollar you wager in those games, you earn that number of points.
As your points stack up, so does your membership tier, from the basic membership all the way up to Black. The higher your membership tier becomes, the sooner you can redeem those points for bonus play. You also become eligible for more rewards like the Weekly Deposit Bonus. Who knows, you might even be my next guest at the Joe family dinner table – my wife makes a mean pot roast, so that's no small invitation.
Other Bonuses
Don't rush off to the Joe Fortune Promotions tab just yet. Despite the fabulous fixings I've already put on the table, there is still more to share around.
Go big or go home, right? That's what she said (sorry, had to).
If you want even more bonuses, make sure you check your email. Somewhere in between those deadlines from your boss and reminders to renew your subscriptions, you will find a treasure from me personally in the form of a bonus code.
If there's nothing in your email, just check back to the Joe Fortune Casino website and take a peek around the promotions tab or the front page. If there's something big going on, I'll make sure you know about it.
No matter the type of player you are, there's already a casino bonus online that's waiting for you to claim. Come on down, bring a friend, and get the party started!
---
 Hot Drop Jackpots are dropping around the clock!